Ask the Beer Fox - Deep Frying in Beer Batter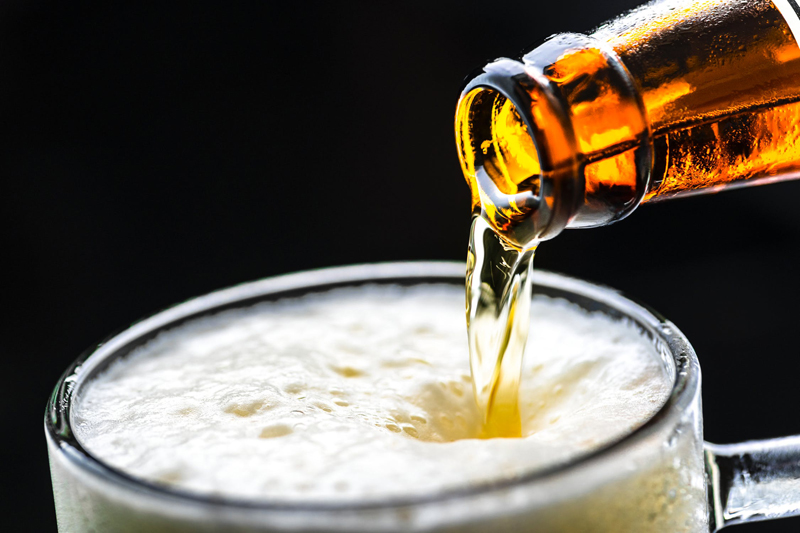 Beer Fox Question: Is it possible to add beer to peanut oil to deep fry in?   L.R., on the web

Beer Fox Answer: It is admirable that you would like to use beer in recipes for deep fried foods. Beer does infuse delicious flavors into meats, seafood and vegetables that have been properly prepared for cooking. You need to think about what you are trying to achieve in the process, and what the best way is to arrive at that result. If you want the food to absorb the beery flavors, you can accomplish that by marinating before deep-frying. On the other hand, if you want the outer crust to be flavored with beer, you will do this by creating a dry crust or wet batter using beer.

Oil and water do not mix because of their specific gravities. The same is true of oil and beer. If you observe a bottle of oil and vinegar salad dressing, you will see the oil floating on the top. They do not mix unless constantly agitated. This is because their specific gravities - what they weigh - are different. Oil is less dense than water. Water is less dense than beer (because beer contains unfermented sugars that make it heavier). In other words, the beer would remain on the bottom of the utensil, and the oil will float on the top. At 60 degrees, water has a specific gravity of 1 and weighs 8.34 pounds per gallon. At the same temperature, oil has a specific gravity of .92 and weighs 7.67 pounds per gallon. The specific gravity of beer varies with style - from 1.02 to 1.075 and weighs between 8.5068 to 8.9655 pounds per gallon.

In addition, the two processes are totally different.  Hot oil fries foods - hot water boils them. 
For guidance, see:
Beer Cookery - Golden Hawk Veggie Gems
https://www.bellaonline.com/articles/art39832.asp

For deep frying fish, the following recipe works particularly well with Cod; however, Walleye, Perch, Catfish, or Halibut will also yield successful results:

Captain Ahab's Hearty Fish Fry

The Beer Fox says, "Celebrate a fine summer day by the shore with an old-fashioned fish fry! Food enough for a galley of 15 or 20!"

Recommended Brew: Dream Weaver Wheat – Tröegs Brewing Company, Harrisburg, Pennsylvania, USA

Style: American Pale Wheat Ale – Cloudy golden with bright white head – A distinctive, yeasty bread aroma highlights flavors of fresh dough, lemon and spices. Head is creamy, while finish is satisfying and quenching.

8-10 lbs. fresh fish fillets (your catch of the day)
1-1/2 tablespoons lemon juice
2 tablespoons salt
4 C. flour
¼ C. paprika
3-twelve oz. bottles Dream Weaver Wheat
½ C. water
Oil or shortening - Your choice of corn oil, peanut oil, or virgin olive oil

Cut fillets into serving size pieces. Sprinkle with lemon juice and salt.

Combine flour and paprika. Gradually mix in water and Dream Weaver Wheat, until batter is smooth. Dip fish in batter and allow to set. Fry in deep hot oil or shortening (365 degrees) until browned.

Drain on absorbent paper towels. Serve with Captain Ahab's Tartar Sauce.

Captain Ahab's Tartar Sauce

1 C. mayonnaise
3 tablespoons onion, finely chopped
3 tablespoons sweet pickles, chopped
3 tablespoons parsley
3 tablespoons stuffed olives, chopped

Combine ingredients. Chill for at least 2 hours. Serve.

* Health Benefit: Rich in protein, B-complex vitamins, vitamin C, potassium, niacin, magnesium, pantothenic acid

Cheers!

 
You Should Also Read:
Beer Cookery - Beer Fox Arrogant Bastard Steak
Beer Cookery - Grand Maui Tuna Teriyaki
Beer Cookery - Portsmouth Crab Chowder


Related Articles
Editor's Picks Articles
Top Ten Articles
Previous Features
Site Map





Content copyright © 2023 by Carolyn Smagalski. All rights reserved.
This content was written by Carolyn Smagalski. If you wish to use this content in any manner, you need written permission. Contact Carolyn Smagalski for details.