Moving Your Orchids Outdoors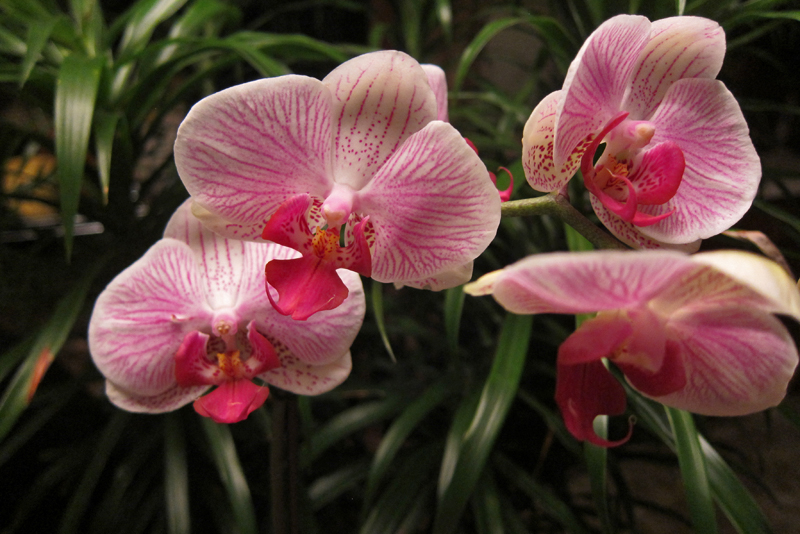 It's time to start moving your orchids outdoors if you have a place to put them where they will not get baked in the sun. Orchids will appreciate a move outdoors where they can get good air circulation, a bit more light, better humidity and more temperature differential than they can get inside in most environments.

For Cattleyas, Dendrobiums, Phrags and Oncidiums this is a real joy. Phals and Paphs should be moved outdoors only under ideal shady conditions. Their leaves will burn much more easily due to their lower light requirements and the large leaf surface in the case of the Phals.

The best exposures are those in the East which will provide early morning light for your plants, but most exposures can be made to work. Think about ways to provide extra shade if you have too much direct light on a patio or porch. Placing plants around or under a larger plant such a s a tree will give them a better environment. Putting those orchids that like more light on the brighter side of your spot, and then those that like less next to them in their shade will also help.

If your temperatures at night are still below 55 degrees Fahrenheit, or 12.75 degrees Celsius, then you will need to bring your orchids in when the temperature drops. Once the nighttime temperatures have stabilized, then leave them outside.

When you decide to move outdoors, be sure to acclimate your plants for light as well as temperature. Start with bright shade for a week; then move them so they're getting about 30 minutes of early morning sun; keep on increasing the light at about 30 minutes per week until the plant is showing slight yellowing or a reddening of its leaves. Then reduce the sunlight slightly -- you've got the maximum amount for that plant. When this has been achieved, your plant should be receiving the correct amount for optimum growth and flowering in your conditions. Watch for changes in the amount of light as the sun moves so that you do not bake your plants as the summer progresses and the temperatures rise. Watch your watering schedule as your plants receive more light. They will need more moisture as they start to grow in the new environment.

Watering is much faster and easier outside than inside because in most circumstances you can just use a hose. Be sure that you don't just stick to a strict watering schedule if your orchids are getting any rain at all. Watering plus rain can add up to too much water and then of course rot. Use the "weight of the pot test." Pick up a pot after you've watered it and get used to the feel of it. Then when you're ready to water again, pick up the pot to feel how it weighs when it's dry. It won't take you long to be able to gage whether the plants need watering or not. When in doubt, give them another day to dry out.

You Should Also Read:
Spring Orchid Growing Tips
Growing Orchids on Mounts
Snails and Slugs


Related Articles
Editor's Picks Articles
Top Ten Articles
Previous Features
Site Map





Content copyright © 2022 by Susan Taylor. All rights reserved.
This content was written by Susan Taylor. If you wish to use this content in any manner, you need written permission. Contact Anu Dharmani for details.