Dividing Your Orchids - Cattleyas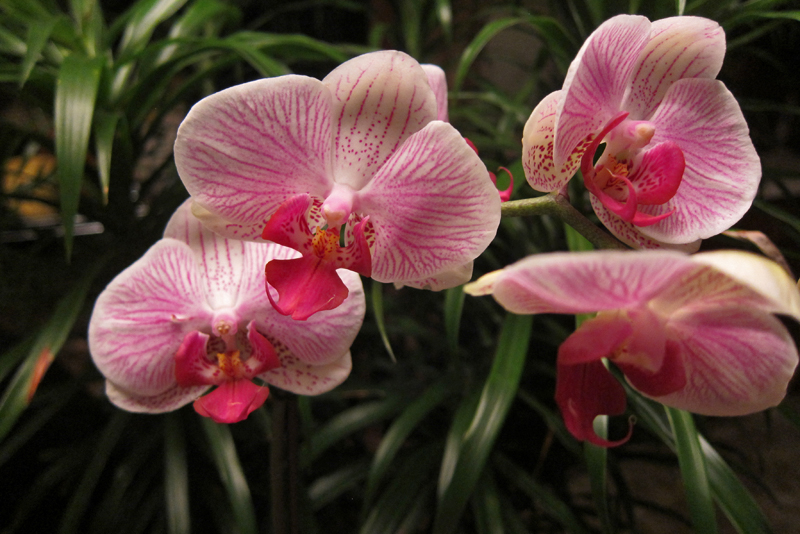 This is the second in a series on repotting and dividing Cattleya Alliance orchids and will consider the question "Do I want to divide the plant?"

With some Catts the plants will literally grow out of a pot within a year, others will grow in a more upward fashion. It will be quite obvious when a plant is creeping out of its pot that it requires repotting; the more mannerly types will only grow out of the pot when there is nowhere else to go. The middle of the plant will start to die off and the new growth will not be as large as the previous year's growth. Generally flower count will also deteriorate.

Either case above would allow you to divide the plant, but in the second case it will be important to do so to keep the plant at its healthiest. As in repotting, wait for the plant to finish flowering. Then choose where you want to make your divisions. Each division should have a minimum of three, preferably four pseudobulbs. Cut through the rhizome with a sharp razor blade and sprinkle both sides with cinnamon or spray with Physan or Consan to prevent rot. Mark the cuts with labels, stakes or some other easily recognizable items so they can be found later. Return the plant to its normal location and wait for signs of new rooting. This is especially important in Cattleya Alliance plants as they are so hybridized that it almost impossible to determine when this will happen. Rooting will generally occur anywhere from April to June in most plants.

When rooting is obvious, remove the plant from its container and wash off all the roots being sure to eliminate any media attached to them. Break apart the divisions carefully and remove any dead or dying roots. Hold the plant and roots up to the new container and determine what length will be about three-quarters into the new pot and then clip all the roots that will be going in the pot to encourage new growth. Be sure that you are not trying to push air roots into the pot, they will rot and die if put in medium, leave them to grow outside the new pot.

Any medium you use for repotting your orchids should be soaked for approximately 24 hours prior to use. It needs to have enough time to absorb water so that the newly planted roots are not desiccated. Prepare the pot with drainage material at the bottom of the pot, and place a portion of medium over it at the bottom. Place your plant into the new pot and then carefully pour the medium around the roots. Tamp down carefully with your fingers, or a bamboo stake. I like to put bamboo stakes or shish kabob skewers on two or three sides of a plant to hold it in place until the plant has taken hold and becomes established in the pot.

Put the plant in a warmer and lower light position than it had been growing in before to encourage it to grow new roots and then move to its normal position in about a month.

You Should Also Read:
Repotting Your Orchids - Cattleyas
Identifying and Treating Rots on Orchids
Confusing Cattleyas


Related Articles
Editor's Picks Articles
Top Ten Articles
Previous Features
Site Map





Content copyright © 2022 by Susan Taylor. All rights reserved.
This content was written by Susan Taylor. If you wish to use this content in any manner, you need written permission. Contact Anu Dharmani for details.