Indoor Air Quality in Your RV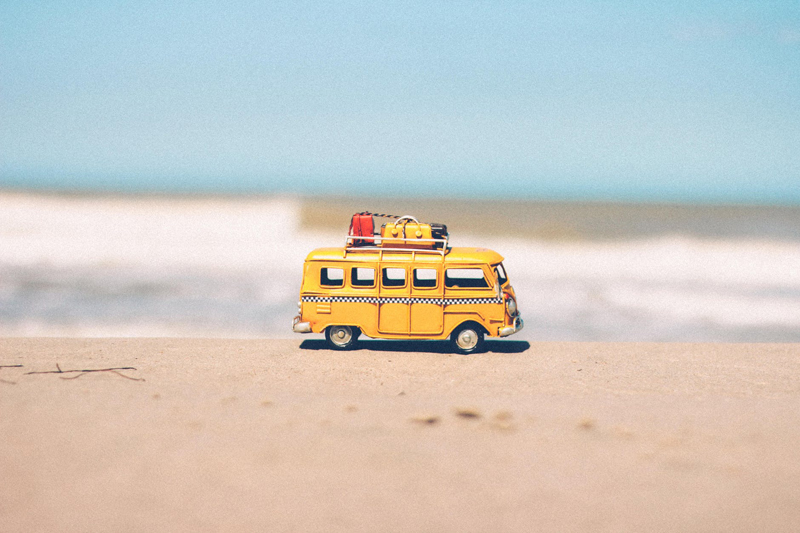 Summer is just around the corner and you know what that means? Soon we will be able to take more RV road trips! It's a very exciting prospect. But I must admit; I'm a little freaked out about hopping into the RV right now. Why? Because my RV smells just like the day we bought it. And I'm not sure that's a good thing. Admittedly, it's better than smelling like mold or mildew, but it makes me wonder if being closed up all winter long has created some toxic indoor air.
It's no secret that RV manufacturers use materials like formaldehyde during construction. It's commonly used as an adhesive in wood products. Shiny, new carpets in RVs have been known to off-gas volatile organic compounds (VOCs) into the air. These VOCs contain chemicals that can be very hazardous to our health. And if the glue and carpets weren't enough, the subflooring just beneath the carpets can be loaded with toxins too. Oh, and let's not forget that the materials used in our RV mattresses aren't so great for us either.
Thankfully, in recent years, the RV industry has picked up more eco-friendly construction habits. Now there are plenty of RVs available that are
certified green.
But what about the rest of the RVs that aren't green certified? Most of the RVs that the almost 8 million RVing households own don't fall under the green certification. So that means that the materials used during the construction of most of the RVs in circulation can contribute to a host of health issues due to compromised indoor air quality. In other words—the air inside your RV could be making you sick.
Before freaking out and posting your RV for sale on Craigslist, know that there are a few things you can do to improve your RVs indoor air quality.
* Open all the windows
-- This is especially important for those RVs that haven't smelled a breath of fresh air all winter. Throw open those windows and bathe your beautiful rig in fresh air. Better yet, stick a large box fan at one end and let it blow that old, stale air right out the windows and vents.
Use non-toxic cleaners
-– The very least you can do is not contribute to any more air pollution. Use non-toxic cleaners inside your rig. Many products you have in your RV right now can be used to clean it. Did you know that olive oil mixed with a bit of lemon juice makes a great furniture polish? Distilled white vinegar is a handy dandy all-purpose cleaning agent as well. And who could forget the many uses for baking soda?
Add plants
–- Buy 2 or 3 small, organically grown plants. Not only will it help you clean up the indoor air, but it will make your RV feel more like home.
Indoor air purifier
–- Consider purchasing an indoor air purifier like the Honeywell True HEPA Air Purifier found at The Home Depot. I have this model, and I like it. This particular model is almost 100 percent effective at removing airborne irritants. Just make sure that whatever model you purchase has the HEPA certification.
Vacuum often
–- When your RV is in use, vacuum daily if you can. If daily seems like a chore, 2-3 times per week should suffice. Carpets are traps for nasty things, and the more you can suck up, the better your indoor air quality will be. You might want to consider a vacuum upgrade since you'll be using it so often. Kim Barnouin, author of
Skinny Bitch: Home, Beauty & Style
recommends several vacuums in her book, including the Bissell 16N5 Healthy Home Upright Vacuum.
Replace your mattress
– Get a new mattress made of organic materials. And while you're at it, look into organic cotton sheets and linens and upgrade your pillows to more natural materials too. If buying a new mattress isn't in your budget, consider purchasing an organic cotton mattress cover. These covers won't be treated with chemicals and will protect you from dust mites and other allergens while you sleep.
Other things you can do that can help improve indoor air quality:
* Use essential oils instead of air freshener
* Use towels made of organic cotton or bamboo in the bathroom and kitchen
* Get rid of the Teflon in your kitchen cookware and replace it with stainless steel pots and pans and a cast iron skillet.
* If you are really worried about VOCS overwhelming your RV, you can purchase nontoxic sealants that will stop VOCs from leaking out.
* And if you're still troubled about your RV's indoor air quality, you can get it tested. And, depending on what you find out, you can go from there.
**Want to add more vegan meals to your RV trips? check out my new Ebook
"Vegan Road Trip: Simple Vegan Recipes for your RV Kitchen"
which features a variety of tasty vegan recipes--from breakfast to dessert and everything in between.**


Related Articles
Editor's Picks Articles
Top Ten Articles
Previous Features
Site Map





Content copyright © 2021 by Erin Lehn Floresca. All rights reserved.
This content was written by Erin Lehn Floresca. If you wish to use this content in any manner, you need written permission. Contact Erin Lehn for details.