Grilling With Beer Workshop - Marinades - Recipes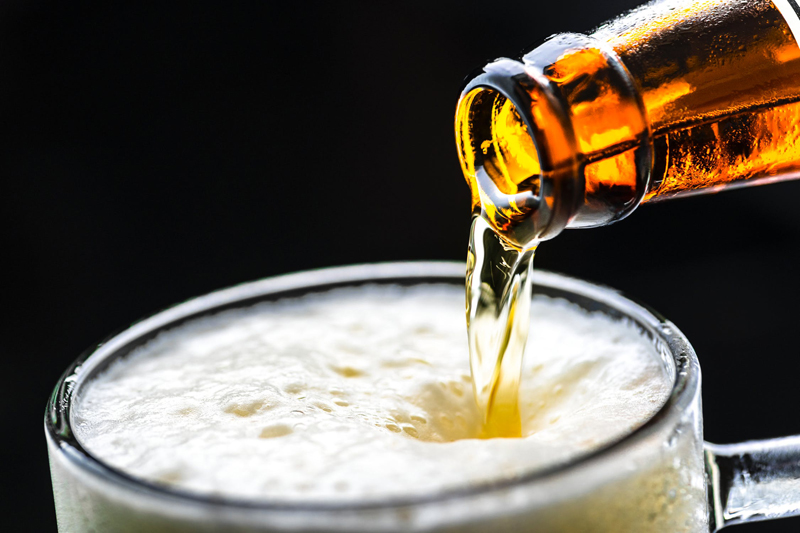 Why grill with beer?
In his book, Lexikon der Populären Ernährungsirrtümer (or Dictionary of Popular Food/Nutrition Misbeliefs) German food chemist Udo Pollmer recommends that soaking red or white meats in beer, before grilling, reduces the formation of cancer-causing HCA's (heterocyclic amines), and actually prevents the formation of these compounds.
HCA's are formed through a reaction between amino acids and creatine in muscle meats when they are cooked at high temperatures.  Eating beef that is rare to medium rare (rather than medium well to well-done) also decreases risk to the body.
One catch…the beer must be alcoholic. 
What is grilling?
This seems like an easy answer, as long as you stay within the borders of the USA.  As many world travelers have discovered, common English words may take on different meanings when used in other English-speaking countries throughout the world.  In England, you might have a "rocket and cheese sandwich," the "rocket' being arugula.  So it is with grilling.  In the United States, grilling refers to a dry-heat cooking method in which heat is radiated from below the food.  Health professionals prefer this method of cooking, because fat is lost during the cooking process, with no replenishment of fats during any part of the preparation process.
In the United Kingdom and the Commonwealth countries (but not including Canada), grilling refers to cooking directly under a source of direct, dry heat.  Americans would refer to this as "broiling."
What do people in the United Kingdom refer to grilling as?  Barbecuing.
Mesquite or hickory chips (soaked) may add smoky flavor in grilling.  Yu can also use apple wood, pecan, maple and oak.
When you skewer foods for cooking, they may be called any number of impressive names:  Brochettes, Yakitori (skewered chicken), Kushiyaki (other meats, seafood and chicken), skewers, or satay. Traditional Japanese fare would use mirin(Japanese sweet cooking wine) and sugar, honey, molasses, brown sugar as a marinating/basting medium.  In traditional Beer Fox style, you would use two beer marinades as you prepare your foods for the grill.
Grilling rules:
FEFO!!!  Flip Early, Flip Often.

Rotate foods in an assemblyline fashion, especially if they are the same (Beef, burgers, ribs, chicken).

Test for Doneness – Tap on the meat method:  Just as the fleshy part of your hand feels soft and cushy, so does uncooked meat.  If you stretch and flex your hand, the pad of flesh will get firm and tight.  Tap on it and feel this firmness.  This is similar to what fully cooked meat feels like.  You may prefer to use an instant thermometer, or to cut the meat through for visual observation.

Barbecue Sauce cooks faster than meat, but can display a protective quality to the foods you grill.  Do not use bbq sauce initially, but in the latter part of the cooking cycle.

To prepare a simple Marinade in a hurry, use beer (provides the acid for preserving), olive oil (for browning), seasoning (for flavor – montreal steak or chicken seasoning, four seasons salad seasoning, etc.

Make the entire marinade in a pyrex cup, pour it into a plastic bag, add the ingredients you want to marinade, and seal.
Beer Fox Sizzle-Me-Drunk Kebabs
Recommended Beers:
Midnight Sun Kodiak Brown Ale – EnglishBrown Ale - Midnight Sun Brewing Company, Anchorage, Alaska – Deep chestnut brown with tawny brown head – earthy malts and chocolte almond merge with light fruit notes I a well balanced bron ale.
Midnight Sun Fallen Angel Golden Ale – Golden Strong Pale Ale – Midnight Sun Brewing Company, Anchorage, Alaska – Clear, golden and jewel-like with tight, rocky head – Aromas of candi sugar, bananas, apricot, earth and spices.
Beef cubes, cut into 1-inch pieces – cooking time - 9 min

Large shrimp or prawns, peeled and deveined – cooking time - 7 min

Pearl onions or shallots- cooking time - 10 min

Cherry tomatoes – cooking time - 7 min

White or Crimini Mushrooms – cooking time - 7 min

Green, red and yellow pepper – cooking time - 9 min

Pineapple, cut into 1 inch chunks, or oranges, peeled and segmented – cookig time - 7 min
Celebration Marinade for beef, onions, mushrooms, tomatoes and peppers
16 oz. Midnight Sun Kodiak Brown Ale
6 scallions, chopped into 1 inch pieces
1 tablespoon. Lemon peel, grated (or dried lemon peel)
1 tablespoon dried orange peel
1 teaspoon. savory
1 teaspoon nutmeg
1 tsp. Creole Seasoning
large zip-lock plastic bag
Golden Wings Marinade for shrimp, pineapple and oranges
6 oz. Midnight Sun Fallen Angel Golden Strong Ale
8 ounces Robusto Italian Salad Dressing
1 package Dippy Chick's Ya Gotta Jump, Chive and Wail Gourmet Mix
1 cup. apricot preserves
large zip-lock plastic bag 
Mix each marinade in zip-lock plastic bag.  Add meats, shellfish, fruits or vegetables.  Marinate for 1 hour.
Soak bamboo brochettes in water for 30 minutes.  Create skewers of all the same item so you can cook each according to real time requirements – onions and peppers for 10 minutes; beef cubes for 9 minutes; mushrooms, shrimp, cherry tomatoes and pineapple for 7 minutes.  Brush with marinade before grilling.
Serve with saffron rice, or garnished with Webb's Wonderful or Babyleaf Rosso and Tango Lettuces.
About Marinades: 
Marinades are specially prepared liquids used to season food by impregnating them with flavors.

They benefit from periods of stabilization.  Flavors merge better when prepared one day ahead and refrigerated overnight.

They are easily abused.  Choose carefully so as not to destroy delicate flavor in foods. 

Marinades soften fibers of meats in a tenderizing action.

They preserve color

They may be used to infuse seafood, vegetables and fruits with subdued flavor.

Because of their acid make-up, you must use dishes that are glass, glazed, or impervious metal (stainless steel or stailess enamel)

They may be used as a finishing sauce, so save some for the end, particularly if they are sweet in nature or have a barbecue base.

Larger cuts may need 24-48 hours, covered and refrigerated.  Small cuts need only 1-3 hours.

Marinated vegetables are usually served cold as hors d'oeuvres or salads
Cheers!


Grills come in all shapes and sizes, from this standard, easy-to-use gas grill to simple and super-deluxe models. Grilling is fun and there is nothing quite so satisfying as that outdoor flavor.

Weber 586002 Q 320 Portable Outdoor Gas Grill
You Should Also Read:
Beer Cookery - Grand Maui Tuna Teriyaki
Beer Fox Marinades for Outdoor Grilling - Three Winners !
Beer Cookery - Beer Fox Arrogant Bastard Steak


Related Articles
Editor's Picks Articles
Top Ten Articles
Previous Features
Site Map





Content copyright © 2022 by Carolyn Smagalski. All rights reserved.
This content was written by Carolyn Smagalski. If you wish to use this content in any manner, you need written permission. Contact Carolyn Smagalski for details.