Repotting Your Orchids - Paphiopedilums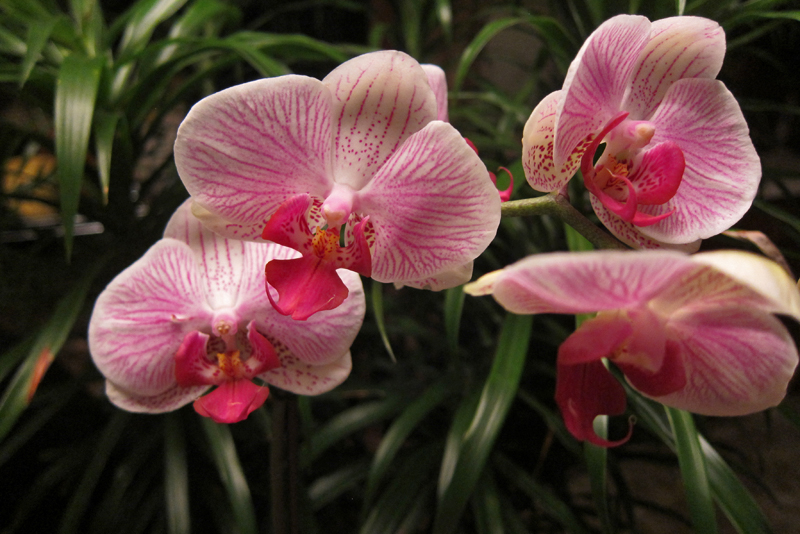 Paphiopedilums are sympodial orchids, orchids that grow larger by regularly producing side growths that will make the plant larger and larger in a pot and produce more and more flowers. You want to let them get thick and full to produce the best flower display. They like to be repotted and some experts suggest that it be done as often as every year. I prefer to wait two years as long as the medium does not appear to be breaking down. Since they need a lot of water, their medium will break down much faster than the medium for some other orchid genera.

As a general rule, Paphs should be repotted every one to two years unless they are in semi-hydroponic culture or some media that does not break down. In that case they should be repotted when the plant becomes too big for its container or is no longer stable in the container.

Wait for the plant to finish flowering, usually in the April or May. Remove the plant from its container and wash off all the roots being sure to eliminate any media attached to them. Unless you have a particularly large plant, do not divide, but simply repot. Hold the plant and roots up to the new container and determine what length will be about three-quarters into the new pot and then clip all the roots that will be going in the pot to that length. I have had particularly good luck in using coconut coir cubes for Paphs. It does not break down as quickly as bark and tends to hold water for a longer period of time.

Any medium you use for repotting your orchids should be soaked for approximately 24 hours prior to use since it will have been dried for marketing purposes. It needs to have enough time to absorb water so that the newly planted roots are not desiccated. Prepare the pot with drainage material at the bottom of the pot, and place a portion of medium over it at the bottom. Place your plant into the new pot and then carefully pour the medium around the roots. Tamp down carefully with your fingers, or a bamboo stake. I like to put bamboo stakes or shish kabob skewers on two or three sides of a plant to hold it in place until the plant has taken hold and becomes established in the pot. Use a pot just large enough for the plant roots to fit in since Paphs like to be root bound.

Put the plant in a warmer and lower light position than it had been growing in before to encourage it to grow new roots and then move to its normal position in about a month.

You Should Also Read:
Dividing Your Orchids - Cattleyas
Orchid Growing Tips #14
Orchid Name Tags


Related Articles
Editor's Picks Articles
Top Ten Articles
Previous Features
Site Map





Content copyright © 2021 by Susan Taylor. All rights reserved.
This content was written by Susan Taylor. If you wish to use this content in any manner, you need written permission. Contact Anu Dharmani for details.