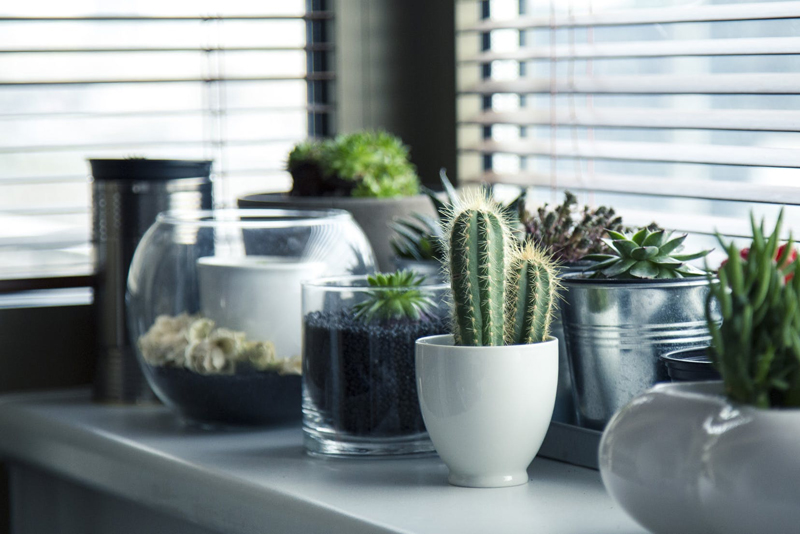 The tropical plant genus Dieffenbachia, also known as "Dumb Cane" has been popular for decades due to its ease of care and rapid achievement of a relatively large size. Dieffenbachias are often seen in offices and shopping centers because they can handle the low light conditions and lack of attention from loving hands.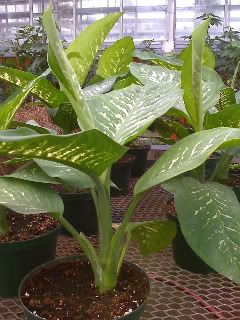 The common name Dumb Cane is in reference to the plant's cane-like appearance and the fact that eating part of the plant can literally leave you speechless. Dieffenbachias are Aroids and are classified in the same toxicity group as other popular Aroids, such as Elephant Ears, Philodendrons, and Caladiums. These plants all contain oxalate crystals which, if eaten, can cause incredible discomfort and swelling of the mouth and throat.
Dieffenbachias are beautiful, and can be found with many different types of variegated foliage. The leaves are most often found having interesting green and white markings. Most varieties will reach somewhere between 3 and 5 feet tall if taken care of, although some can get larger and some varieties stay around 2 feet tall.
Bright shade is best for this plant, but it will grow with less light. There are some cultivars that can handle full sun, but they may need to be acclimated to it slowly and these are usually the cultivars that have lots of green in the leaves. Lighter areas on the leaves scorch more easily, so if your variety has a lot of white or yellow, keep an eye out for browning around the edges.
Infrequent watering can also cause browning of your Dieffenbachia's leaves. Water your plant regularly. The soil should be allowed to dry out to about an inch down before you water again. Dieffenbachias do not need a special fertilizer. They will do just fine with an inexpensive multipurpose fertilizer. If you use a water soluble fertilizer, fertilize at every other watering when the plant is actively growing and cut back in the winter.
Humidity is much appreciated by Dieffenbachias. You can provide this with a humidifier, humidity tray, or by misting. Of course, they don't get any of this when living in an air conditioned mall, so don't worry too much if you forget to mist regularly. Also, like all tropical plants, temperatures below 55 degrees Fahrenheit will cause this plant to suffer. It will show it's displeasure by yellowing, losing some leaves, and possibly taking on a slight wilt.
Spider mites and mealy bugs are the main pests of Dieffenbachia. Check for stippling of the leaves and webbing to see if you have spider mites. A hand lens will probably be helpful in seeing the actual mite. Fluffy white stuff in the crooks and crannies of the leaves indicate mealy bugs have taken over. These can be swabbed off with alcohol but may return. It's good to find an insecticidal spray that you are comfortable using in case an infestation should arise, but of course, a warm soapy bath once a week for 4 to 6 weeks should take care of it as well. Remember: do not wash your tropical plant with cold water. It could damage the plant.
If you have decided that you absolutely love Dieffenbachia and you want to share it with all of your friends, you may be interested in learning how to propagate it. There are actually several ways to do it. You can cut the cane into 3 inch segments and lay them on their side, burying them halfway in the soil, and new plants will grow from the cane. High humidity and warm temperatures are recommended for this. You can try air layering, removing pup-plants that may grow at the base of the plant, or you can grow new dieffenbachia from seed.
Dieffenbachia is a plant that beginners and experts alike can enjoy. They are easy to find at most garden centers, and the fancier varieties can always be found online if they aren't anywhere else. If you're looking for a specimen plant to keep around for a while, consider a dieffenbachia.
This site needs an editor - click to learn more!

You Should Also Read:
Mealybugs
Spider Mites
Houseplants Newsletter




Related Articles
Editor's Picks Articles
Top Ten Articles
Previous Features
Site Map





Content copyright © 2022 by Lisa Beth Voldeck. All rights reserved.
This content was written by Lisa Beth Voldeck. If you wish to use this content in any manner, you need written permission. Contact BellaOnline Administration for details.