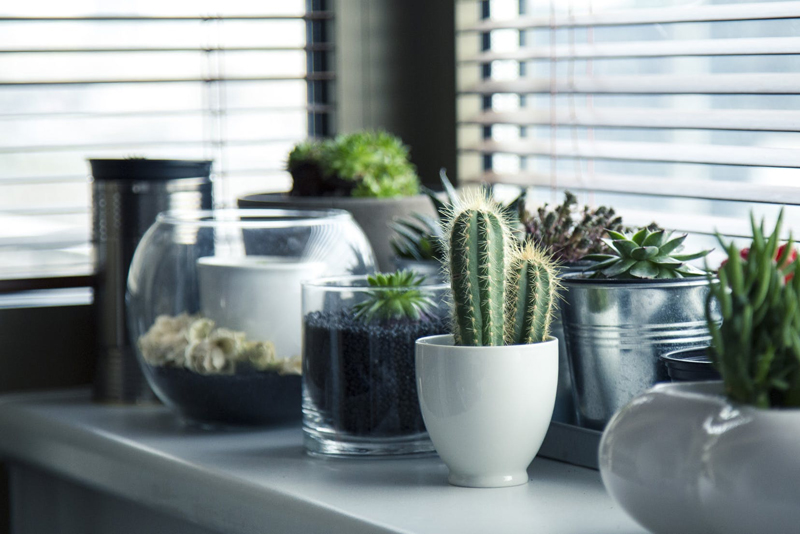 The Croton, also known as Joseph's Coat, is beautiful foliage plant. Most people think greens, white, and yellows when they think of variegation, but the Croton has something special to offer. Picture hot pinks, reds, oranges, yellows, and bright greens; Crotons have them all! The different varieties of Croton have different combinations of color, so it's good to shop around.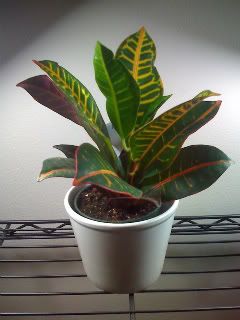 Crotons prefer bright, but filtered sun. They will survive if they are kept in lower light levels, but if you want to maintain their beautiful colors, sun is required. Avoid direct sun unless it is an early morning exposure or if it is winter-time. If you keep your Croton away from the window, supplemental lighting is probably a good idea. I like to use Daylight Compact Fluorescents for many of my houseplants; they really work well.
Try not to allow your plant to get too dry. I made this mistake early on, and let me tell you: this plant will be quick to express its displeasure! Crotons will wilt quickly and dramatically. If this happens, be sure to re-wet the potting mix quickly. If you don't catch it right away the plant will most likely die. Also be sure that you never leave this plant sitting in water. Root rot will quickly set in, and again, the plant will most likely die.
Humidity is desirable, and misting is beneficial for Crotons. If you don't want to mist regularly, you can supplement misting with a humidity tray.
Temperature is very important to Crotons. They are very particular about the range they will perform best in. 68 degrees Fahrenheit (20 degrees Celsius) is optimal. You definitely do not want to go much lower than this or leaves may begin to drop off. Sudden drafts can cause lots of leaves to drop all at once! Keep this in mind when selecting a location. Note whether your windows are leaky or if there is a cool draft running along the floor or under doors. Temperatures over the optimal will cause the plant simply to flag or sulk every so often, and the effects of drought will be more pronounced if temperatures are high.
Crotons do like to be fertilized. Fertilize regularly with a standard water-soluble fertilizer all through spring and summer. Be sure to follow the dosage recommendation on the package, as Nitrogen can cause green colors to dominate the leaves.
Propagation of Croton is often done by air-layering, but you can also take cuttings. If you take cuttings, be sure to strip away any woody layers on the inch you plan to stick in the potting mix and use a good rooting hormone.
Mealy bugs and scale are the most commons pests on Croton, and spider mites are an occasional visitor. Be sure to check the plant thoroughly before you purchase it for any signs of infestation.
It's a good idea to give your Croton a pinch if you would like to give it a full, bushy form. I snipped the top of my plant off at the fourth node. From the base of the plant, I counted upwards until I reached the fourth branch or leaf and cut the rest of the plant off just above that spot. It's best to do this when the plant is still on the small side to avoid stressing it out more than necessary.
Crotons have a reputation for being finicky, but with a little attention, your plant will reward you with brilliant colors to brighten the room. They aren't as difficult as some would like you to believe; grow one and see!
This site needs an editor - click to learn more!

You Should Also Read:
Spider Mites
Recognizing and Treating Root Rot
Houseplants Newsletter




Related Articles
Editor's Picks Articles
Top Ten Articles
Previous Features
Site Map





Content copyright © 2022 by Lisa Beth Voldeck. All rights reserved.
This content was written by Lisa Beth Voldeck. If you wish to use this content in any manner, you need written permission. Contact BellaOnline Administration for details.