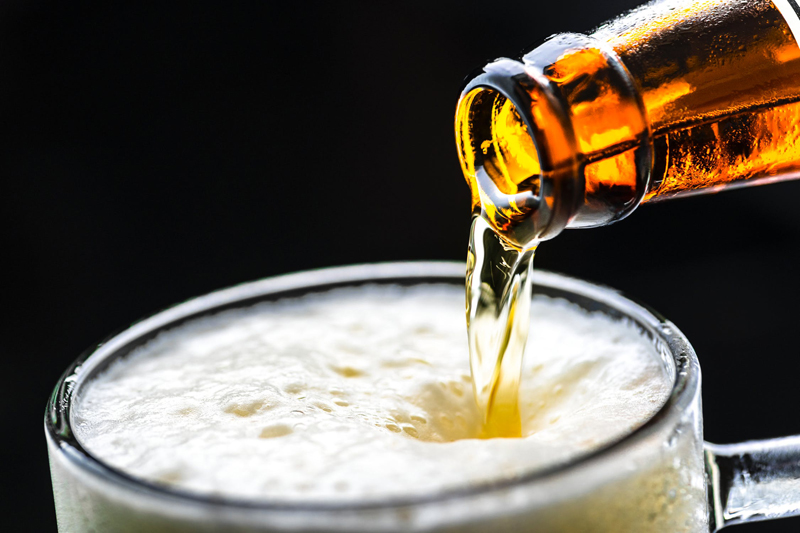 What do Peter Bogdanovich, John Norris, Carl Lewis, Woody Harrelson, Margaret Cho, Bryan Adams, and Coretta Scott King have in common? Besides the fact that they have all been in the public eye…

All are vegans or have practiced veganism. Veganism, in the strictest sense of the word, seeks to exclude the use of animal products for food, clothing or any other purpose. Those who practice pure veganism eliminate milk, eggs, cheese, and honey from their diets, and eat only plant based foods. Their choice may be due to ethical beliefs or spiritual concerns, or for the health benefits such a diet can yield.

Not all people who practice vegetarian diets are purists. Lacto-vegetarians add milk and milk products to their diets; Lacto-ovo vegetarians will eat milk and milk products, cheese, eggs, and yogurt, along with plant based foods.

Beer, a plant based product, appears to be the ideal beverage for the vegan diet. It is rich in protein, B vitamins, folic acid, and anti-oxidants. It is also high in fiber, and slows digestion. It contains no cholesterol or fats. Hops, the flower used for its preservative and bittering aspects, have a somniferous effect on the body, and also sharpen the appetite.

Although many beers are vegan friendly, there could be hidden ingredients that throw a red flag into a match made in heaven. Cask-conditioned ales are usually fined, or clarified, using isinglass. Isinglass is made from the dried swim bladders of tropical fish, the Chinese Sturgeon being the most common. These finings do not generally pass into the finished product but, if analyzed, may be found in clarified beer in minute quantities.

You may believe that German beers based on Reinheitsgebot would be free of any animal product. Reinheitsgebot, as you know, is the Bavarian Beer Purity Law of 1516, and is upheld as a traditional standard by many brewers today. It states that beer can only be made with barley (and wheat, in some cases) water, and hops. At the inception of the Reinheitsgebot, yeast was the magic that turned wort into a euphoric beverage, and was "implied " as an ingredient within the definition of untainted beer. Purists who follow this strict German tradition are not prohibited from using finings to clear haze in beer. Those who initially interpreted the law believed that finings did not pass into the product, but remained in the bottom of the brewer's vat, and that interpretation still stands within accepted tradition.

Gelatin and casein may also be used as clarifying agents in beer. Gelatin is a translucent, brittle substance, extracted from the collagen inside the connective tissues of bovines, porcines, equines or fish. Casein is a protein found in milk.

Vegans should seek out beer that has been cleared using non-animal derived products, such as bentonite, Irish Moss, silicon dioxide, diatomaceous earth, or the synthetic clarifier polyvinylpolypyrrolidone, also known as PVPP or polyclar. Beers styles that are characteristically hazy may also be vegan friendly, such as wheat beers or bottle-conditioned ales. Most Belgian beers are vegan. Lagers are pasteurized and pass through chill filters, so they are not usually treated with isinglass. However, some breweries may still use isinglass on selected batches that are too hazy for the style. Many gluten free beers are also vegan friendly, although if they have honey added, they would be excluded from the acceptable list.

Foam control agents may also be derived from animals. Glycerin, from animal and vegetable fats, and glyceryl monostearate, derived from natural stearic acid and glycerin, may be used for this purpose.

What about Organic Beer?

Organic beer means that it has been produced without harmful pesticides, fertilizers or genetically modified organisms. Therefore, they may contain organic honey, or employ animal based finings, making them unsuitable for a Vegan diet

Short-list of craft brewers who make Vegan Friendly Beers:

Anchor Brewing – San Francisco, California, USA
Brooklyn Brewing – Brooklyn, New York, USA (but avoid the cask beer)
BridgePort Brewing Company – Portland, Oregon, USA
Anheuser-Busch - St. Louis, Missouri, USA
Black Isle Brewery – Munlochy, Ross-shire, Scotland
Chimay – Baileux, Belgium
Deschutes Brewery – Bend, Oregon, USA
Dogfish Head Craft Brewery - Milton, Delaware, USA (avoid the Midas Touch Golden Elixir – it is brewed with a touch of honey)
Firestone Walker Fine Ales – Paso Robles, California, USA (avoid Honey Blonde)
Fuller, Smith and Turner – Chiswick, London, England, UK (all bottled beers, except for Organic Honey Dew, are Vegan friendly)
Goose Island – Chicago, Illinois, USA (however, two exceptions are the Summertime Kolsch and Cask Conditioned Ales.)
Lindemans – Vlezenbeek, Flanders, Belgium
Long Trail Brewing Company – Bridgewater Corners, Vermont, USA (avoid the Hibernator brand beer, brewed with honey)
Marble Arch Pub – Manchester, England, UK
Miller Brewing – Milwaukee, Wisconsin, USA
New Belgium Brewing – Fort Collins, Colorado, USA
North Coast Brewing – Fort Bragg, California, USA
Oskar Blues Brewery - Lyons, Colorado, USA
Rogue Ales – Newport, Oregon, USA (but avoid Honey Orange Wheat)
Sierra Nevada Brewing – Chico, California, USA
Sprecher Brewing – Glendale, Wisconsin
Stone Brewing – Escondido, California, USA
Unibroue – Chambly, Quebec, Canada
Victory Brewing – Downingtown, Pennsylvania, USA (Some isinglass has been used for cask-conditioned beers in the past, and may be used for the same style in the future)
Yuengling Brewery – Pottsville, Pennsylvania, USA

Please note that this brief list is limited by space. The exclusion of a brewery does not necessarily mean they are not Vegan friendly. For further information, contact the brewer at your favorite brewery or brewpub. Do not assume the brewer understands what products are derived from animals. Ask, specifically, whether any of the following are used in brewing or processing beer: isinglass, gelatin, glycerin, glyceryl monostearate, casein, or honey.

Cheers!

 
You Should Also Read:
Is Beer the Secret Spice of Life ?
Organic Brewers & Celtic Tradition - Crannog Ales
Homebrewing - Books & Resources - Novice to Expert


Related Articles
Editor's Picks Articles
Top Ten Articles
Previous Features
Site Map





Content copyright © 2018 by Carolyn Smagalski. All rights reserved.
This content was written by Carolyn Smagalski. If you wish to use this content in any manner, you need written permission. Contact Carolyn Smagalski for details.