Greenhouses - Humidity and Air Circulation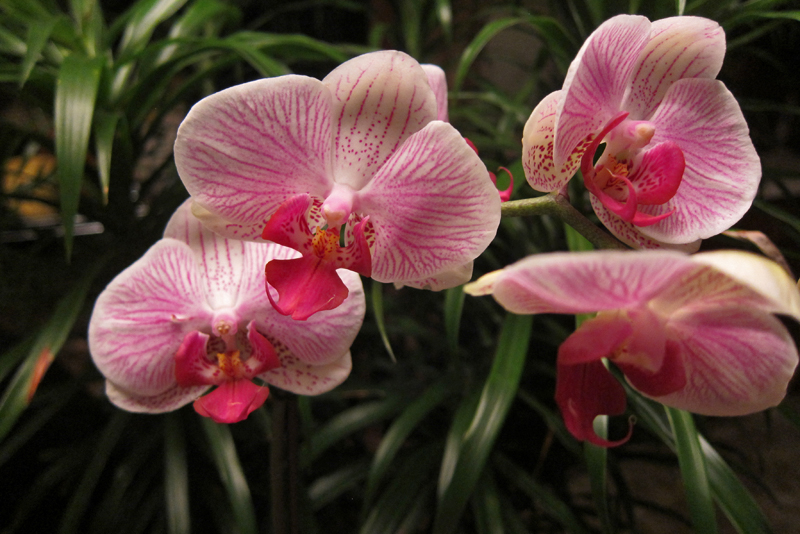 It is much easier to keep humidity up in a greenhouse than in a home environment. You can actually keep humidity around the plants and the leaves so that they can absorb and benefit from the water. But, in conjunction with humidity, you must provide air circulation or you will find that your orchids will all rot.

Epiphytes, or plants that grow in trees, generally grow in the upper half of tall trees and receive very good air circulation. In tropical forests they often receive at least daily rain showers. In order to grow your orchids which come from hybridizing these plants, it is important to tie the two together.

Humidity can be provided in a number of ways. Some people put down indoor/outdoor carpeting which will absorb water and then allow it to dry which increases humidity in the surrounding area. Clay pots are good absorbers of water which will then evaporate and both cool the plant roots and humidify the air. Some greenhouses have enclosed ponds or water sinks to provide a constant source of humidity. The same effect can be handled by placing trays with water around the structure. I prefer plastic to any other material for this purpose because it will not rust. The floor of your greenhouse should be some kind of material such as rock that can be watered to hold moisture and then release it in the air.

Foggers, although expensive, are an excellent way to provide moisture as well as work as a temperature controller during hot months. Misting systems can be used effectively for both temperature and humidity control. Some of these can be attached directly to your water system and use the pressure, combined with a timer, to mist the greenhouse. It is critical to remember that if you use either of these methods, you must have constant air circulation so that the plants will dry and not develop rots. Any kind of standing water in the crowns of plants, especially Phalaenopsis, can cause a plant to die within days. If you're misting, be sure that your Phals are away from any spray.

A humidity meter is a piece of equipment that I highly recommend for anyone with a greenhouse. You will be amazed at the way the humidity will go up and down during the course of a day. Your job is to provide as much consistency as possible.

You should plan to have air circulation 24 hours a day, summer and winter. This must be accomplished with fans of one type or another. A good exhaust fan in the wall of the greenhouse will pull air in and exhaust it out providing fresh air to your plants. Remember, though, that the air that is being pulled in may be much dryer than the air that you want around your plants. Circulating fans also are necessary, especially during the winter months when your greenhouse is closed to outside air. During the summer I use them in conjunction with exhaust fans in order to help keep the temperature down.

You Should Also Read:
Greenhouses - Light Requirements
Hobby Greenhouses for Orchids
How to Make an Orchid Tree


Related Articles
Editor's Picks Articles
Top Ten Articles
Previous Features
Site Map





Content copyright © 2022 by Susan Taylor. All rights reserved.
This content was written by Susan Taylor. If you wish to use this content in any manner, you need written permission. Contact Anu Dharmani for details.