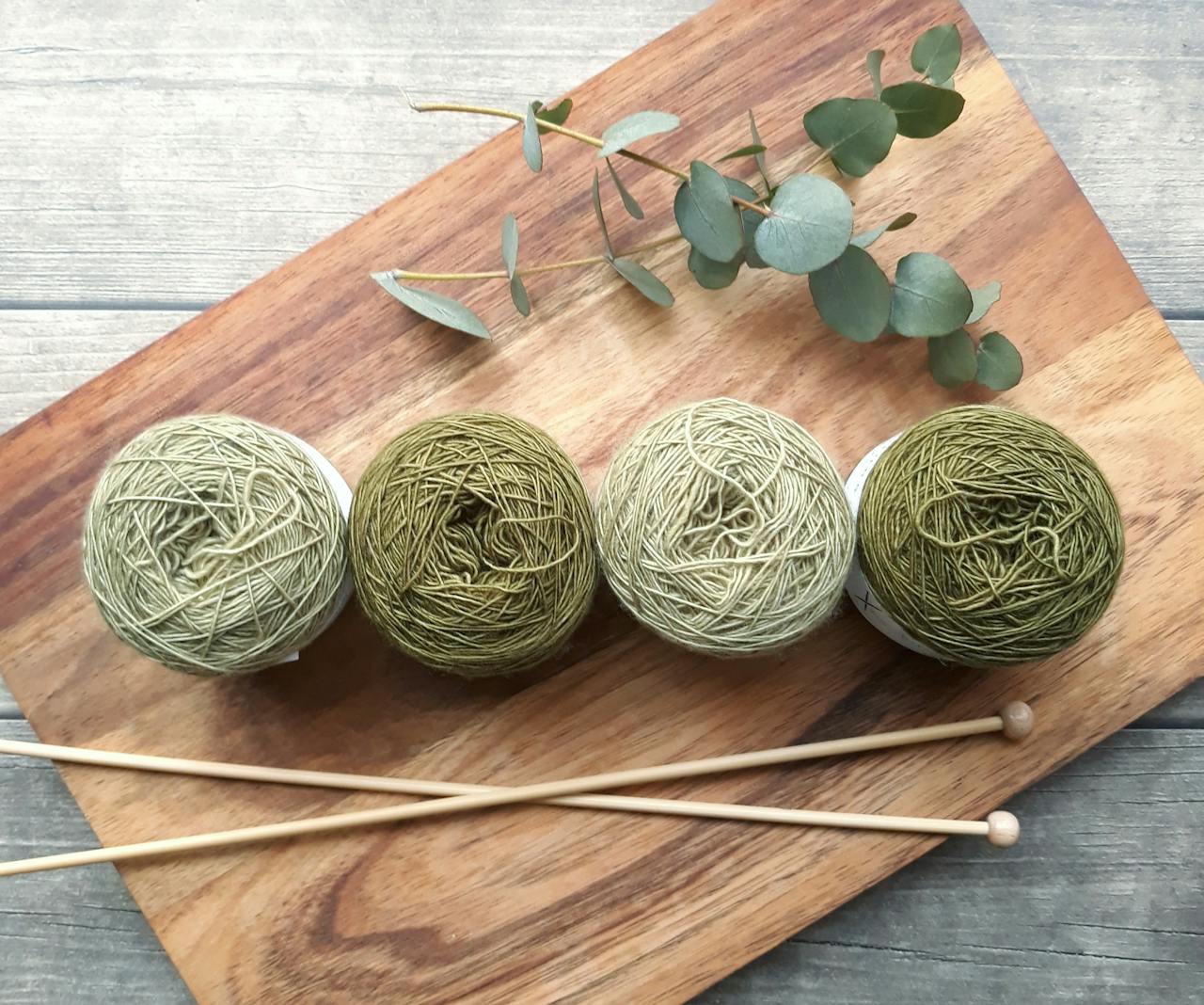 There is something about a luxury fiber that makes a knitter swoon. If, however, said knitter is petting a skein of yarn from Anzula Yarn, the swoon is likely to transform to a full blackout. Yes, the yarn is that beautiful. This small team of committed artists in Fresno, California, offer hand-dyed originality in over one hundred and forty colorways, each available in all of their twenty-three lines of yarn.

"I made up the name Anzula, says Sabrina, the company owner, who has lived in Fresno since the fifth grade. She started the company in 2002, developing her team through her contacts at local yarn shops, personal connections, and even Craigslist. Today, the team of eight sources fiber from all over the world, developing and dyeing yarn bases that are then offered to the public through specialty yarn stores in the United States and Canada.

Anzula demonstrates a commitment to ecological and human rights issues, keeping abreast of current events. Their merino yarns are non-mulesed, and their silk is as environmentally friendly and humane as possible. In addition, the company uses color techniques that work with California's dry climate. Surprisingly enough, this means that acid dyes are preferable to natural, as they don't necessitate heavy metal disposal and allow water to be reused. Ethical business management is a complex issue, and the Anzula management take the time to think through issues to determine best practices. "When I am faced with a dilemma," says Sabrina, "I ask three questions. Is it legal? Is it moral? Is it right? If the answer to any of these questions is 'no', we do not do it."

Some of us run cold, while others of us run hot. Anzula has both camps covered. Lace weight Breeze and sport weight Vera both blend silk and linen, while lace Milky Way combines a small amount of merino with milk protein fiber. Worsted weight Getty is one hundred percent American Targhee wool, while DK Katara is a blend of merino and yak. Looking for ultimate luxury? Try lace weight Serenity, which is pure cashmere. Or Lunaris, a blend of merino, cashmere, and sparkling Stellina.

Granted, none of this luxury comes inexpensively, and Anzula Yarns are pricy. At Cattywampus in Ojai, for example, a single skein of Vera retails for a whopping forty dollars. Is it worth the expense? Consider the idea of amortization, or the price divided by the hours spent working with the fiber, plus the number of times one will wear the finished product. Anzula Yarns are very special, and knitting with them is a delight. For some of us, this means a special skein of lace-weight to create an heirloom shawl. Others might save up to make that one-of-a-kind sweater, or stalk the Local Yarn Store for sales. While I started in the latter camp, my experience with odd balls of Vera may have thrust me into the find-a-way group, as I love linen yarn and Anzula colorways. Check out the company's eponymous website and find a Local Yarn Store that carries the product; any store can then special order a particular yarn or colorway for you.

Disclaimer: I am not affiliated with Anzula Yarns. I have bought my supplies with my own funds.

You Should Also Read:
The Mulesing Controversy
What IS Environmentally Friendly Yarn?
Support Your Local Yarn Store!


Related Articles
Editor's Picks Articles
Top Ten Articles
Previous Features
Site Map





Content copyright © 2022 by Korie Beth Brown, Ph.D.. All rights reserved.
This content was written by Korie Beth Brown, Ph.D.. If you wish to use this content in any manner, you need written permission. Contact Korie Beth Brown, Ph.D. for details.