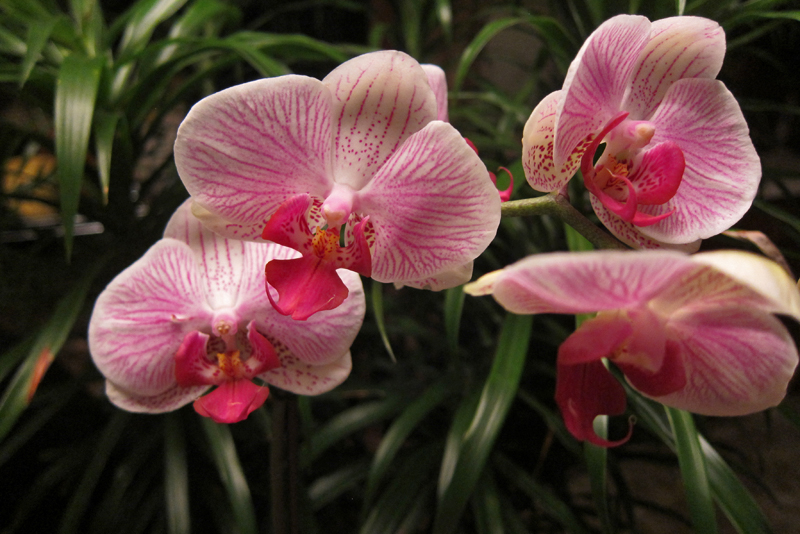 Reduce watering time with drainage trays
When growing indoors, you can cut down your time for watering if you place trays under your orchids and simply water through and let the water drain. This can be accomplished with humidity trays that have a space between the water reservoir and the orchids, or draining trays that use gravity to remove the water. Using humidity trays also is good for your plants since the evaporating water under the orchids will increase the humidity in their environment.

Anti-bug spray
Make a spray with a combination of one litre of rainwater mixed with 10 millitres of miner oil and three drops of liquid detergent or one gallon of rainwater mixed with eight teaspoons of drugstore mineral oil and twelve drops of kitchen detergent. Spray all leaf surfaces and drench medium to kill scale and other insects. Be sure to apply this mixture only on a rainy day or early in the morning so that it has dried before any sun gets on your plants.

Natural Slug protection
Catch and install one or two toads in your greenhouse to protect against slugs and sowbugs. They will eat anything that crawls as well as most insects that they come into contact with. For those in the south, tree frogs and anoles will eat insects, but not slugs.

When you give an orchid
When giving an orchid as a gift to a new grower, do an Internet search for information on the orchid so that you can print it out to accompany your gift. If possible print the instructions along with a photograph of the flower. This will let the person know how to grow the orchid properly as well as give them an idea of what the flowering plant looks like.

When a new flower opens, move the plant to less light
In order to get the most color in flowers and the longest flowering period, move plants that have just opened flowers out of their normal light into more shaded conditions. Too much light can bleach out the color in blossoms and destroy the flower faster than it needs to go. If you bring the plant inside, be sure that you do not place the plant directly under a heating or cooling vent since this will dry them out and stress the plant.

Use florist tape on spitting Phal leaves
When Phals are growing in a somewhat dry environment, they tend to develop split leaves down the middle on the crease. In addition to increasing the humidity, use florist tape to hold the leaf together and keep it from splitting further. The tape can be applied on the bottom of the leaf so it is not so obvious.

You Should Also Read:
Greenhouses - Humidity and Air Circulation
Dividing Your Orchids - Cattleyas
Orchid Growing Tips #15


Related Articles
Editor's Picks Articles
Top Ten Articles
Previous Features
Site Map





Content copyright © 2022 by Susan Taylor. All rights reserved.
This content was written by Susan Taylor. If you wish to use this content in any manner, you need written permission. Contact Anu Dharmani for details.