The Beer Fox says, "Fit for a king and full of sweetness, this apricot/ale blend enhances the full flavor of King Tut's savory, summertime chicken dish. Change seasons by supplementing this dish with scalloped potatoes, a spinach-cheese casserole and cranberry sauce aux airelles."

Recommended Brew: Midas Touch Golden Elixir, Dogfish Head Craft Brewery, Milton, Delaware USA

Style: Ancient Ale – Hazy Golden Sunlight in color – Seductive aperitif with the presence of honey, grapes, saffron and barley that excites the palate, ending with a balance of light malt and hops.

2 lbs. Chicken breasts or chicken cutlets

Pyramid Marinade:
1 -- 8 ounce bottle Wishbone Russian salad dressing
6 oz. Midas Touch Golden Elixir
1 envelope dry onion soup mix
1 C. apricot preserves

Combine Pyramid Marinade ingredients. Allow chicken to marinate for 1 to 2 hours. Chicken may then be grilled for outdoor flavor, or baked in oven at 350 degrees for 1 hour.
Baste frequently with marinade mixture throughout cooking time.

NOTE: To preserve light, summer flavors, serve with herbed rice and sugar pea pods. Pair with peche lambic.

Did you know? Apricots were brought through the trade routes from Armenia to Italy, but did not become widely known throughout Europe until the 15th century. France, Algeria, and Spain have become famous for the Musk Apricot, and Auvergne also produces its much-prized species of apricot. Apricots are one of the most popular fruits used in patisserie - including sweet courses, tarts, compotes, jellies and confectionary.
* Health Benefit: Rich in protein, b-complex vitamins, iron
Cheers!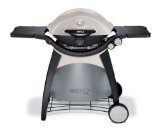 Grills come in all shapes and sizes, from this standard, easy-to-use gas grill to simple and super-deluxe models. Grilling is fun and there is nothing quite so satisfying as that outdoor flavor.

Weber 586002 Q 320 Portable Outdoor Gas Grill