Gai Larn Stars in a Quick & Easy Stir Fry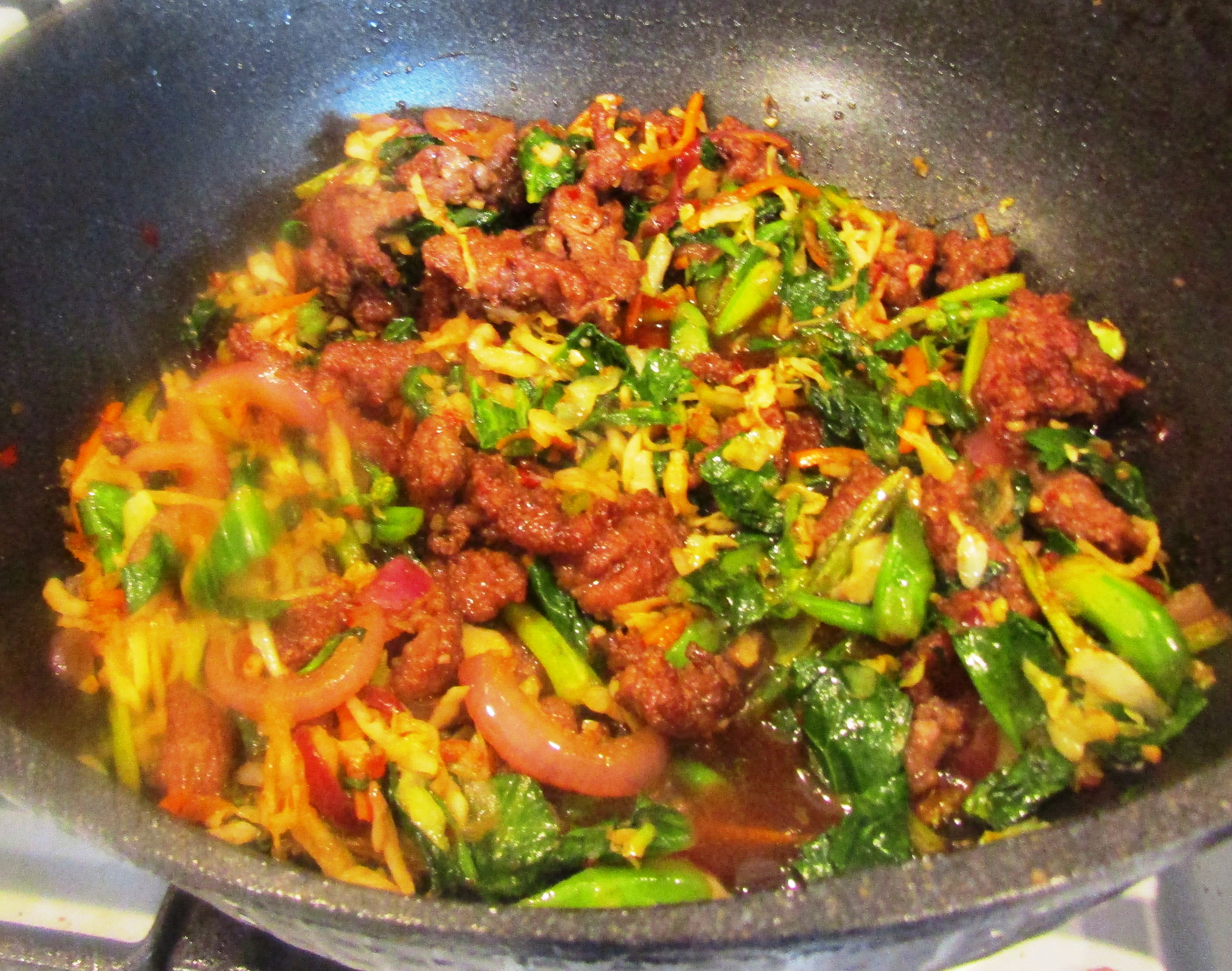 Recently I was looking through an Indonesian cookbook and saw a stir-fry that looked so delicious I wanted to make it for dinner. One of the ingredients in the dish was called Gai Larn. Gai Larn was new to me; I had no idea what it was, so I took the cookbook to my favorite Asian grocery to find out and purchase some for the recipe.
I'm fortunate enough to have a great Asian grocery in Salt Lake City called Southeast Market; I shop there often, and there is always someone behind the counter to help me with my questions. I learned that gai larn is a green vegetable used often in different Asian cuisines, especially Chinese; in my Asian market they call it Chinese Broccoli. I bought a bag of it and researched how it is prepared and used. Gai Larn goes by many different names, including Chinese Kale, Kai Lan, and Gai Lan. It is in the same family as broccoli, Brussels sprouts, cabbage, kale, and cauliflower, and has the same nutritional values, which means it is very good for you.  
Gai Larn has dark green leaves, small white flowers, and heavy stems, which are the most prized and delicious part of the plant. To prepare, wash thoroughly, then break the leaves off of the stems. Using a vegetable peeler, peel off the tough outer skin (this comes off very easily and takes only a minute or two). The stems are often cut into pieces on the diagonal. If the stems are small and don't have a tough outer skin, you can skip the peeling step. The vegetable can be stir fried, braised, steamed, or boiled; the flavor, which is similar to broccoli but has some slightly bitter nuances, goes well with many different Asian sauces.  It is also delicious served raw in salads.  If you haven't yet tried gai larn, it's time for a visit to your local Asian market; you won't regret it.  
Here is my version of a quick and easy stir fry, adapted from my Indonesian cookbook, using this healthy and tasty vegetable. Prep time for cutting the vegetables is about 10 minutes; stir-frying start to finish is about 15-20 minutes. If you're planning to serve this dish with rice, get the rice started in your rice cooker, then start the dish. You'll have everything finished in less than 30 minutes. To speed up the preparation even more, substitute the coleslaw mix available at the grocery store for the shredded Chinese cabbage.
Indonesian Crispy Beef with Gai Larn
4 Servings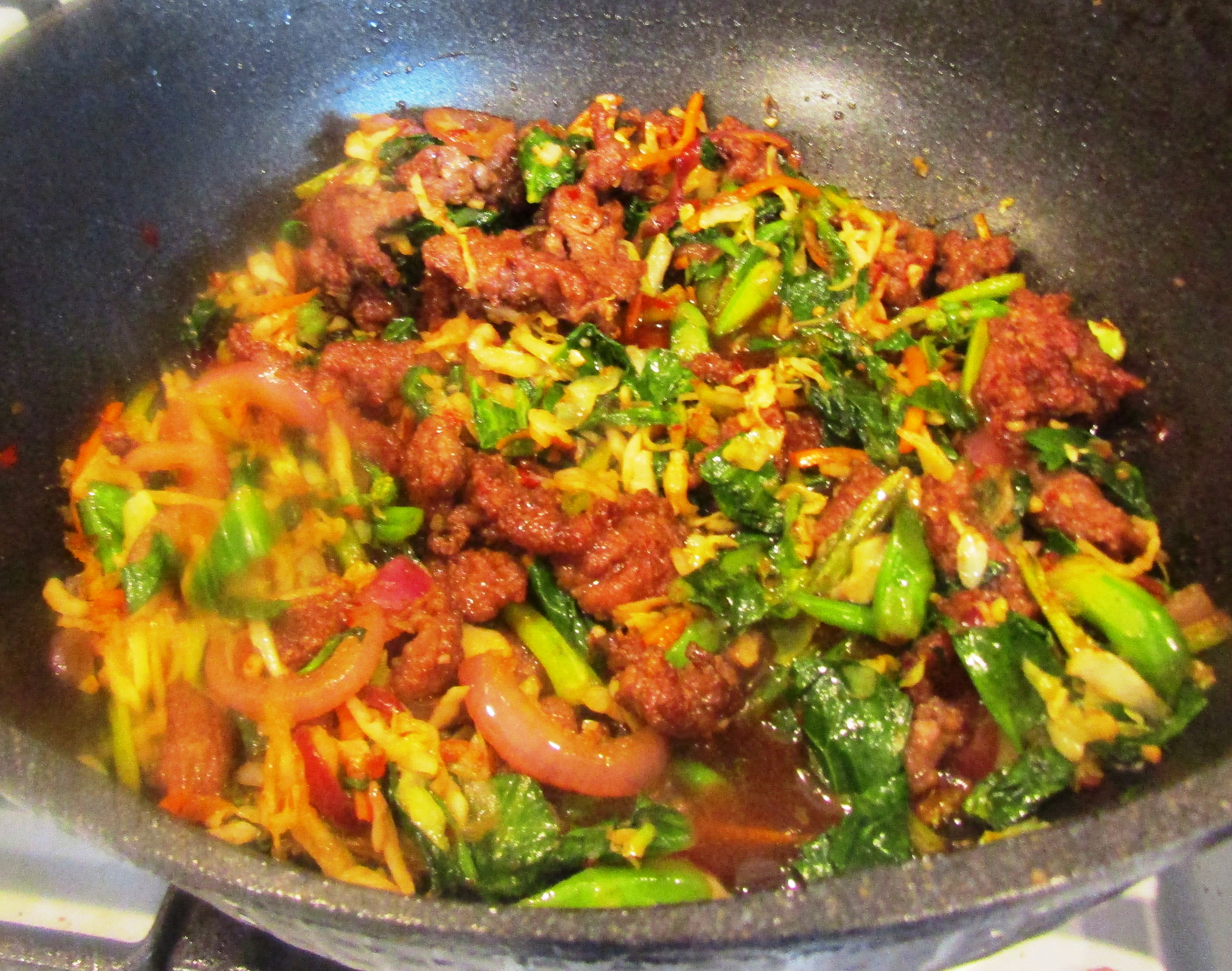 2 tablespoons cornstarch
1/2 teaspoon baking soda
1/2 pound top sirloin steak, sliced very thinly across the grain
1/4 cup peanut or vegetable oil
1/4 cup sweet chili sauce
2 tablespoons soy sauce
1 clove garlic, finely chopped
1 tablespoon sesame oil
3 cups gai larn
1 medium red onion, thinly sliced
1/2 Chinese cabbage, shredded, or 4 cups coleslaw mix  
Mix the cornstarch and baking soda in a bowl and toss the steak slices until they are coated; shake off any excess.
Heat a wok on high and add the peanut oil; fry the beef in batches, removing the pieces as they get crisp and draining them on paper towels. When you have finished cooking the beef strips, discard any remaining oil and wipe out the wok.  
Mix the chili sauce, soy sauce, and garlic; set aside  
Strip the leaves from the gai larn and cut into 1" pieces; peel the stems and cut on the diagonal in about 1" pieces. Chop the ends with the flowers into 1" pieces.  
Pour the sesame oil into the wok; turn the heat to high and add the red onion. Stir-fry the onion until it begins to soften, then add the stem pieces of the gai larn, and stir until the stems begin to soften. Add the cabbage and gai larn flowers and leaves; stir for a minute or two, then pour in the sauce and cook until the cabbage begins to wilt, but is still quite crisp. Stir in the beef; heat briefly and serve with rice.  
Amount Per Serving
Calories 315 Calories from Fat 184
Percent Total Calories From:
Fat 58% Protein 22% Carb. 20%  
Nutrient Amount per
Serving
Total Fat 20 g
Saturated Fat 4 g
Cholesterol 38 mg
Sodium 721 mg
Total Carbohydrate 15 g
Dietary Fiber 2 g
Sugars 0 g
Protein 17 g  
Vitamin A 71% Vitamin C 173% Calcium 0% Iron 17%  
Need a Stir-fry pan? The following can be ordered from Amazon.
Circulon Elite Hard Anodized Nonstick 14-Inch Nonstick Open Stir Fry Pan
Woks & Stir-Fry Pans
)
Cuisinart Chef's Classic Stainless 14-Inch Stir-Fry Pan with Helper Handle and Glass Cover
Woks & Stir-Fry Pans
)


Related Articles
Editor's Picks Articles
Top Ten Articles
Previous Features
Site Map





Content copyright © 2022 by Karen Hancock. All rights reserved.
This content was written by Karen Hancock. If you wish to use this content in any manner, you need written permission. Contact Karen Hancock for details.