Spotlight on The Crafty RVers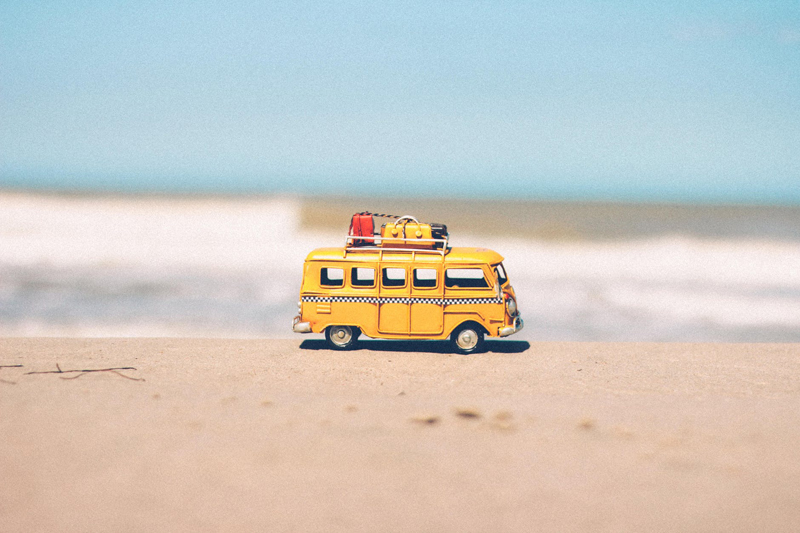 You might have noticed the growing trend of younger, still-working RVers who aren't waiting until retirement to achieve their road trip dreams. One couple I recently connected with has figured out how to live full-time on the road while bringing in a steady income. And while there's plenty of time in their schedule for outdoor adventures, they also carve out time to give back to the community too.
Jorge and Evielynne Sanchez met in Utah when Evielynne attended Brigham Young's law program. They fell in love, got married and moved to Florida to be near family. But their life in Miami wasn't all that they had hoped for. "Not seeing each other for more than an hour a day after our jobs," says Evielynne, "was tearing at our marriage." They both agreed--it was time for a change.
While figuring out what the future held for them, the pair fondly remembered a four-month tent trip they had taken while living in Utah. "We loved every minute of that trip," says Evielynne. "So we decided that life was too short and took a chance." They decided to hit the road. Wanting to begin their new lifestyle debt-free, they looked at used RV models. "When we found this rig for only twelve hundred dollars--I am so not kidding--we jumped at it," says Evielynne. "But, we didn't know a thing about RVs; like water tanks, furnaces and those sorts of things. Well, this rig didn't have a water tank or a furnace." Like all newbie RVers, the couple learned a lot of about the dos and don'ts of the RV lifestyle pretty quickly. "Jorge says more of the don'ts than the dos," says Evielynne. They settled into their new way of life and have been happily full-timing for over two years in their no frills motorhome affectionately called "Mr. Crafty."
Making the Big Bucks
The couple has multiple income streams to help keep their road trip going smoothly. Jorge gets most of his leads from
Workamper.com
and is able to find flexible jobs so that they never feel stuck in one location. Evielynne provides research support for two authors as her main source of income, and as long as she has internet service, she can get her work done. The couple also shares another income stream--the money they earn from making crafts. This dynamic duo, aka, Mr. and Mrs. Crafty, create everything from hats and Christmas crafts to Crayon roll party favors and handmade business card holders. In fact, they have four Etsy stores devoted to their love of crafting! According to Evielynne, "Jorge loves to make Barbie doll clothes and quilts; and would you believe no one taught him how to sew? He does most of his patterns from his mind! It's crazy, I am not that lucky. I love doing hats." The pair has had great luck selling their wares at local Farmer's markets. "When the women meet Jorge in person, they drool all over him and state they wish their husband was just like him. Yes, I have a waiting list for who gets my husband when I die--isn't that just terrible?" says the fun-natured Evielynne. The couple also tables at holiday church sales and enjoys connecting with local consignment shops.
Advice for Newbie RVers
If there was one piece of advice that Jorge and Evielynne could share with new RVers, it's don't judge a rig by its cover. Because they have an older rig, they often feel categorized as bums or slackers. However, once people get to know them, they find out that is truly not the case. "In fact," says Evielynne, "we get a lot of comments about how people envy the way we are living." The couple also thinks it is essential to really immerse yourself into the RV lifestyle. "Take time to know your rig and take time to learn from other RV folks," says Evielynne. "And always have your common sense on board with you."
Volunteer Work
Even with their busy schedule, the couple remains philanthropic while on the road. Every year they pick three different charities to work with. This year they chose LDS Church, Miami Abuse Center, and a hospital in The Dalles, Oregon. "We love using our crafts to help the community wherever our rig is parked. And we always bike to do any local charity work," says Evielynne. And if that wasn't enough, the couple is also participating in a Secret Santa this year for an organization in Oregon.
Furry Friends
The pair isn't traveling alone though; they've got three furry friends along for the ride. JuneBug, a male cat, has been with them since day one of their RV life. Along the way they adopted two rescue dogs, a Border Collie named Militia and a Chihuahua named SnowPea.
Other Hobbies
When the couple isn't working, crafting or volunteering, they enjoy exploring the country by bike and taking long hikes. "We are huge hikers and we average about ten miles per hike," says Evielynne. They also are avid readers. "We read whatever we can get our hands on," explains Evielynne. "I am a biography buff and hooked on presidents right now.
Truman,
is my favorite book of all time. Jorge likes anything from Japan and his favorite book is
Shogun
."
From the looks of it, Jorge and Evielynne are having the time of their life. They truly enjoy one another's company, which is probably the most important element of a successful full-time RV life. According to Evielynne, "We follow simple rules, like marriage first. This has allowed us to follow our hearts." Other elements of a successful RV life? "Get to know people and let them get to know you," says Evielynne. "Smile always because life is good even when it's hard--it's the struggle that allows you to enjoy the good times."
Jorge and Evielynne, in addition to their four Etsy sites, have three blogs. Visit
https://mrmrscraftyrving.blogspot.com/


Related Articles
Editor's Picks Articles
Top Ten Articles
Previous Features
Site Map





Content copyright © 2022 by Erin Lehn Floresca. All rights reserved.
This content was written by Erin Lehn Floresca. If you wish to use this content in any manner, you need written permission. Contact Erin Lehn for details.