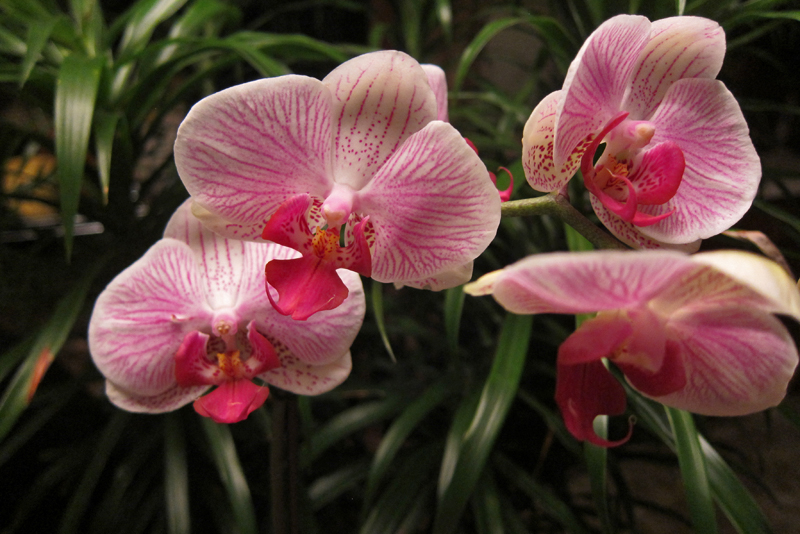 Phalaenopsis or Moth Orchids
Phals are one of the easiest of orchids to encourage to rebloom if you know that they need about a month of cool night time temperatures in order to initiate spikes. As the weather cools in your area, let the plants get night temperatures of 60-70 degrees Fahrenheit. You should see the inflorescence(s) start to appear either at the bottom of the plant or below one of the bottom leaves. When it reaches approximately six inches or 15 centimeters, start staking to hold the inflorescence. Be sure to keep the plant in the same position in relation to light source or you will have a twisted look to the flowering.

Cattleyas
Many Cattleyas are fall and winter bloomers and these particularly need bloom booster fertilizers to provide the best display. Those that bloomed in the spring will respond to plain water rather than fertilizer at this time of year until they start growing in the spring. Now is the time to clean up these types to make sure that they harbor no mysterious insects or fungus. Take off old sheaths, clean the leaves with lemon juice to remove any chemical residues to allow maximum photosynthesis.

Dendrobiums
Some Dendrobiums will lose all their leaves in the fall, others will lose some of their leaves on back bulbs; but you shouldn't be losing all the leaves on old pseudobulbs. If this is happening, then you need to spray with a fungicide like Consan or Physan to keep from losing all old leaves. This will not kill the plant, but you will be left with only one growing lead and a rather odd looking plant. Clean up the plants and be sure that the new growths are staked well.

Adjust your watering and fertilizing schedule
Fall and spring are the hardest times of year to water orchids, especially outdoors or in a greenhouse. Reduced heat and fewer daylight hours cause your plants to grow more slowly and therefore need less water. You need to be very careful so that you do not overwater and drown the roots. After you've watered thoroughly, pick up one of your pots and feel how heavy it is. Then when your normal watering day comes, feel the weight of the pot again, it should be much lighter. Check the medium; if it's dry then you know how the dry pot feels. It's best to make a note on your calendar when you water and fertilize so you can keep up with a normal schedule.

Move your plants around when you take off shade cloth
When you take off your shade cloth in the fall, you will need to reassess where your plants are with the new amount of light. Phalaenopsis which could grow nicely with shade cloth will suddenly be in too much light. Move them under other plants or into a separate area with more shade. As you move your plants, check them for insects, snails, molds, etc.

Fungus, Insects and Air Circulation
Be sure to keep your air circulation going 24/7 even though the temperatures have moderated. With cooler temperatures fungi will try to take over. Spray once a month with a fungicide recommended for your area. I also recommend an insecticide spray once a month, preferably with systemic chemicals as there are many insects which will try to move into the greenhouse with the cooler weather. If moving plants inside, be sure to spray and clean them up before bringing them in -- you don't want to introduce any new bugs!

Allow deciduous orchids to lose their leaves and dry out
Some Dendrobiums, Cychnoches and other orchids will lose their leaves during the winter months. As leaves die, cut back on watering until all the leaves are gone and then move them to a portion of the growing area where they will receive no watering until growth has started back up in the spring. Many of these types of orchids will rot if they receive ANY water, so be very careful. Humidity is fine; watering is not.

You Should Also Read:
Water Quality
Hobby Greenhouses for Orchids
Repotting Your Orchids - Cattleyas


Related Articles
Editor's Picks Articles
Top Ten Articles
Previous Features
Site Map





Content copyright © 2022 by Susan Taylor. All rights reserved.
This content was written by Susan Taylor. If you wish to use this content in any manner, you need written permission. Contact Anu Dharmani for details.