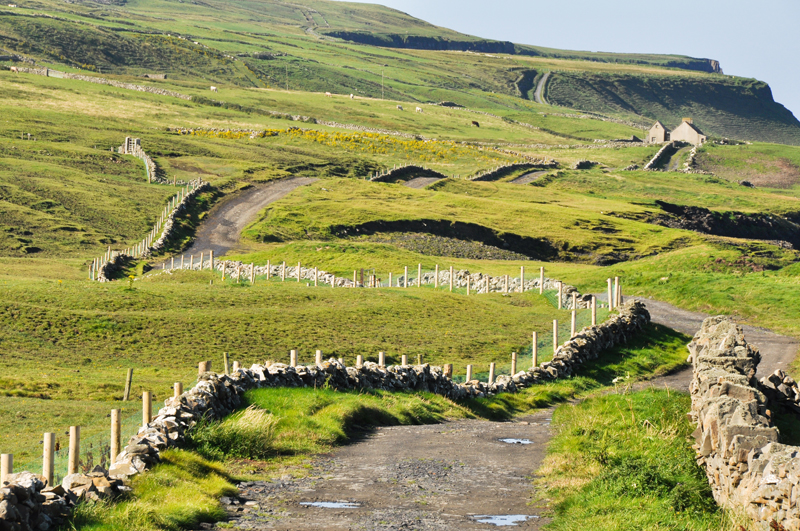 Imbolc (or Imbolg as it is also spelled) is the Irish for February. It is also an ancient pagan festival in Celtic countries. Imbolc is a cross-quarter day and is midway between the winter solstice and spring equinox. While it is the name for the whole month it coincides with the Christian feast of St. Brigid of Faughart on 1st February and Candlemas on 2nd February. Pagans who celebrate by the lunar calendar would say that Imbolc 2015 occurs on the full moon on 4th February.

Celtic feasts tend to be highly flexible and do not necessarily fall on the same numbered day that we note on our calendars today. The Féile Bhríde, the Festival of Brigid, begins on the eve of the saint's feast day, 31st January. St. Brigid is associated with maintaining and eternal flame at her abbey in Kildare. There had been, previous to the founding of this early Christian abbey, a fire temple in the same location. Flames, whether they are hearth fire or candles, are one of St. Brigid's symbols. The following day is Candlemas. In the Christian calendar this is when the infant Jesus was presented at the temple. But it is also St. Blaise's feast day when Catholics have their throat blessed by two crossed lit candles. Imbolc as a pagan fire festival would be celebrated with sacred, ceremonial fire.

Of course, 2nd February is also Groundhog Day in the United States. But this also feels synchronous since Imbolc is considered the start of the Irish spring. Even though there may be snow showers and ice on the grozund, the Irish sunshine in early February does carry a deliciously seductive heat. You do know that the earth is warming up and spring is, indeed, on its way. Ireland may not have any Puxatawney Phil traditions but there is similar weather forecasting tradition.

In the goddess tradition, Brigid is often cast as Maiden Springtime. She is said to be kept in bondage by the winter hag, the Cailleach. Now the old hag knows that she cannot hang on to the winter forever and in late January and early February we do experience freakish storms, Cailleach temper tantrums as she realizes that she is losing her grip on the earth. I have known days of hail, curtains of heavy rain, snow flurries, thunder snow, lightening, heavy winds and brief piercing bursts of sunshine. All in a day's Irish weather! So the Cailleach does not go quietly into her farewell and 'good night!'

The weather forecasting lore in Ireland for Imbolc/Candlemas is that if it is sunny then there will be six more weeks of cold weather. If, on the other hand, there is a murky dawn, overcast and rainy, then spring is here for sure.
But perhaps we should be grateful if the Cailleach wins the Imbolc weather draw. For one proverb told to me by an elderly local man was "A fair February crushes the rest of the year."

You can learn more about Brigid, goddess and saint, and the celebration of Imbolc in my ebook"Brigid's Way: Reflections on the Divine Feminine."

Whatever weather you are experiencing this Imbolc, may you feel the blessings of Brigid and the promise of springtime renewal that is coming.



You Should Also Read:
Understanding the Celtic Calendar
Celtic Spirituality and Ireland


Related Articles
Editor's Picks Articles
Top Ten Articles
Previous Features
Site Map





Content copyright © 2022 by Bee Smith. All rights reserved.
This content was written by Bee Smith. If you wish to use this content in any manner, you need written permission. Contact Bee Smith for details.