Tillandsia, the Air Plant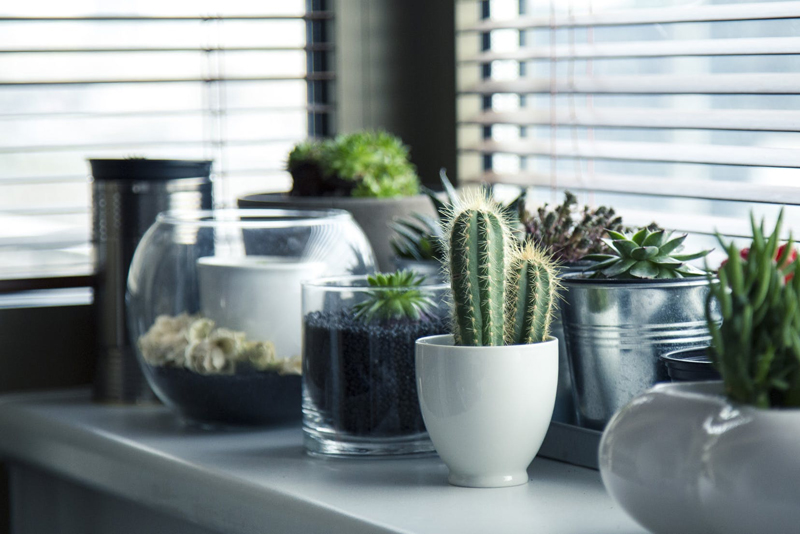 Tillandsia are a genus of plants in the Bromeliad family that are commonly known as Air Plants. Air Plants are so named for their somewhat unique growth habit; they don't require soil or a pot. Like many Bromeliad cousins, Tillandsia are epiphytes and their roots are used mainly to help anchor them to a supporting structure such as a tree. Water and nutrients are absorbed through the leaves.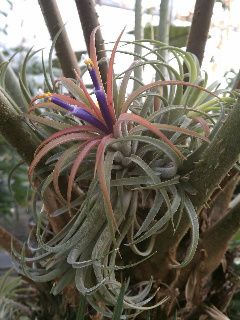 The special way in which Tillandsia grow needs to be considered when growing one at home. While situated in the crook of a tree branch, a Tillandsia is shaded from direct sun most of the time. Indoors, this can be provided by placing your plant in a window where it will receive filtered light at midday, especially during the summer. Protect it from the brightest sun with sheer curtains. Eastern or western windows are great without shading.
Tillandsia are often grown in containers such as terrariums or hanging globes; if you use this sort of vessel, be aware that heat can build inside while the sun shines on it. Take care to position such a container away from direct sunlight.
Another special consideration needed for Tillandsia is that without roots or a pot, its going to need to be watered a bit differently than your other houseplants. Tillandsia should be soaked in room temperature water every two to three days. One quarter strength water-soluble fertilizer can be added to the water about twice a month. Use distilled or rain water to prevent minerals from building up on the leaves.
After watering, ensure that the plant is not left with standing water between the leaves and that they dry within a few hours. Tillandsia need good air circulation to thrive, so if you keep your plant in a glass container it should have an ample opening for air flow. Plants mounted on wood, in shells, or other open-air supports can be misted in between waterings but take care that they still get to dry down; excess moisture can quickly cause Tillandsia to rot.
Tillandsia reproduce by sending out offshoots which can be left connected to the parent plant or gently twisted free and given a place of their own. Root growth may or may not occur and so cannot be used as a gauge of the young plant's maturity. Instead, let the new plant's size relative to the parent plant be your guide. A good target would be for the baby to be at least one third the size of the mother plant before separation.
This site needs an editor - click to learn more!

You Should Also Read:
Building Your Own Terrarium
Creating a Living Wreath
Houseplants for Small Spaces




Related Articles
Editor's Picks Articles
Top Ten Articles
Previous Features
Site Map





Content copyright © 2022 by Lisa Beth Voldeck. All rights reserved.
This content was written by Lisa Beth Voldeck. If you wish to use this content in any manner, you need written permission. Contact BellaOnline Administration for details.