Salt City Brew Club of Syracuse - An Exceptional Model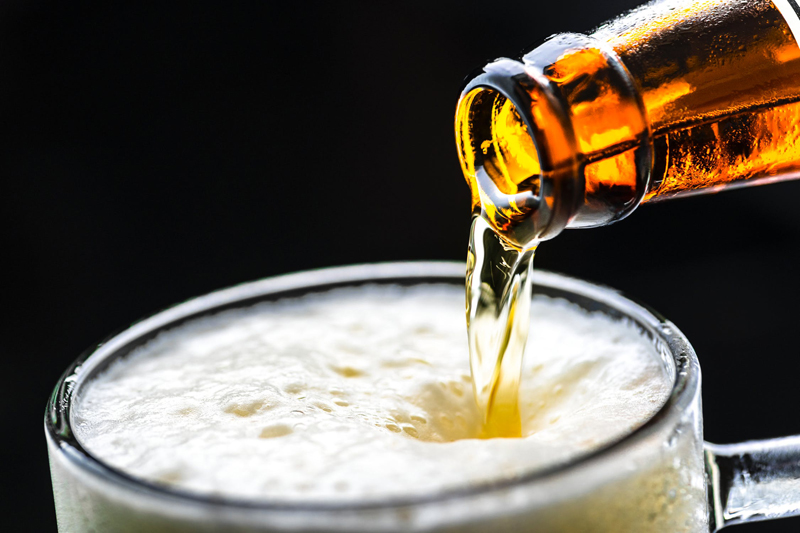 "He's the guy with the hat that drives the Jag," said Mick Barnes, speaking proudly of Kevin Flood, his partner-in-brewing. Mick Barnes, a former educator, and Kevin Flood, a nuclear engineer, began brewing together in 2002. Mick had brewed in the past, but had given up the hobby until his buddy Kevin started expressing an interest in making beer. Through his travels, Kevin had been introduced to Double Diamond Original Burton Ale, an ESB that has been brewed in England since 1876. Originally brewed and bottled "by appointment to her majesty the Queen, Brewers of Ale & Lager Ind. Coope, Ltd., Burton-on-Trent, England," it is now brewed by Carlsberg UK, Ltd., West Yorkshire, England. It claims to be the most famous of English ales, with its "double diamond" symbols serving as a historic link to the past, when two diamond links were marked on the side of each wooden cask with a stick of chalk, symbolizing the finest ale crafted by the brewery.

Kevin says, "There's nothing better than finding a really good beer...then brewing it yourself." He was determined to match the golden color, the off-white head, and the robust, malty presence of this renowned ESB. To date, he has brewed 29 generations, or batches, of his own "Double Diamond," adjusting his recipe with constant persistence. When he took the BJCP class, he learned about melanoidin, and began adding it to his formulation to accentuate the malt presence. He says it adds a richness that he was unable to reach in earlier trials.


As members of the Salt City Brew Club in Syracuse, New York, USA, the homebrewing team of Barnes and Flood refuse to take themselves too seriously and have adopted the name the McKevin Sump Pump Brewery. They brew ten-gallon batches every week, and have won numerous ribbons for their superb beers, including the impressive Homebrewer of the Year Award. The Salt City Brew Club has a membership of over 60 brewers. Says Mick, "We're proud of ourselves because our brewclub has spawned at least five professional brewers." This is not a claim without substance. They went on to name the pros, and the list is impressive:

• Past President of the Salt City Brew Club, Pete Kirkgasser, is a Brewmaster at Saranac Brewing Company.
• Tim Butler was the former head brewer at Syracuse Middle Ages Brewing Company, and is currently Brewmaster at the Empire Brewing Company Brewpub at Armory Square.
• Andy Gersten is the head brewer at Sackets Harbor Brewing Company on the eastern end of scenic Lake Ontario.
• Award winning Steve Schmidt is the Lead Brewer at Redhook Brewing in Portsmouth, New Hampshire and Brewmaster at the Cambridge House in Granby, Connecticut.
• Kiernan May is Owner and Brewmaster of Landmark Brewing Company in Syracuse, New York.


A smaller group from the Salt City Brew Club has also formed a "Tasting Group," a spin-off from the Beer Judge Certification Program that Mr. Flood recently completed. This group of beer enthusiasts meets once a month to finely hone their tasting and evaluation skills. They readily discuss a list of professional mentors in detail: George DePiro, known as "Professor Beer," a former chemical analyst who serves as Brewmaster at C. H. Evans Brewing Company's Pump Station in Albany and teaches BJCP classes, as well as classes on beer and sensory evaluation to restaurant owners; Tim Herzog, Brewmaster at Flying Bison Brewing Company; Dave Schlosser, Brewmaster of High Falls Brewing Company; Dave Hartman, the original Brewmaster at Empire Brewing Company; and Salt City Brew Club's own BJCP Grand Master II Judge Peter Garofalo, who has served as BJCP Exam Director (West) within the BJCP administrative sector.

Without a doubt, a successful, active brewclub inspires a competitive and nurturing atmosphere that fires up the best in each member, and Salt City Brew Club is a model example for others to emulate.

Cheers!
 
You Should Also Read:
The Complete Joy of Homebrewing , 3rd Edition
Homebrewing - Books & Resources - Novice to Expert
The Palmer Method of Homebrewing


Related Articles
Editor's Picks Articles
Top Ten Articles
Previous Features
Site Map





Content copyright © 2022 by Carolyn Smagalski. All rights reserved.
This content was written by Carolyn Smagalski. If you wish to use this content in any manner, you need written permission. Contact Carolyn Smagalski for details.