Winter Orchid Growing Tips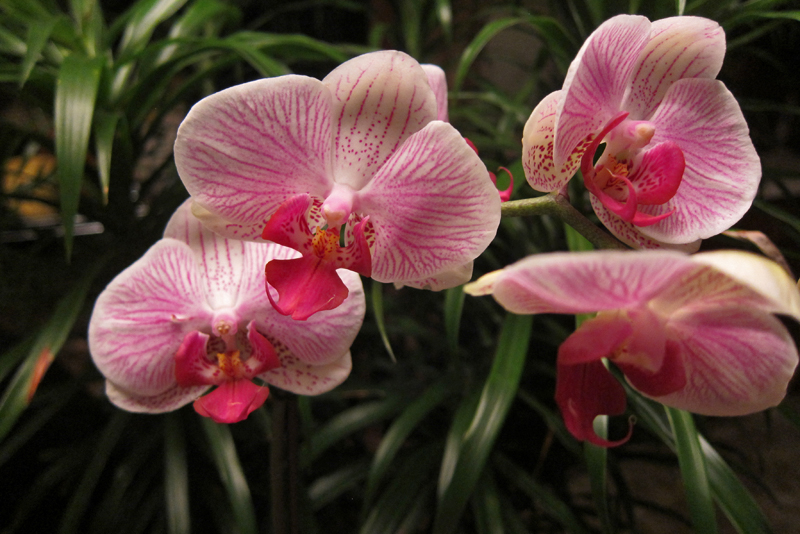 Adjust your watering and fertilizing schedule
The most important thing to do in the winter is to adjust your watering schedule. During cooler weather with less light your plants will need much less water. Many growers go from a two or three times per week schedule to once a week in the winter. It is especially important to watch your largest pots since they are the slowest to dry out after watering, especially when it is cool.

Isolate those plants that need a rest
Winter is a good time to group plants together that need similar winter conditions. D. biggibum and R. digbyana both need high light and very little water during the winter months. Keep these and similar plants together so that you will know that they need only once a month watering. Cygnoches and many terrestrials need no water at all until the new growth starts in the spring. These can also be grouped where you know you will not water them. A good idea is to flag these plants with a special color tape (the new colored electrical tapes will last a season) that way you can identify them easily.

Do maintenance on your fans and heaters
Before the cold season starts, clean your fans and do regular maintenance on your heating systems in the greenhouse. Cool weather requires better air circulation to inhibit molds and mildews. Circulating air also keeps cool and hot air mised around your plants, eliminating both cold and hot spots. And your heating system is what will keep your plants alive during cold winter weather.

Keep a supply of water in the greenhouse
You will need to keep a supply of water in the greenhouse throughout the fall and winter so that you do not shock your plants with cold water. Some people keep water in ponds or holding areas, some have a heater that will bring hose water up to temperature. You don't want to use water that is more than 10 degrees less than the ambient temperature and if it's 40 degrees Fahrenheit in the greenhouse, you definitely don't want to use water anywhere near freezing. I keep jugs of water and a sprayer filled with water to use during winter months.

When bringing in plants, clean them up
Plants that have spent the summer and fall outdoors will harbor pests that you really don't want in your greenhouse. Take the time to clean off any old sheaths, soak the whole pot in a soapy solution (one tablespoon per gallon) and spray the plant with a systemic insecticide. This effort should take care of any pests in the pot and keep from introducing anything that you would prefer not to have in the greenhouse.

Light requirements change during cool months
Changing seasons mean changing light as the sun moves. Windows that were perfect during the summer may now not provide enough light. Check your light exposure with a light meter to make sure that you're providing enough to have your orchid bloom. Remember that most orchids are t ropical in nature and that their parents were naturally atuned to 12-hour days around the year. Many people supplement light during the winter months with florescent light.

You Should Also Read:
Orchid Growing Tips #17
Greenhouses - Humidity and Air Circulation
Repotting Your Orchids - Phalaenopsis


Related Articles
Editor's Picks Articles
Top Ten Articles
Previous Features
Site Map





Content copyright © 2022 by Susan Taylor. All rights reserved.
This content was written by Susan Taylor. If you wish to use this content in any manner, you need written permission. Contact Anu Dharmani for details.