Top Ten Orchid Growing Tips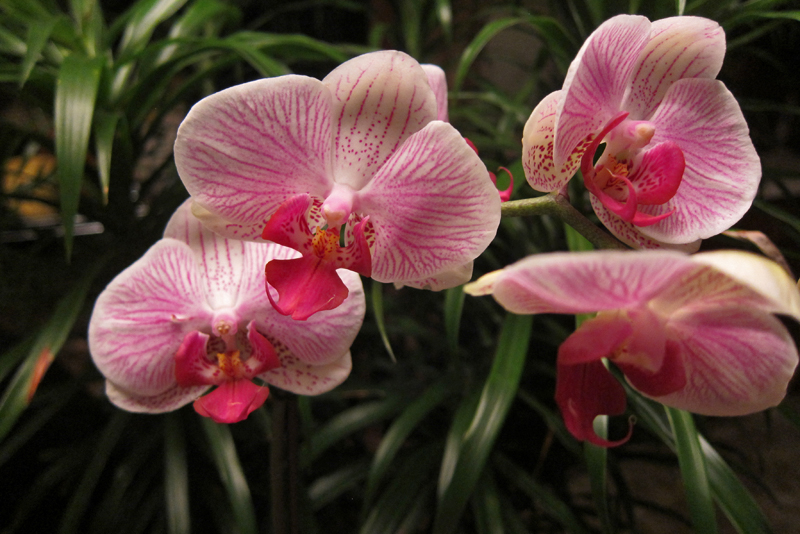 Read, read, read
If you are going to be serious about your orchids you need to learn all that you can about them. There are any number of good books on the subject. Online there are websites with great information. There are also a number of forums where you can ask questions and get information from experts. Use these resources -- that's why they are there.

Buy Orchids for your environment
One of the biggest mistakes new enthuiasts make is buying plants just because they like them, not because the plants will grow in their environment. Do some research, talk to other orchid growers and find out what will grow best under your conditions. You will be happier because your plants can thrive and your plants will be happier, too.

Buy Flowering Size Orchids
Start out with blooming size plants so you can enjoy the flowers immediately and work to rebloom those plants. Some types of orchids can take up to 12 years to grow large enough to bloom. By all means, once you know what does well and works in your setup, then try seedlings or smaller plants.

Quarantine New Plants
New plants should be kept in a separate area for a month. They should be sprayed and dunked every week for that time period to kill any pests in any stage of development before you put them with plants with no pest problems. Believe me, this will save you a great deal of grief in the long run.

Join an Orchid Society/Go to a Show
One of the best ways to learn about orchids is to join an orchid society and talk to people in your area are growing them. It is important to read and learn about orchids from books, but there is nothing like talking to someone in your city about how to grow a specific orchid. Going to an orchid show is another great idea. You can see plants and there are usually vendors to buy from, too.

Provide extra humidity for indoor plants
Grouping plants together will increase humidity around them all. Putting the plants in a tray with pebbles and water will help. If you do this, be sure to put a saucer under the plant so that the bottom of the plant is not sitting in water.

Always sterilize used pots
Once you are an established grower you will need to repot your plants. Always sterilize used pots overnight in 1/2 cup bleach per litre of water before reusing them. You do not want to pass along either pests or pathogens to new plants when you use the pot again.

Use Rainwater for watering
Always use good quality water for your plants. Never use softened water, it will kill your plants. If possible, try to use rainwater or bottled water if you have a small collection. Especially in the winter, make sure that the water you use is approximately air temperature or you will encourage fungus on your leaves and your plants can develop pitted leaves from cold water.

Provide extra artificial light for indoor plants
The most common cause of the inability to re-flower orchids is lack of light. If you are able, add artificial light to your growing area and use it especially during the winter in the northern latitudes to increase light to approximately 12 hours per day. Most tropical orchids and their related hybrids will thrive with the extra light.

Be careful of decorative pots
Be very careful of those wonderful decorative pots or cachepots. Most orchids are killed by too much water and there is a real danger when using decorative containers as they can hold water at the bottom and keep your plants much too wet for much too long. Make sure that your plants have drained thoroughly before replacing them in their cachepots.

You Should Also Read:
Winter Orchid Growing Tips
Orchid Growing Tips #17
Growing Orchids for Beginners


Related Articles
Editor's Picks Articles
Top Ten Articles
Previous Features
Site Map





Content copyright © 2022 by Susan Taylor. All rights reserved.
This content was written by Susan Taylor. If you wish to use this content in any manner, you need written permission. Contact Anu Dharmani for details.