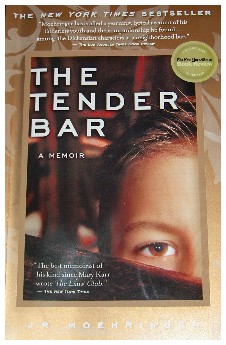 JR Moehringer's simple words drew me into the pages, as if through the door of that Tender Bar: "We went there for everything we needed. We went there when thirsty, of course, and when hungry, and when dead tired. We went there when happy, to celebrate, and when sad, to sulk..." Who could resist following JR Moehringer into the haven that was to teach him about life, accept him, bruise him, and lick his wounds? This memoir, written in gutsy style, without apology for the failures that nearly drowned him, details the joys and frustrations, the realities and imaginations of a young man's life. Affected by the constancy of change, Moehringer found solace in "Dickens", (re-named Publicans), the neighborhood bar that was his anchor of relief. But it wasn't just about the bar and the booze. It was about the people - the characters who inhabited this inner sanctum night after night, and how they molded his identity.

Mr. Moehringer is a compelling storyteller. Characters come to life within each description, presenting visual recall and emotional connection with each of the players: Uncle Charlie, lanky and hairless from a rare disease suffered in his twenties, self conscious, "the Invisible Man," a surrogate father and mentor who tended bar and introduced JR to his cache of friends; Colt, "solidly built...like a young Dean Martin"; Joey D who "seemed to be made of spare parts from different Muppets"; Bobo, "with arms that popped out of his shirtsleeves"; McGraw, his closest cousin, blond and big with a giggle that demonstrated an "irrepressible joy"; his mother, strong and determined to escape the trials of a life that was less than perfect; and "the Voice" of his NYC disc jockey father, an elusive and illusive character who abandoned the family when JR was a baby, but retained the unearned reverence of this young boy who, for a time, internalized this male model as his imagined hero.

This memoir is a multi-sided diamond - the tale of fatherless youth and growth into manhood, the clumsiness of first love, self-confidence lost and re-gained, and unexpected discovery of the two-sides of human life. A superb read! Not to be missed!

TENDER BAR, THE

By J. R. Moehringer Publisher: Hyperion Books, NY

Cheers!