Lucy Saunders - The Best of American Beer & Food - Cookbook with Recipes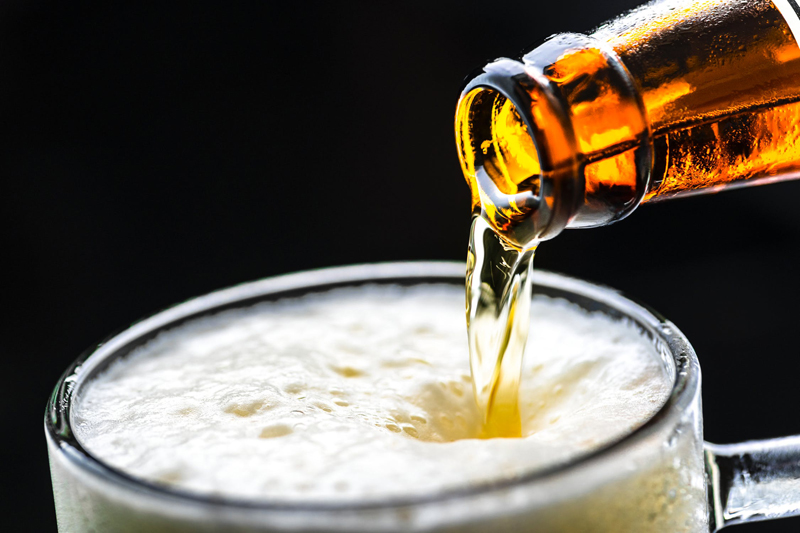 With the upcoming holiday season, your mind skips through warm pleasures that have formed lasting imprints in your mind. Chances are, these imprints hold the image of a woman who has memorialized herself with timeless distinction. She may have entered a room with glittering sequins or tight-ass jeans, surrounded you with the floral aroma of her scent, or pleasured you with cornbread dressing and apple dumplings. Perhaps she told stories that brought you to tears and laughter, or allowed you to act the hero as you killed a spider for her. These womanly images stay with constancy in your mind, and awaken more pleasure each time you discover another remarkable woman to add to your list of indelible memories.


When a woman is involved in the joy of beer, it makes her all the more enthralling. It is not enough that she lives it, breathes it and cooks with it. When she writes about it, showcases it, and shares it with you, she becomes priceless. Such are the talents of Lucy Saunders, author of  "The Best of American Beer & Food: Pairing & Cooking with Craft Beer." This year, at the 2007 Great American Beer Festival, this warm and engaging beercook spoke with the expertise of a saavy culinary artist, whether she was presenting her book to the media or demonstrating her culinary skills to festival-goers in the Beer & Food Pavilion. Afterward, she graciously signed books for waiting reporters and fans, and engaged them in relaxed conversation.

Lucy Saunders - Early Career

Saunders kicked off her career in 1987 at the Cooking & Hospitality Institute of Chicago, founded by the passionate Linda Calafiore. The program focused on culinary and pastry arts and hospitality, while being infused with a balance of general studies. As a native of Wisconsin, one of the most active brewing communities in the United States, it was not long before Saunders recognized the synergistic association between liquid bread and traditional food. In her quest to increase her knowledge about beer, she attended the Siebel Institute of Technology in Chicago, Illinois, where the internationally-acclaimed sensory specialist Ilse Shelton taught her the fine points of sensory perception.

Before long, Saunders began penning a column for The Chicago Tribune called "Liquid Assets," focusing on beer and non-alcoholic beverages. Her warmth and enthusiasm spilled out from the pages, as she ignited interest in beer within the gastronomic community. She organized Beer & Cheese tastings with the Wisconsin Milk Marketing Board and the American Cheese Society, showcasing how the flavors of ripened and aged cheeses came alive with the pairing of a well-chosen beer. She also wrote columns for Celebrator Beer News and All About Beer Magazine.

Her first book, "Cooking With Beer: Taste-Tempting Recipes and Creative Ideas for Matching Beer & Food," published by TimeLife Books (1996), is an imaginative entry into the world of beer cookery. With this entry into beer cuisine, Saunders received high marks from the Hop Musuem, Los Angeles Times, Chicago Tribune, and Michael Jackson's Great Beer Guide as a solid resource for the beer cook.

Current Culinary Pleasures
In 2007, Saunders again gave the beer world her sound knowledge. Early in the year, she self-published, "Grilling With Beer: Bastes, BBQ Sauces, Mops, Marinades and More Made with Craft Beer," a coil-covered, soft-bound cookbook, highly creative, and easily transported to the park, campground, or backyard grill-pit.


She quickly followed with her newest and best book to date, "The Best of American Beer & Food: Pairing & Cooking with Craft Beer," published by Ray Daniels (2007). This beautiful, soft-covered book is fit for the great-room coffee table, but lives with even greater panache in the kitchen. Saunders traces the specialties of craft beer and food within each section of American continent: from the chocolate beer dinners of Chef Bruce Paton at the Cathedral Hill Hotel in San Francisco, California, to "A Day at the Beach" menus with Alaskan Amber-glazed grilled salmon in the Alaskan Northwest or the Belgian Beer Dinners at Monk's Café in Philadelphia, Pennsylvania.

She seems to single out every great name associated with craft beer and food: Tom Peters and Chef Adam Glickman, Curt Decker, Garrett Oliver, Carol Stoudt, American Bounty Chef Anita Olivarez Eisenhauer, Dave Alexander, Pastry Chef Crystal Duck, Pam and Bob Cooper, Cheesemaker Willi Lehner, Chuck Skypeck, Brewchef Tim Schafer, Larry Bell, Rob Tod, Natalie and Vinnie Cirluzo, Gina and Vince Marsaglia, Shaun O' Sullivan, Dan Gordon and Dean Biersch, Chef Jody Denton, Lisa Morrison, Charles and Rose Ann Finkel, Greg Higgins, Jim Koch, Tomme Arthur, Ben Johnson – and scores of others. As you become more deeply aware of the hold beer has taken within the cooking community throughout North America, your blood begins to surge with anticipation. What might your own abilities be in the culinary arena? What could you do with a little knowledge of craft beer and your own local food styles?

In Part II of "The Best of American Beer & Food," Saunders presents an array of recipes for the casual party or the more formal dining theme. Although beer is included as an ingredient in some recipes, others are beer-free, but are accompanied with a "Beer Pairing Suggestion" that easily stands out for your reference. Bacon-Wrapped Bluefish with Brown Ale Hot Sauce, Spicy Steamed Mussels, and Shallot and Stout-Glazed Steak with Cumin-Pepper Onions will activate your palate, while Harpoon Winter Warmer-Spiced Pumpkin and Cranberry Bread, Barley Wine Banana Split, or Paxton's Chocolate Stout Pudding finish on the sweet end.

The Best of American Beer & Food is loaded with full-page color photos that make your tongue juice-up with anticipation. As you focus on each recipe, your mind can easily formulate the workings of your own holiday beer dinner – making yours the most memorable highlight of the season. Lucy Saunders gives you the secret ingredients that merge food with craft beer in the best possible way.

For more information or to order your own copy:

The Best of American Beer and Food: Pairing & Cooking with Craft Beer


Cooking With Beer: Taste-Tempting Recipes and Creative Ideas for Matching Beer & Food


Grilling with Beer

Cheers!
 
You Should Also Read:
Beer Float Recipes - Sweet Seduction
Beer & Food and ... Massage Oil ?
Superfood and Beer Pairings


Related Articles
Editor's Picks Articles
Top Ten Articles
Previous Features
Site Map





Content copyright © 2022 by Carolyn Smagalski. All rights reserved.
This content was written by Carolyn Smagalski. If you wish to use this content in any manner, you need written permission. Contact Carolyn Smagalski for details.