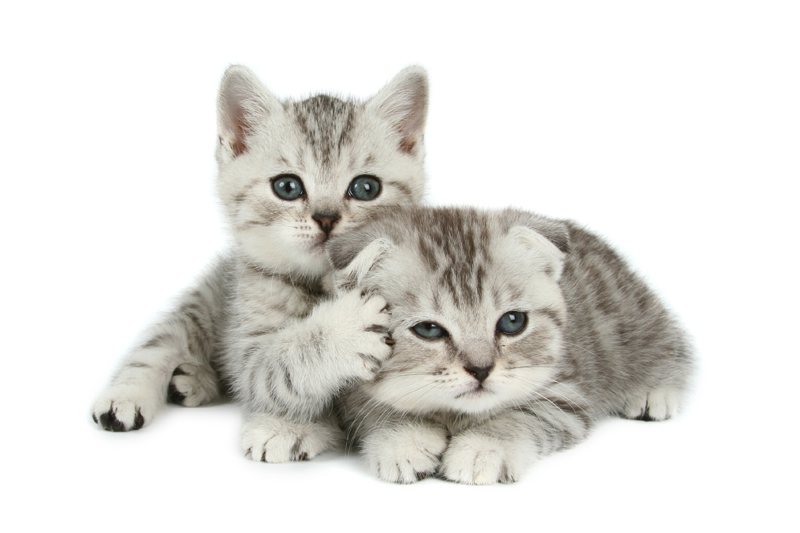 February is National Pet Dental Health Month. As we begin this month long celebration of dental health, here are some interesting and educational facts about cat dental health.
Kittens have their 26 deciduous (or temporary) teeth by about 2 to 4 weeks of age. They have 14 in the upper jaw and 12 in the lower jaw.
Their permanent teeth begin to emerge at around 3 or 4 months of age. Cats have 16 in the upper jaw and 14 in the lower jaw. Of these permanent teeth, 2 have 3 roots each and 10 have 2 roots each.
Cats have the fewest teeth of all common domestic animals.
Although rare, cats can get cavities. Their diets aren't usually high in sugars thus making cavities are rarity. Experts, however, have noticed a slight rise in cavities among cats being given sugary treats. To minimize your cat's risk, feed only cat food and cat treats.
Papillae are the hair like structures on a cat's rough tongue. These papillae aid in grooming.
By age three 70% of cats show signs of gum disease. Bad breath, tartar buildup and inflamed gums can be signs of gum disease.
Squamous cell carcinoma, which oftentimes begins under a cat's tongue, is the most common oral tumor found in cats.
Cats infected with the feline leukemia virus (FELV) or feline immunodeficiency virus (FIV) are commonly found to have oral disease as well.
Studies show that feeding dry food is somewhat better in preventing plaque buildup on a cat's teeth.
Bacteria are most often the cause of bad breath in cats (pets). It is possible, however, for bad breath to be a symptom of a more serious illness.
Feline dental resorption lesions (commonly known as cervical line lesions or neck lesions), which result in loss of tooth structure and usually begin with the enamel, often begin under the gum line. This is the most common dental disease in domestic cats and the most frequent cause of tooth loss for cats. Since these lesions often start below the gum line, they can progress unnoticed.
Bacteria from dental diseases can move into vital organs, causing serious illness and even death if left untreated.
The best dental care program for your cat includes both regular veterinary visits with professional dental care as well as home dental care.
You Should Also Read:
Choosing a Cat Food
Dangerous Foods for Cats
Interesting and Fun Facts About Cats


Related Articles
Editor's Picks Articles
Top Ten Articles
Previous Features
Site Map





Content copyright © 2022 by Melissa Knoblett-Aman. All rights reserved.
This content was written by Melissa Knoblett-Aman. If you wish to use this content in any manner, you need written permission. Contact Melissa Knoblett-Aman for details.