Miltonia/Miltoniopsis -- Orchid Profile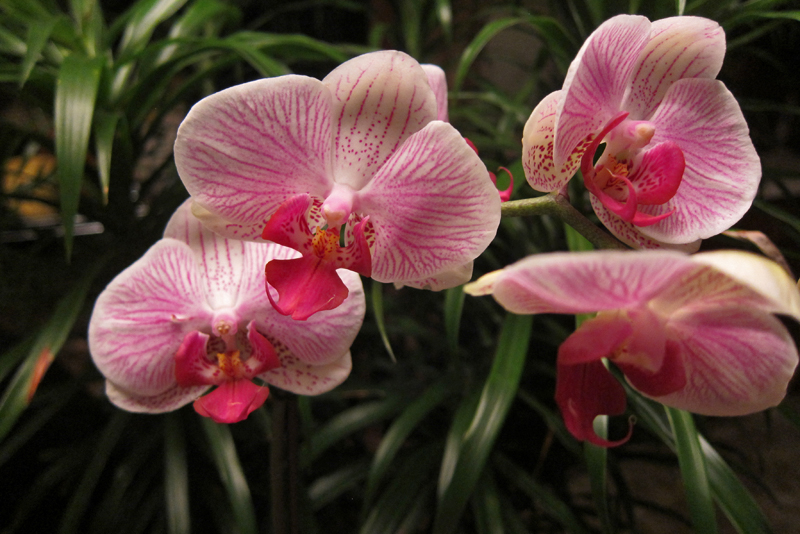 The
Miltonia
orchid is one of the most surprising for new enthuiasts, it looks just like the familiar pansy and is dubbed the "pansy orchid." The hybrids are spectacular, large and long-lasting making it one of the most popular orchids. The flowers range in colors from pure white with a colored center to the darkest of purples and most have the watercolor-like rippled centers that are so prized. Some have very large ruffled lips which are prized among orchid lovers. The multiple flowers (three to ten) on the inflorescence are often 2 ½ inches or 6 centimeters and will generally last up to 8 weeks.
There are two somewhat different genera which are easily confused because they look quite a lot alike to the everyday grower –
Miltonia
and
Miltoniopsis
. The former is from Brazil and is generally considered an intermediate grower; the latter is from the high cloud forests of Colombia and is considered a cool grower.
These are cool to intermediate growers.
Unless you have room in your house for them, don't even try growing them in southern climates. They do not like daytime temperatures over 80 degrees F, or 26 degrees C, and need cool night time temperatures of 60 degrees F, or 15 degrees C. Although you will occasionally see that the Brazilian Miltonias are warm growing, they still will need intermediate temperatures and will not thrive when subjected to 90 degree F, or 32 degrees C.
Light requirements for these orchids are in the 1,000 to 1,500 foot candle range so they can be grown with Phalaenopsis. They need constant moisture for their small roots and it is recommended that they be potted in fine bark with good drainage at the bottom. I like to use lava rock since it provides a good heavy base to the plant so that it does not fall over easily. It is fairly easy to spot underwatering for this type of orchid since they will present "accordion leaves" (or heavily pleated effect). It's necessary to keep them evenly moist, but never waterlogged. They also like to be under potted, or completely fill a pot to bloom well, so don't be too quick to repot. They need quite high humidity in order to grow well, preferably 60-70 percent. Here is the link to the American Orchid Society culture sheet on
Miltonia/Miltoniopsis
.
In researching this article I was amazed that so few nurseries are selling these beautiful orchids.
Santa Barbara Orchid Estate
,
Porter's Orchids
and
Komoda Orchids
have a few, but your best bet is to go to one of the many
Spring Orchid Shows
where there are almost always some of these outstanding orchids. Another choice is an intergeneric hybrid with Odontoglossum or Oncidium which produced somewhat smaller flowers, but allows for warmer temperatures.
You Should Also Read:
Should I repot that new orchid?
Orchid Growing Tips #19
Orchid Profile - Rhyncholaelia digbiana


Related Articles
Editor's Picks Articles
Top Ten Articles
Previous Features
Site Map





Content copyright © 2023 by Susan Taylor. All rights reserved.
This content was written by Susan Taylor. If you wish to use this content in any manner, you need written permission. Contact Anu Dharmani for details.