I interviewed Susan Coury, assistant manager of Chilli's Grill and Bar restaurant, for the benefit of students who are interested in a restaurant management career. Prior to her current job, she held other positions within the field. She was the kitchen manager for Culpepper's Restaurant and prior to that, she was the bar and hospitality manager for Red Lobster.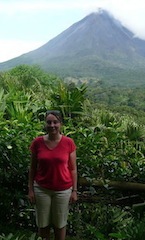 Ms. Coury earned her Bachelor of Science (BS) in Hotel, Restaurant, and Institutional Management from the Indiana University of Pennsylvania (IUP). During her studies she completed coursework in management theory, marketing, business law, probability and statistics, food science, and chemistry.
In addition to her college education, Ms. Coury completed training leading to job-related certifications. She holds a Serv-Safe Certification and a City of Philadelphia Food Certification.
When I asked Ms. Coury how she chose her career, she explained that she decided to pursue a degree in restaurant management because it would offer her an opportunity to have a job that would be different everyday and to work in the food industry, which had been an interest of hers since she was young. She said the restaurant management field has proved to be a good fit for her.
Ms. Coury describes her job as a collection of varied responsibilities. She manages her team, assigns tasks to employees, interacts with customers, networks with local businesses to estimate sales, orders supplies, and markets the restaurant to improve sales.
Ms. Coury said her favorite aspect of her job is working with people. She enjoys meeting customers, interacting with community members, and training employees. She explained that many of her employees are college students; she enjoys helping them as they navigate through their life experiences and prepare for their futures.
What Ms. Coury said that she likes least about her job are the long hours that are required. Most Restaurants are open late and operate seven days a week, which leads to demanding schedules.
For students who are interested in a career in restaurant management, Ms. Coury wants them to be aware that it is a career field that will require a great deal of their time. She said that there will be times when they will miss out on personal activities because of their job. However, she explained that it can be a very rewarding as well. She encourages all students to research the field and find part-time employment in a restaurant to test if the environment is a good fit for them.

Image provided by Susan Coury. All image rights belong to Ms. Coury.