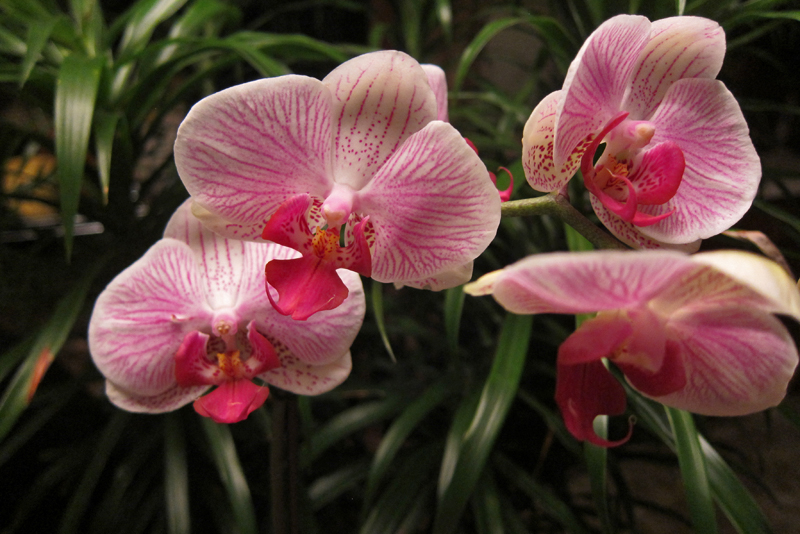 This is one of the most interesting subjects for orchid growers because this is the way that most commercially available orchids grow naturally. Our job as growers is to provide the best environment for our plants and the natural way should be the best one!
Mounted orchids are grown on some kind of support which mimics the natural environment that the species or the parents of your hybrid grew in. The roots are not confined to a pot, which is actually easier for us, not better for the plant. The roots of a mounted orchid are normally much healthier and longer than those of the same orchid grown in a potted environment. They will give the plant more surface to absorb water and nutrients and allow the plant to grow faster and better. The downside is that it is more difficult for the grower to accommodate the plant, especially indoors.
If you have an alcove or under-stairs area that can be made into an indoor growing environment – much like a Wardian Case or terrarium – you have the perfect chance to grow mounted orchids inside. With lighting, humidity and air circulation you could try an
orchid tree
or build a waterfall with orchids on mounts or even growing on rocks. Ferns and bromeliads would also do well in this type of garden.
Mounted plants are usually grown outside either hanging from trees or supports or in a greenhouse environment. If you are in an area which has cold winters, you will need to bring your plants in as soon as the temperature at night starts falling into the lower 50s Fahrenheit or 10 degrees Centigrade. A shade house with lattice on the sides provides an excellent framework for mounted orchids as they can be hung all over the lattice and on both sides. Some growers make an "A" frame of wood with wire mesh attached and hang their mounted orchids on this. It provides much more space for accommodating plants than any kind of traditional bench for pots.
There are a number of different platforms that can be used for mounting. The Vanda basket, generally made of teak can be used for such orchids as Dendrobiums which can become top heavy and need support. Platforms which are flat and look much like the bottom of a Vanda basket are good for many kinds of epiphytic orchids. They are easy to hang against a wall since they are flat and can be used either horizontally or vertically. Pieces of hard wood are also a good medium for mounting, although I personally find them the hardest to handle as far as finding a place to hang them.
It is virtually impossible to overwater a mounted orchid so for those of you that enjoy water, this is the way to go. They can be watered several times a day without harming the plant. They normally do need watering at least once a day, especially when you provide them with the air circulation they need.
You Should Also Read:
Moving your plants outside
Growing Orchids on Mounts
Growing Orchids in a Terrarium or Wardian Case


Related Articles
Editor's Picks Articles
Top Ten Articles
Previous Features
Site Map





Content copyright © 2022 by Susan Taylor. All rights reserved.
This content was written by Susan Taylor. If you wish to use this content in any manner, you need written permission. Contact Anu Dharmani for details.