Ladies Beer Tea - Belgian Cafe Philadelphia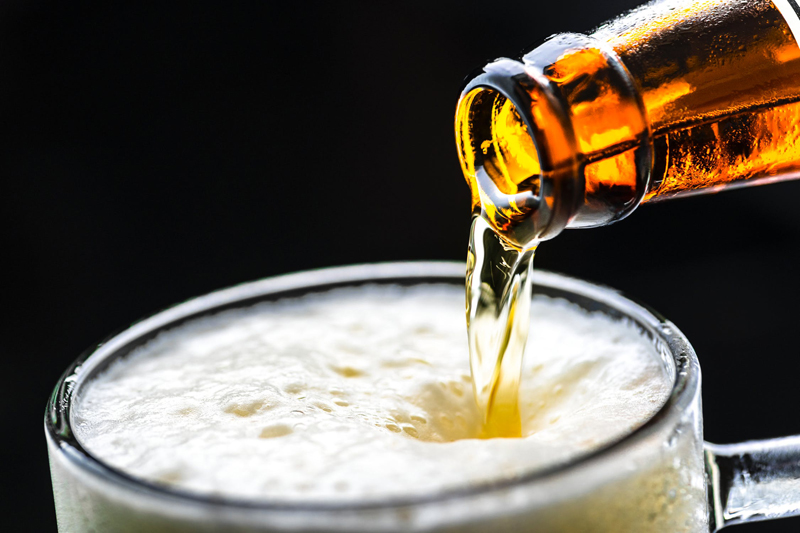 A steady caravan of women filed along the street. It was mid-afternoon, and one-by-one, they seemed to disappear through Belgian-esque colors of red, yellow and black. Some arrived, wearing wide-brimmed hats and afternoon dresses. Others showed off their shapely figures in tight-fitting blue jeans and foxy boots. Still others were conservatively dressed. All seemed to be smiling. It was time for the girls!

Nancy Rigberg of Home Sweet Homebrew (20th and Sansom Streets) in Philadelphia, Pennsylvania, USA, was the proud host of the 1st Ladies' Beer Tea on March 16, 2008. This chic affair, held at the Belgian Café, 21st and Green Streets in Philly, merged into the Grand Finale of Philly Beer Week, a 10-day event celebrating Philadelphia as "the best beer-drinking city in America." It was "for Ladies only." From all appearances, the ladies who attended were confident, saavy, articulate, poised, attractive, and passionate about beer. What a power jolt to the culture of beer in Philadelphia!

If part of the aura surrounding beer is about "terrior," as Michael Jackson had so often told us, then the Belgian Café would be the ideal selection for such a flight of fancy. The back bar is a work of art, fashioned of raised oak and redwood paneling.
Master of wood restoration, John Doherty, worked with utmost care to create a Gothic appearance that echoed the warm and inviting bars of Belgium. As you emerge from this subdued, relaxed atmosphere into the dining room, you are immediately transfixed by the light, airy feel of Art Noveau. Pastels wash glamorously up the walls, while kitschy vines of dream-like effect draw your eye upward. Professional Painter Andrew Wrigley, classically trained at the Pennsylvania Academy, created a series of seven-foot high paintings in vibrant color, reflective of the influences of Peter Paul Rubens, Giotto do Bondone, Hieronymous Bosch, and other European masters. Although his former works were "moody and dark," Wrigley says, "being commissioned [by Belgian Café owners Tom Peters and Fergus Carey] was a gift to me," because it required that Wrigley stretch outside his original style into the exciting vibrancy of color.


…and color lit the mood of the ladies that day – ladies like Theresa Conroy (The first woman President of the Pen and Pencil Club, Philadelphia, and Mrs. Joe Sixpack, wife of Philly Beer Author Don Russell), Judge Linda Carpenter (Judge, Philadelphia Court of Common Pleas and wife of Tom Kehoe, owner of Yards Brewing), Sebbie Buhler of Rogue Ales (whose countenance is silkscreened on bottles of Rogue Chocolate Stout), Suzanne Woods, Founder of the Women's IPA Club of Philadelphia, and this Beer Fox Carolyn Smagalski. The room was filled to capacity, and disappointment loomed for those who had not purchased tickets in advance, (and had to be turned away.)

"How exactly does one host a Ladies' Beer Tea?" you might ask. Following the lead of Nancy Rigberg, one would host such a celebration with the grace and panache befitting the occasion. Our Welcoming Beer was a crisp aperitif from New Belgium Brewing, Eric's Ale, a Fruit Lambic, deeply golden and hazy, with subdued notes of apple, lemon and peach and an acetic tang with crisp finish. I was still enjoying this appetite stimulant when the amuse bouche was brought to the table. I chose a shrimp croquette to accompany my drink, and the result was so spectacular that my writer's pen could not resist the notation of "awesome!" to mark my menu.


Accompanying the savories was Dupont Avec Les Bon Vouex, a classic Saison from Brasserie Dupont in Tourpes-Leuze, Belgium. At 9.5% ABV, this was no sissy beer. Complex flavors of grass, lemon pepper, pear, cream, peaches and grapefruit merged with spices and the classic funk of beers that have been created by spontaneous fermentation. Some alcoholic warmth drifted up the nostrils, setting off a euphoric trance as we dabbled in the additional appetizers of a summer roll, pancake tippled with smoked duck, and fried mussels.

Following this course, Host Nancy entertained us with the delightful tale of how our next beer, Slaapmutske Triple Nightcap from Brouwerij Slaapmutske in Melle, Belgium was named. Designed by Dany De Smet and Marleen Vercaigne upon the birth of their first son Jonas, the De Smets, at one point during the child's tirade of tears, dipped his pacifier in the beer and gently offered it to the crying child. Baby Jonas was immediately calmed and fell asleep, and they dubbed the beer "sleeping night cap" or "Slaapmutske" in his honor. This is a Belgian Triple, 8.1% ABV, with a golden copper color and light bubbles of carbonation rising in the glass. Exotic fruit – melons, orange peel and mangoes – linger up-front, with fresh florals, citrus, and a light lactic note. Slaapmutske paired well with our Salad and Tea Sandwiches - Cucumber, Salmon and Crème Fraiche, Mini Croquet Monsieur, Waldorf Chicken Salad, and Avocado & Bacon.


Sweet endings linger in our minds, and what could be sweeter than being served from a bottle that bears the likeness of your dear friend? Sharing Rogue Chocolate Stout (Rogue Ales Brewery – Brewers on the Bay, Newport, Oregon) with Sebbie Buhler was the delight of a lifetime. The rich aromas may trick you into believing this is an intense, sweet beer, but flavors soften on the tongue, melting into burnt and black chocolate malts with a bittersweet cocoa character and piney profile of hop pleasures. How compatible this is with Chocolate Mousse Tarts and Grilled Fruit Kabobs! As a complementary twin, Lindemans Framboise from Brouwerij Lindemans, Vlezenbeek, Belgium, shone dark garnet, with a poufy pink head, emitting aromas of decadent sweetness, fresh raspberries and champagne. With Lemon Bars and Sugar Cookies, the tart flavors of this Fruit Lambic were a superior fetch that hooked our desire for yet another Ladies' Beer Tea.

In grateful thanks for her attention to the fairer sex, Theresa Conroy gifted Nancy Rigberg with a lavish bouquet of crimson roses wrapped in luxurious white tissue. "Douceur de vivre!"

Cheers!

Photos (from Top): Ladies dressed for Afternoon Tea; Ready for Action; Beer Fox Carolyn Smagalski and Host Nancy Rigberg in Art Noveau Dining Room; Sebbie Buhler, Carolyn Smagalski, Theresa Conroy and Nancy Rigberg; Sebbie Buhler and Rogue Chocolate Stout (bearing her image)

 
You Should Also Read:
A Classic Beer Guide for Women
In Pursuit of Ale Women's Club of Philadelphia
The Pleasure of Beer - A Woman's Passion


Related Articles
Editor's Picks Articles
Top Ten Articles
Previous Features
Site Map





Content copyright © 2022 by Carolyn Smagalski. All rights reserved.
This content was written by Carolyn Smagalski. If you wish to use this content in any manner, you need written permission. Contact Carolyn Smagalski for details.