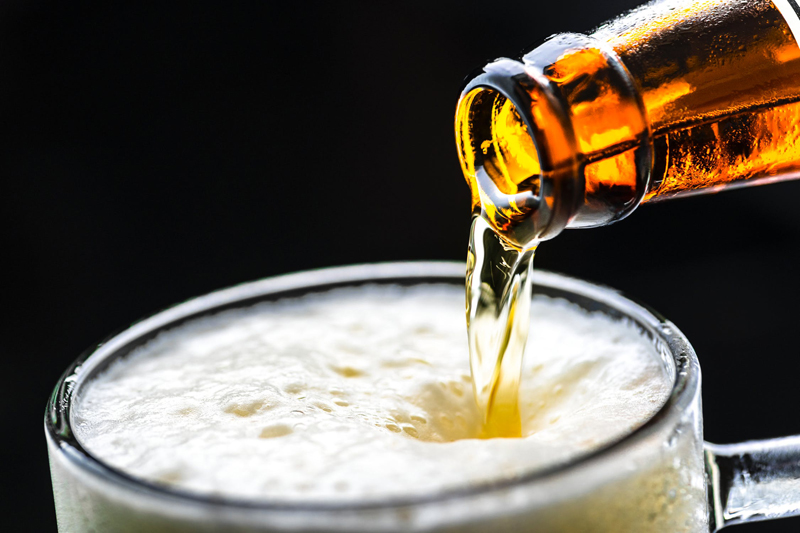 Johnny Brenda's, a Philadelphia Pub with an old time, historic "feel" of the authentic. This is the real deal. Add sizzle to this legendary Philly icon, and the heat seems all the sweeter…and that is exactly the pepper-dance that hit Philly's Fishtown neighborhood the night of March 13, 2008, when Philly Beer Geek wanabes faced-off at the 1st Annual Philly Beer Geek Finals Competition for the prestigious title and a grand prize worth over $1,000.

Eight legendary beer celebrities - some from as far away as Scotland, San Francisco, and DC – were poised judiciously at the glitzy bench, as they squeezed blood from the brains of nine anxious competitors in the 2-1/2 hour competition. This had nothing to do with brewing beer, or drinking beer, or working in the beer industry. This was all about, "Whadda'ya know" and "Are you passionate enough to share your love for Philly beer." In the final moments, the judges reached a unanimous decision to crown Steve Robson of Iron Hill Brewery as Philly Beer Geek 2008!


Johnny Brenda's was the ideal venue for the rounds of this rollicking competition. You could almost see the spirit of the legendary old-time boxer, John Imbrenda who opened this authentic dive in 1967, leaning on the mahogany-and-iron railing above the stage, swinging his fists as each round poured into the next. Imbrenda, who carried the name Johnny Brenda in the ring during the 50's, reputedly served as a bodyguard for Jimmy Durante in his gnarly past, then ran the bar until he passed the baton to William Reed and Paul Kemport in 2004. Reed and Kemport understood the glamour of the "seedy" bar, and did their best to retain that "feel" with 1970's paneling, tin ceilings, a second floor with stage, and a sound and light system that knocks-your-sox-off. And spotless bathrooms.

Milling about in the crowd were Ray McCoy and Cornelia Corey from North Carolina, both former National Beerdrinker of the Year winners at Wynkoop Brewery in Denver, Colorado; Bruce Nichols from Museum Catering at the Penn Museum; Fergus Carey of Monk's, Fergie's Pub and the Belgian Café; Tony Forder of Ale Street News; John Dale of Spinnerstown Hotel; Jeannine Marois, President of the Mondial de la Biere in Montreal, and scores of brewers and beer enthusiasts from throughout the Philadelphia region.

Hosts Jason Harris, dressed in stylish tuxedo, and Beer Fox Carolyn Smagalski, in red sequins and black, stood poised beneath two impressive, 5-foot by 6-foot Philly Beer Geek banners as they announced the illustrious panel of judges to an attentive crowd.


Judges for the 2008 competition were:
Dave Alexander – Owner of the Brickskeller and RFD in Washington, DC
Bruce Williams – Owner of Williams Brothers Brewing in Alloa, Scotland, crafters of Fraoch Ale
Suzanne Woods – Founder of Women's In Pursuit of Ale Club, Philadelphia, PA
Tom Dalldorf – Publisher and Editor-in-Chief of Celebrator Beer News of San Francisco, CA and leader of the legendary Rolling Boil Blues Band
Tom Kehoe – Owner of Yards Brewing Company, Philadelphia, PA
Carol Stoudt – CEO and Brewster of Stoudt's Brewing Company, Adamstown, PA
Larry Horwitz – Brewmaster of Iron Hill Brewery, North Wales, PA
and Jack Curtin – Local and National Beer writer based in Philadelphia, PA.
Each competitor was sponsored by a beer bar, brewpub or restaurant who generously contributed to the cache of prizes that would be awarded, this night, to the grand prize winner. To qualify, competitors won quizzos or beer haiku contests in preliminary rounds at their sponsoring establishments and proudly wore hats and shirts bragging of their love of Philly beer. Competitors were:


Stephen Hawk – Bridgid's in Fairmount, Philadelphia
Anthony Fasano – Dock Street Brewery in West Philadelphia
Phil Vinson – Standard Tap in Northern Liberties, Philadelphia
Steve Robson – Iron Hill Brewery in North Wales, PA
Wardell (Dell) Massey – Sly Fox Brewery in Phoenixville, PA
Chris Topham – Triumph Brewing Company in Old City, Philadelphia
Dennis Link – Dawson Street Pub in Manayunk, Philadelphia
Nate Gefvert – Spinnerstown Hotel in Spinnerstown, PA
Aaron Fournier – Drafting Room Taphouse and Grill, Springhouse, PA
Additional sponsors were The Grey Lodge Pub in Northeast Philadelphia, Old Eagle Tavern in Manayunk, Philadelphia, and Yard's Brewing Company, Philadelphia.

With each introduction, the semi-finalists launched onstage with their Beer "Phila"sophy. The most inspiring opening remarks were given by Steve Robson, Dennis Link and Aaron Fournier.

Steve Robson talked with passion about beer; about his involvement as an award winning brewer and certified beer judge; that he schedules his life around beer dinners and beer events; that the best thing about beer is getting people involved, tasting a new release, promoting it, leading people on, taking it to the next level. "There is a number one beer city. Philadelphia!" he exclaimed.

Dennis Link told a metaphor for life about a mayonnaise jar filled to the top with rocks, pebbles and sand, to which you can still add an entire can of beer. The metaphor: "You can always find room for beer in your life. It consoles, uplifts, fills us up. You can associate a certain beer with a certain event in life."


Aaron Fournier walked onstage with his arms spread in a Victory sign and recited his Philly beer haiku:

"Belgians and firkins
Pour mightily through our city.
Philadelphia."

The first half of the competition included a Multiple Choice Round, Speed Round and Free-form questions from the judges, followed by a "Stump the Chump" segment in which the contestants asked questions of a selected judge. Each Judge could consult one other judge before giving their answer.

Three finalists were announced for the second half:

Aaron Fournier of the Drafting Room in Springhouse
Wardell Massey of Sly Fox in Phoenixville
Steve Robson of Iron Hill in North Wales
The finalists fielded difficult Open Forum questions from the judges: questions asking their opinion about how geography affected beer in Europe; creating compatible food and beer pairings; naming the world's seven Trappist Breweries; discussing how to take Philly Beer to the next level; and choosing what Philly Beer you might be late at night. Bruce Williams asked Dell Massey "How many Shillings was a 12 Guinea beer in Scotland?" The crowd was awed when he correctly replied with his ultra-cool demeanor, "262 shillings. I'm Black Scottish, Black Scottish."

Beer, the social lubricant, was spreading an aura of ease throughout the hall as they moved into the most entertaining spot of the competition – describing a "Date with a Philly Beer" and telling the "Ultimate Beer Joke." The Finalists were outrageously funny as they cast their creative scenarios, each one showing-off his engaging personality.

After a short deliberation, the judges made their final decision. As they announced his win as Philly Beer Geek 2008, a jubilant Steve Robson threw his arms in the air with an enthusiasm that could rival the Grand Finale Fireworks on New Year's Day.


The Rolling Boil Blues Band, featuring beer industry professionals Tom Dalldorf, Dave Alexander, Larry Horwitz, Corey Reid of Sly Fox, and Tony Forder of Ale Street News, raised the euphoric mood even higher as they rocked the house with bluesy beer songs. The crowd loved these guys with their phenomenal stage presence. They played fast, rolling from set to set, playing heavy, merging charisma with stamina. Dalldorf belted out lyrics tailored to the Philly Beer Scene while Alexander fingered riffs with the ease of a true professional. It was magic.

Following RB3, the Lonnie Walker band from Greenville/Raleigh, North Carolina took the stage with offbeat Americana/Punk/Lyrical music, running the gamut from stylistic Dylan to tempo-changing Americana rock and head-banging artistry. Something for everyone…

Jason Harris and Carolyn Smagalski are grateful to everyone who helped to make the first Annual Philly Beer Geek Finals Competition 2008 a success: The illustrious panel of judges, the talented contestants, the sponsors, Johnny Brenda's, the Rolling Boil Blues Band, Lonnie Walker Band, patrons, attendees, and scores of others who added their talents to make this a fun and fabulous gig.

Cheers!

Photos are: (From top) Hosts Beer Fox Carolyn Smagalski and Jason Harris (Photo credits: Mike Smagalski); Philly Beer Geek 2008 Steve Robson & Justine; (left to right)Judges Dave Alexander, Bruce Williams, Suzanne Woods, Tom Dalldorf, Jack Curtin, and Carol Stoudt (Sketch credit: Aaron Krolikowski); Robson with Judges (left to right) Larry Horwitz, Carol Stoudt and Tom Kehoe (Sketch Credit: Aaron Krolowski); Rolling Boil Blues Band; Aaron Fournier (Sketch Credit: Aaron Krolowski); Dell Massey (Sketch credit: Aaron Krolikowski); Tom Dalldorf and Larry Horwitz, of Rolling Boil Blues Band.

For more great drawings by Aaron Krolikowski, Sketchbook Reporter for the Star Newspapers, check in with the Sketchbook Reporter website at:
Sketchbook Reporter Aaron Krolikowski


You Should Also Read:
What is a Beer Geek ?
National Beerdrinker of the Year 2008
National Beerdrinker of the Year 2007 - Diane Catanzaro Seizes the Crown


Related Articles
Editor's Picks Articles
Top Ten Articles
Previous Features
Site Map





Content copyright © 2022 by Carolyn Smagalski. All rights reserved.
This content was written by Carolyn Smagalski. If you wish to use this content in any manner, you need written permission. Contact Carolyn Smagalski for details.