Preschool Early Literacy Activities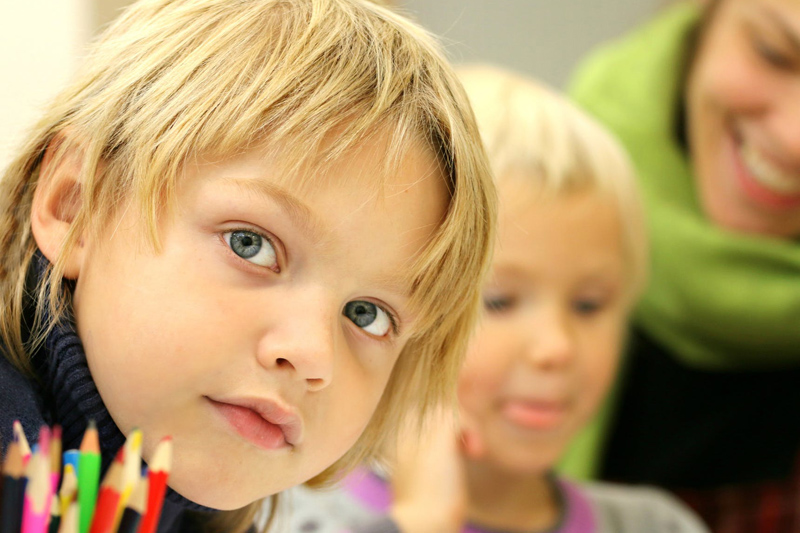 Learning to read and write is one of the most important skills your child will learn in their elementary years. Early literacy skills are a crucial piece to this puzzle! The skills they gain and develop now can, and do, predict their future success in learning to read and write. Previous articles have delved into the history and "why" of early literacy skills. This article will focus on activities you can do with your child to build these critical skills.

Rhyming Activities

Bean Bag Toss

Materials:
1. Bean Bags (or balls)
2. Laundry basket, hula hoop, or anything round to act as a target

Directions:
Set up the target in the middle of your room, or grass if you can be outside with the current weather. Hand your child the pile of bean bags. You will say pairs of words, some that rhyme and others that do not. If the pair rhymes they will toss the bag into the target; if the pair does not rhyme they will hold onto the bean bag. Continue saying a mixture of pairs rhyming and non-rhyming words until their bean bags are gone.

Rhyming Band

Materials:
1. Drum (toy drum or pot & wooden spoon)

Directions:
Give your child the drum. You will say a pair of words, and they will repeat the words while tapping one beat for each word. If the pair rhymes then they do a quick "jam" session after they have tapped the beat. If the pair does not rhyme they will stop drumming after they have tapped the beat.

Sample Dialogue:

Parent: "cat, dog"
Child: "cat" (tap one beat) "dog" (tap one beat)
Parent: "Cat and dog do not rhyme, you are correct."

Parent: "Sun, run"
Child: "sun" (tap) "run" (tap) JAM SESSION
Parent: "Great! You listened and heard that sun and run rhyme because they both end with –un."

Balloon Kick:

Materials:
1. 5-10 inflated balloons

Directions:
Line up the balloons in a horizontal line in front of your child. You will say pairs of words, some that rhyme and some that do not. If the pair of words rhymes then your child will kick a balloon; if they do not rhyme they will do nothing. Repeat until all balloons have been kicked.


Hot Potato

Materials:
1. Ball, bean bag, or rolled up socks.

Directions:
Toss the ball back and forth as you say rhyming words. You start with "cat" and toss to your child; they say "bat" and toss back. Continue until somebody gets stumped. Then start the game over with a new word. This can be played in the car, just without throwing a physical hot potato. It would be a verbal game of hot potato.

Sound Matching Activities

Double Clap

Materials: N/A

Directions:
You will say pairs of words, some beginning with the same sound and some that don't. If the pair begins the same sound your child will clap twice. If they do not begin the same they will remain still. This can be changed up by altering the action. Have the jump, spin, snap, whistle, march, etc.!

Sound Hunt

Materials:
1. Bucket or basket
2. Stuffed animal or toy

Directions:
Show your child the animal or toy you have chosen. Help them identify that beginning sound. Give them the basket and have them walk around the house. Their goal is to see how many other objects they can find that starts with same beginning sound in a specified amount of time.

Item Sort

Materials:
1. 5-10 household items beginning with /s/
2. 5-10 household items beginning with /b/
*note: when letters are written between two "/" it is indicating the audible sound that letter makes

Directions:
Mix up the items in a pile. Have your child choose an item and identify the beginning sound. They will do that with each item and sort into two piles based on their beginning sounds.

Animal Actions

Materials:
1. Two stuffed or toy animals with different beginning sounds.

Directions:
Place each animal on different sides of the room. Identify the beginning sounds of each animal. (i.e. dog starts with/d/ and cat starts with/c/). Your child will start in the middle of the two animals. You will say a word beginning with either /d/ or /c/. Your child will decide which animal that word matches based on the beginning sound. They crawl to the animal while making that animal sound. Repeat with more words.


All of the previous activities combine learning with playing and moving, which is so important in the preschool years. Getting your child moving and burning energy while simultaneously learning indispensable early literacy skills is a win-win situation!




You Should Also Read:
The Importance of Early Literacy Skills
The Importance of Beginning Sound Matching
The Importance of Rhyming


Related Articles
Editor's Picks Articles
Top Ten Articles
Previous Features
Site Map





Content copyright © 2023 by Amy Tradewell. All rights reserved.
This content was written by Amy Tradewell. If you wish to use this content in any manner, you need written permission. Contact Amy Tradewell for details.