Tropical Fruit and Ginger Salad is a perfect side dish for the upcoming warmer summer weather, and goes well with any grilled meat, chicken, or fish. Not only is this salad refreshing and delicious, it is quick and easy, requiring only six ingredients and about 20 minutes hands-on time. To save even more time, you can purchase pineapple and mango that have already been peeled, cored, and chunked in the produce department of most larger grocery stores. If you have two or three
kiwifruit
on hand, you can also add them to this salad; they add extra flavor and color.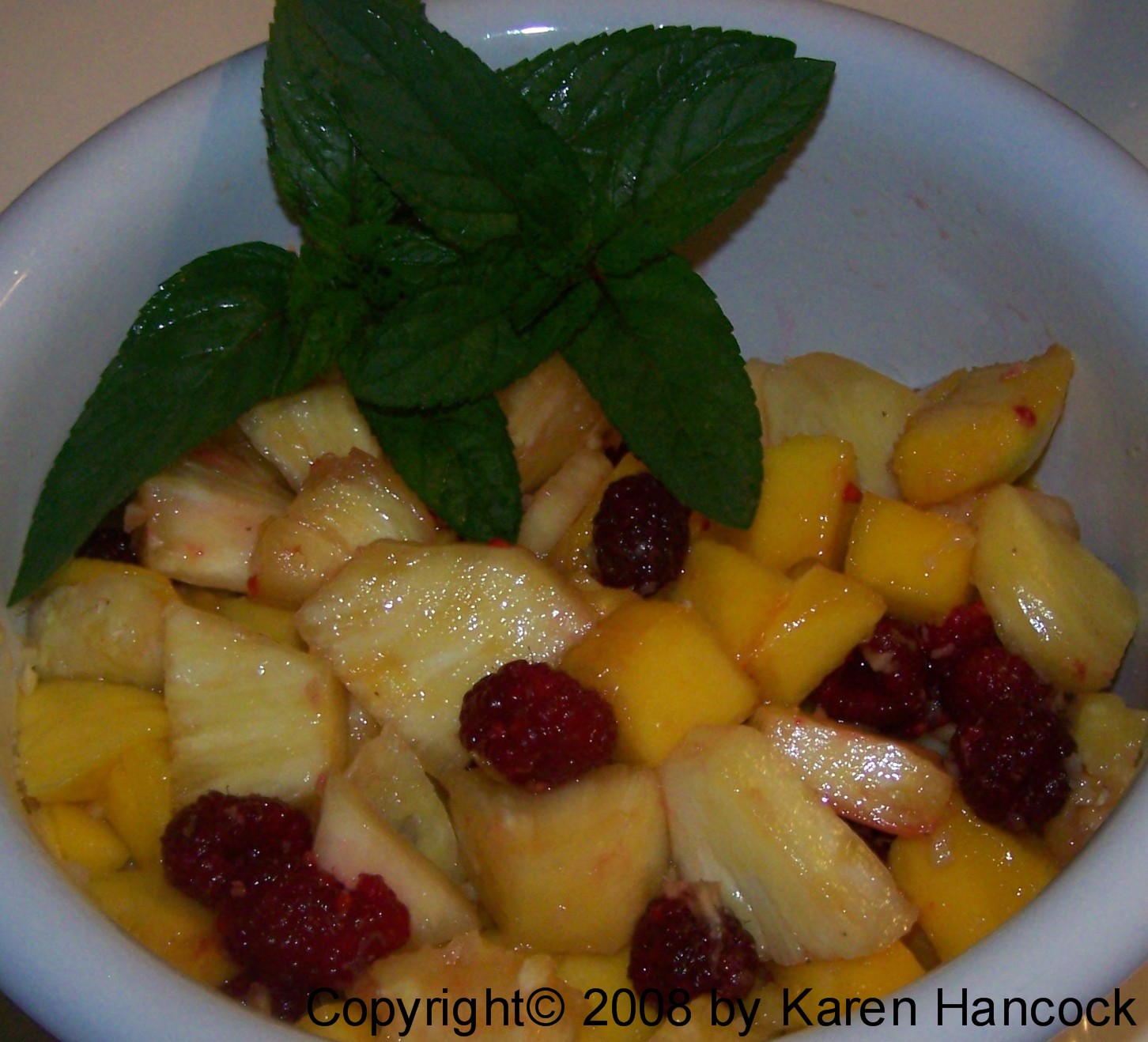 Choose mangos that give slightly when squeezed; make sure they are not too soft, since mangos become stringy when they are overripe.
Fresh pineapples are readily available; choose heavy fruit with fresh-looking fronds. Make sure there are no soft spots on the outside of the pineapple (evidence of overripe or spoiled fruit), and insure there is no mold on the bottom where the fruit was cut.
When buying
fresh ginger
, choose plump pieces that are heavy for their size, with no evidence of shriveling; if the ginger is light, it means that it is old and has dried out.
If you need a good salad to take to a barbecue, Tropical Fruit and Ginger Salad is ideal, since it can be made up to 8 hours ahead and left to chill in the refrigerator until serving time, eliminating the need for last-minute prep. As an added bonus, this delicious and beautiful salad has only 81 calories per serving and less than 1 gram of fat; perfect for those who are attempting to get into last year's swimsuit!
8 Servings
1 orange
1 lime
1 tablespoon minced fresh ginger
2 medium mangos
1 medium fresh pineapple
1 pint fresh raspberries


Zest the lime; place the zest in a serving bowl


Squeeze the juice into the bowl. You will have approximately 2 tablespoons of lime juice.


Zest the orange and place the zest into the same bowl


Squeeze the juice into the bowl. You will have approximately 1/3 cup juice from the orange


Add the ginger to the juices in the bowl and mix well


Peel and core the mango, then cut into 1/2 inch chunks


Peel and core the pineapple, then cut into 1/2 to 1 inch chunks


Wash the raspberries, then dry slightly on a dish towel


Add the mango, pineapple, and raspberries to the serving bowl with the juices and ginger


Toss the fruit with the juice mixture


Chill for 1-2 hours, then serve


Amount Per Serving
Calories 81 Calories from Fat 5
Percent Total Calories From: Fat 6% Protein 4% Carb. 90%
Nutrient Amount per Serving
Total Fat <1 g
Saturated Fat 0 g
Cholesterol 0 mg
Sodium 2 mg
Total Carbohydrate 18 g
Dietary Fiber 2 g
Sugars 0 g
Protein 1 g
Vitamin A 33% Vitamin C 52% Calcium 0% Iron 2%