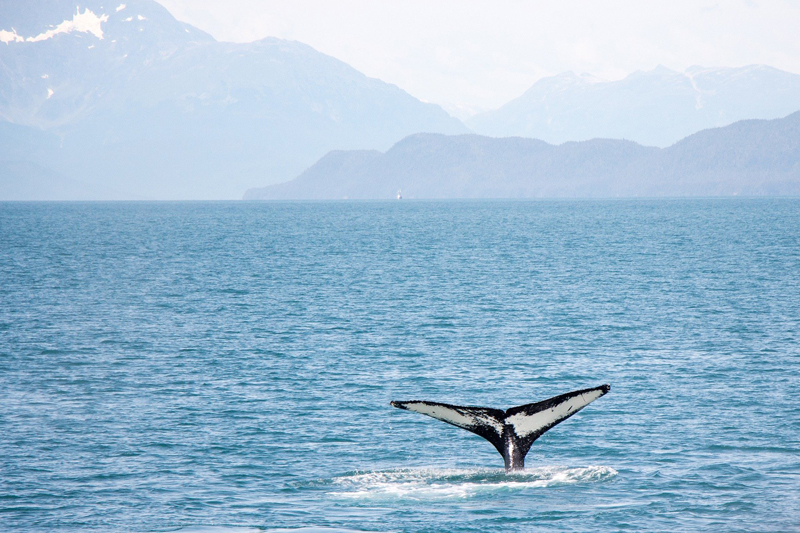 When thoughts turn to Alaska, glaciers, bears, and northern lights come to mind quickly. Wildflowers are probably not top on the list. However, there are hordes of beautiful wildflowers in Alaska and many are even edible.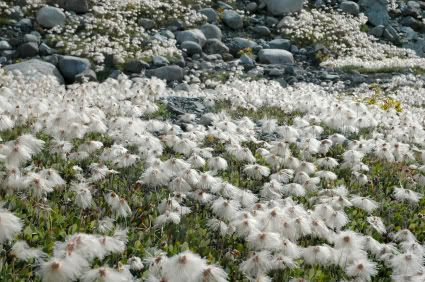 Alaska has many varieties of flowers including roses, daisies, lupine, buttercup, avens, poppies, goldenrod, and violets. There are many berry plants whose flowers are beautiful glimpses of the sweetness to come. Even cotton can be found in the form of Meadow Cotton Grass.
Fireweed is very easily found in Alaska and the petals shoot out from the bottom of the stalk opening as it moves towards the top. It is said that summer is gone once the petals have finally bloomed at the top. Fireweed is also an edible flower. This picture shows how the blooms are not quite out at the top, but it was obviously too good for the deer to pass up.
While on our trip to Alaska in 2011, we took a 4x4 tour on an island in Sitka. Our guide was native and told us of many plants that were used in their diet. One of them was a flower called Chocolate Lily. This flower is funny in that it smells very much like manure but yet if harvested late summer into early fall, is quite yummy. The bulb can be steamed and stir fried with other vegetables.
We saw plenty of White Clover pictured here.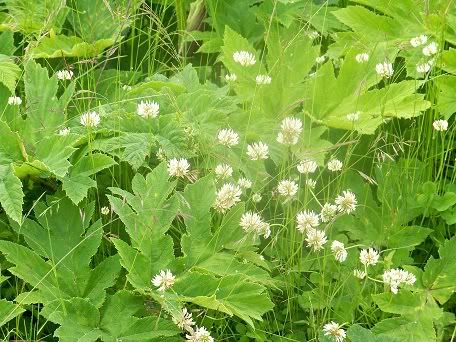 On this same tour we noticed what we thought were fields of Yarrow, but it was actually Cow Parsnip. Below are some pictures from our trip of this in the background with Wild Iris, and the Sitka Deer that snuck into the shot as well.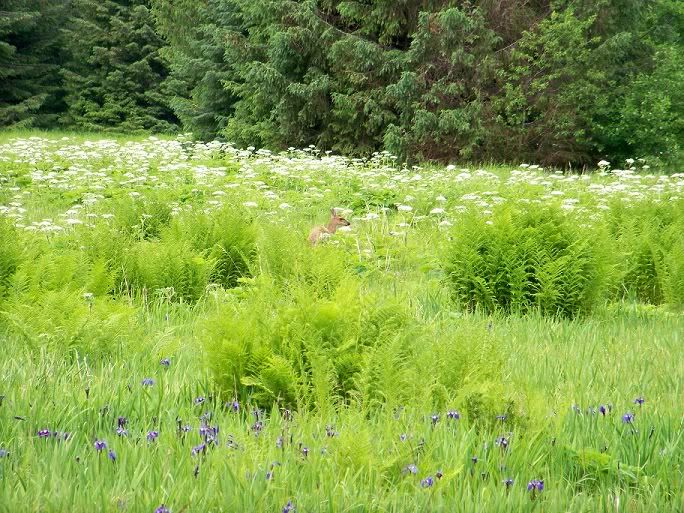 We cannot forget the pale blue Forget-Me-Not. Alaska's state flower is represented in the blue field on the state flag. Five petaled clusters of blooms grow best where there is plenty of moisture. In the evening they have a wonderful aroma. In some states this flower is invasive and banned. Not in Alaska. The short season for growing probably keeps it from taking over too quickly.
If you would like further reading, "Alaska's Wild Plants" is a great guide for edible flowers and "Field Guide to Alaskan Wildflowers: Commonly Seen Along Highways and Byways" would help as you travel around the state.


Related Articles
Editor's Picks Articles
Top Ten Articles
Previous Features
Site Map





Content copyright © 2022 by Dawn Engler. All rights reserved.
This content was written by Dawn Engler. If you wish to use this content in any manner, you need written permission. Contact Deb Frost for details.