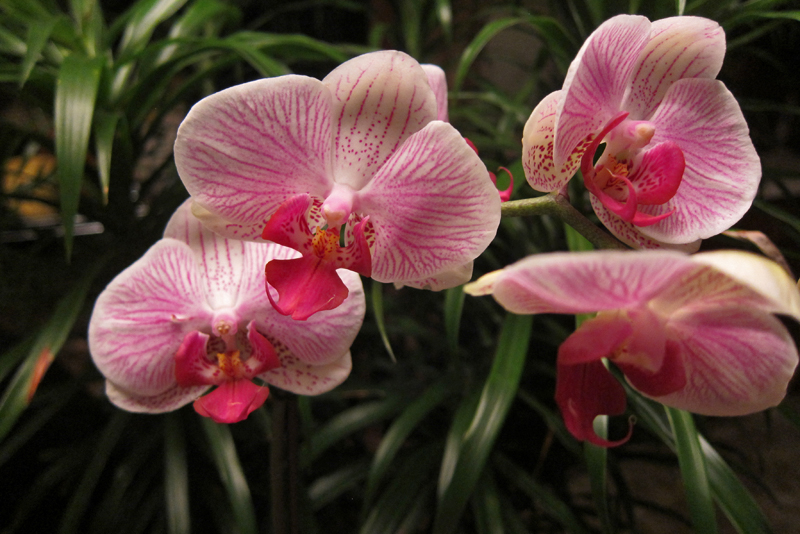 Garden hoses and bacteria
In a recent presentation a speaker mentioned something that had not even entered my mind -- the garden hose used to water orchids outside or in a greenhouse. Especially during the summer months the water that is in the hose in the sun get warm enough to provide a wonderful growing environment for bacteria which we then spray on our plants. It is a good idea to clean this water out before using it on plants of any kind. Let the water run for about 30 seconds or more in order to get clean water in the hose.

Labeling plants with a label maker
In a recent post on an orchid forum, the use of a Brother Labelmaker (models PT-1950 or PT1500PC) to make labels which do not fade was discussed. The TZ 1/2"W (BRTTZFX231) tape was recommended as it seems to have the longest life. This would be a real boon to orchid and other plant growers who face the prospect of re-labeling every couple of years due to the cracking and fading of labels.

Sanitation
Keeping your growing area clean and free of plant debris is important. Fungi on dead leaves can produce millions of spores which will spread to living plant surfaces. Be sure that each time you monitor your plants you pick up and dispose of debris. Remove and dispose of any fallen leaves and flowers since bacteria and fungi will attack these.

Find an Orchid Buddy!
There's nothing that can make a hobby more fun than having a buddy that you can share it with. A buddy can encourage you when a plant is dying. He or she can give you pieces of a plant that is growing well that should grow for you too. You can share your plants with him or her so that both of you can enjoy them. A buddy is fun to go to orchid shows, meetings or seminars so that you can share the knowledge as well as the driving.

Use milk to kill viruses on your tools
Here's a great idea for those of us who just can't seem to flame our cutting tools or put them in those corrosive liquids to kill viruses. A 20% mixture of non-fat dry milk kills 100% of viruses on cutting tools when those tools are soaked in the solution for one to two minutes. You should then soak or spray a bactericide on the tools since it does not provide any protection against them. This preventative is used extensively by European growers, but is not well known in the US.

Keep notes on what you try
Keep good notes on what you try and when something works for you with a particular plant, or your whole collection for that matter, you will know what has worked. An example is my change to rainwater two years ago. It made an enormous difference to my plants and I was able to document the improvement with my notes to myself.

You Should Also Read:
Spring Orchid Growing Tips
Orchid Growing Tips #18
Orchid ICU


Related Articles
Editor's Picks Articles
Top Ten Articles
Previous Features
Site Map





Content copyright © 2022 by Susan Taylor. All rights reserved.
This content was written by Susan Taylor. If you wish to use this content in any manner, you need written permission. Contact Anu Dharmani for details.