Michael Jackson Collection at Oxford Brookes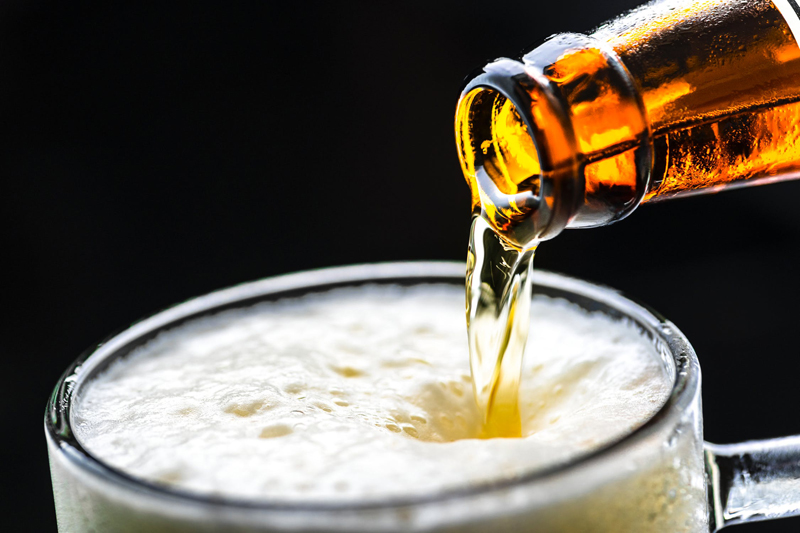 He was just a child when he left school to pursue a career as a journalist. He had, of course, fulfilled all the requirements of a British education, so at the mature age of sixteen, Michael Jackson pounded the pavements of competition that would eventually lead to Fleet Street. The hot smell of metal mixed with ink, seething low across the rumbling floorboards, held an allure for this Rumpole of the Barley that would last a lifetime.

Local pubs, drenched with the smell of booze and fags (cigarettes), attracted news like flies to horse dung. This was where stories began, where newsmen were shaped, where young lads became men. Although his life work would gravitate to the refinements of beer and whisky, Jackson's growth as a reporter, documentarian, and lecturer would be shaped for more than 15 years from Northern England to London, then Scotland, and onward into Amsterdam, Bangladesh and South Africa. In every locale, the pub would soothe the aches, lick the wounds, and spawn an infinite flow of information for this newshound. He would soon find his passion there…within the amber glow of the pint and the orange gleam of the dram.


Eventually, he would earn the titles of Beer Hunter and Whisky Chaser, so prolific were his works over thirty plus years of drinks writing. In August of 2007, Michael Jackson passed away during his morning routine, leaving his lifetime of work behind. But his collection of work was alive, still breathing in the building next door - his warehouse-like office that once housed a brewery.

If he could be assessed as having any kind of addiction, it would be his compulsion to buy good books. Over the course of his career, Michael Jackson collected more than 1,500 books on beer and whisky, including his own volumes, books by Dale DeGroff, Hans Offringa, Charlie Papazian, Ray Daniels, Dave Broom, and other colleagues in the drinks community, and numerous magazines in which the author wrote his authoritative columns. While traveling the world, he delighted in local bookstores, seeking out titles that could satisfy his infinite curiosity. In addition to his collection on international drink, he compiled an additional 300 books on a wide variety of subjects - works by Dylan Thomas, J. P. Donleavy, and Hunter Thompson; books for the international foodie; volumes on psychology, European history, and architecture; and books on the use of language.


Bitten by wanderlust, he traveled the world researching beer, whisky, and distilled beverages. With moleskin in hand, he took scores of notes, sometimes in shorthand. His research material filled 28 filing cabinets, and he used this research to write more than 18 major titles, with additional revised volumes, translations, and reprintings that resulted in sales of over 3 million copies throughout the world. He received the Mercurius Award from Crown Prince Phillippe of Belgium, five Glenfiddich awards, the Glenfiddich Trophy, the Andre Simon Award, the James Beard Award, the Achievement Award from the Institute of Fermentation Studies, the Gold Tankard from the Guild of British Beer Writers, and was an Officer of Honour in the Chevalerie du Fourquet des Brasseurs.


In a press release dated 22 June, 2008, the executors of Michael Jackson's estate have announced the donation of the priceless contents of his office to the Oxford Brookes University Library at the Headington Campus, Gipsy Lane, Oxford OX3 0BP, United Kingdom. This illustrious "Michael Jackson Collection" is now housed in the Special Collection Room of the Headington Library, where it will function in tandem with the National Brewing Library at Oxford Brookes University. It is to be jointly managed by members of the Library and the Institute of Brewing & Distilling. Access to "The Michael Jackson Collection" is open "to members of Oxford Brookes University, and bona fide researchers and scholars, by prior application."

In addition to 1,500 books on Beer and whisky and 300 other titles from the author's personal library, 28 filing cabinets of research material, and the author's personal handwritten notebooks, the collection also includes photographs, press releases, book reviews, and a select cache of his numerous awards.

Cheers!

Photos (from top): Michael Jackson in a publicity photo for the Discovery Channel, (courtesy of the Discovery Channel); Michael Jackson delights in the diversity of beer at The Drafting Room, Spring House, Pennsylvania, USA in March, 2007; Michael Jackson immerses himself in a good book in Fergie's Pub, Philadelphia; Dylan Thomas, one of Michael Jackson's most admired authors, keeps him spellbound.
 
You Should Also Read:
Michael Jackson Passes Away - World Beer & Whiskey Authority
Beer Tasting with Michael Jackson - The Beer Hunter
Michael Jackson - Maven of Malt - Wins James Beard Award for Whiskey


Related Articles
Editor's Picks Articles
Top Ten Articles
Previous Features
Site Map





Content copyright © 2023 by Carolyn Smagalski. All rights reserved.
This content was written by Carolyn Smagalski. If you wish to use this content in any manner, you need written permission. Contact Carolyn Smagalski for details.