Christmas in July - Monday Night Tasting 2008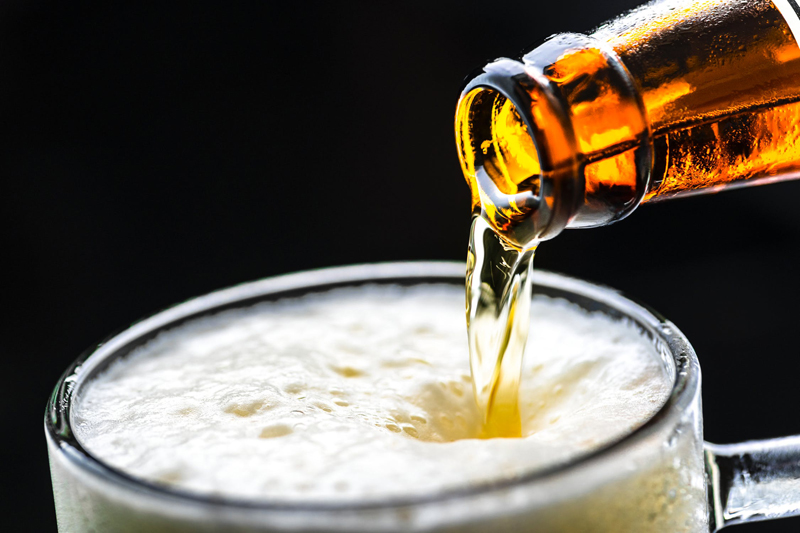 As I leaned back in the summer sunshine, I closed my eyes and imagined it was December. Euphoria was rising and my head whirled as the weekly selection of brews tingled my lips. We were celebrating Christmas in July. We had planned to have a tasting of vintage Samichlaus lagers, but the cache of cellared Christmas beers was so numerous that we pushed our Samichlaus tasting into plans for the following Monday, but launched temptation with one Samichlaus, vintage 2002, in the finish.

The Legend of Judy Ashworth filled my brain. In 1983, she was 39 years old and the single mother of three kids. Already known throughout the San Francisco area as a master of mixology, she became publican of the Lyons Brewery Depot, a roughneck, macro-drinking bar in Sunol, Alameda County, California. At the time, craft beer was peeking over the horizon, and Ashworth embraced it with an enthusiasm that would soon hail her as the spokesman of the microbrewer.

Three years after she opened her pub, she held a Farewell to Bud Party. She banished macro-lager forever, and brought in beers from Sierra Nevada, Mendocino Brewing, Buffalo Bill's, and Santa Cruz Brewing. Eventually, her tap list grew to 20 micros. Inventor of The Passport, she awarded beerdrinkers with a stamp for every new beer they tried, along with the opportunity to earn free beer, t-shirts and a boot-full of their favorite beer as they broadened their palates with greater variety.

Ashworth became the champion of blended beers, serving up so many combinations that Charlie Papazian devoted 100 pages to her in his book, Microbrewed Adventures. Because she introduced the tradition of cellaring beer until July, I am now benefiting from her brilliant creativity on the East Coast, this July Monday in 2008. Not long after she opened in the 80's, she served up a July celebration of Anchor Brewing Christmas Ale and the robust seasonal, Sierra Celebration Ale, from Sierra Nevada Brewing Company.

"Thanks, Judy."


Our Christmas in July celebration brought out the diversity that now exists in the world of the microbrew. The list is impressive, with more to come in the weeks ahead:

Christmas Ale - Saint Arnold Brewing Co, Houston, Texas, USA – Winter Warmer – 7% ABV – Holiday spiciness fills the air. Sweet oranges, pears and grapes mingle with clove and caramel. On the tongue, the alcohol stays hidden, while the caramel sweetness is tempered with a moderate hop bite.





Gouden Carolus Noel - Brouwerij Het Anker, Mechelen, Belgium – Belgian Strong Dark Ale – 10% ABV – A clear, coppery body supports and ecru head and lacing that imitates a ring of fire on the glass. The smell of caramel mixes with plums, molasses, pepper, vanilla, and currants. My tongue washes with juiciness, heavy caramel, and a splash of alcohol.





St Bernardus Christmas Ale - Brouwerij St Bernardus, Watou, Belgium – Belgian Strong Dark Abbey Ale - 10% ABV – Chestnut brown flickers throughout this shimmery body, while a loose head of creamy tan lays on the surface. The sweet nuttiness of a freshly baked caramel-cinnamon loaf tingles the mouth, stimulating the nostrils, and sending thoughts of wintery mornings to the brain.





Snow Bound Winter Ale, vintage 2006 - Left Hand Brewing Co, Longmont, Colorado, USA –Winter Warmer - 7.6% ABV – Chewy and hot, this "spicy dubbel" feels like chile peppers on the tongue, totally wrapped in the spiciness of ginger, cinnamon, cardamom, nutmeg, and licorice.





Mad Elf, vintage 2005 and 2006 - Troegs Brewing Co, Harrisburg, Pennsylvania, USA – Belgian Strong Dark Ale – 11% ABV – Caramel and cherries dominate the aroma, with breadiness that lingers. Some oxidation is apparent in the 2006 vintage.





Christmas Ale, vintage 2005 - Sly Fox Brewing, Phoenixville, Pennsylvania, USA – Herbed/Spiced Beer – 6.5% ABV – Coppery and unfiltered, a light haze swims enticingly beneath its creamy, ecru head. The taste buds are pierced by fruity apricot flavors, drenched with fresh bread, malt, and a peppery warmth.





Noel de Calabaza, Blend #5, vintage 2007 - Jolly Pumpkin Artisan Ales, Dexter, Michigan, USA – Belgian Strong Dark Ale – 9% ABV – Aged in oak barrels, a light vanilla veil dances within aromas of sour plums, cherries, and plumpy raisins. Its dark coppery body lures you further and captures attention, while you revel in funk and spice.





Tsjeeses - De Struise Brouwers, De Panne, Belgium – Belgian Strong Pale Ale - 10% ABV – Brewed and bottled in Woesten-Vleteren, this earthy wonder pours like the orange haze of a summery morning on the ocean. Tart citrus entwines around fresh straw and honey.





Rude Elf's Reserve, vintages 2004 (Rudolph's Reserve), 2005, 2006 - Bethlehem Brew Works, Bethlehem, Pennsylvania, USA – 9.5% ABV – A dark amber body, not quite chestnut, but tinged with red, settles beneath the tan head. Each vintage is wondrously different. The 2004 has become oxidized, taking on hints of sherry in a malty base. Our 2005 is richly malty, drenched in hoppy pine needles and biting with an assertive lunge. 2006 has retained an extraordinary character, alive with caramel malts, cinnamon, clove, licorice, nutmeg and a spicy heat.





Ridgeway Santa's Butt – Ridgeway Brewing, South Stoke, Oxfordshire, England, UK – English Porter - 6% ABV – "…and Santa sat on his great butt drinking a hearty brew," boasts the label. A walnut body, dark and intoxicating, stimulates a deluxe head of cream. Aromas are roasted and smoky, with ripe fruits, chocolate and nuts. Flavors are echoed in a light-medium body.





La Rulles Cuvee Meilleurs Voeux - Brasserie Astisanale de Rulles, Rulles-Habay, Belgium – Bottle Conditioned Belgian Dark Ale - 7.3% ABV – Like iron ore alit with fire, this impressive body quenches the thin head, leaving a ring around the perimeter of crystal. Dark fruits -blueberries, figs, and raisins – mix with spice. Complexity lingers in layers on the tongue, with caramel, toffee, fruit and yeastiness.





Enghien Noel - Brasserie de Silly, Silly, Belgium – Tripel Blonde - 9% ABV – Translucent gold in the glass, this tempting lady slathers her sticky lace on the clear surfaces. Apricot and peaches merge with leather, honey, cut grass, orange peel and an herbal note. Carbonation is light and refreshing.





Unibroue 16 – Unibroue, Chambly, Quebec, Canada – Belgian Strong Pale Ale - 10% ABV – Coppery and unfiltered, this strong body plays up to the soft eggshell head of foam. Fresh bread pulls you in, mingling with pears and apple, and announcing a touch of Brett. The mouth is zapped with heat and pepper, tons of carbonation and lingering malt.





Samichlaus Bier, vintage 2002 - Brauerei Schloss Eggenberg, Vorchdorf, Austria - Doppelbock - 14% ABV – Aged 10 months before bottling, this strong lager results from original recipe, fashioned by the brewmasters from the new brewing facility in Austria. This recipe, formerly brewed at Hurliman Brewery in Zurich, Switzerland, crafts one of the strongest lagers in the world. Clear dark copper and richly malty, the flavors of molasses and brandy merge beneath a touch of sherry-like character. Warmth coats the throat.



Cheers!

Photos (from top): Christmas Beers for July 2008 Monday Tasting; Dell Massey, Master of Ceremonies, gingerly releases a Christmas Brew; Monday Night Connoisseurs patiently await Mad Elf
 
You Should Also Read:
Is Beer the Secret Spice of Life ?
Winter Warmers - 20 Must Haves for the Beer Cellar
Winter Warmers for the Discriminating Beer Drinker


Related Articles
Editor's Picks Articles
Top Ten Articles
Previous Features
Site Map





Content copyright © 2023 by Carolyn Smagalski. All rights reserved.
This content was written by Carolyn Smagalski. If you wish to use this content in any manner, you need written permission. Contact Carolyn Smagalski for details.