Winter Warmers - 20 Must Haves for the Beer Cellar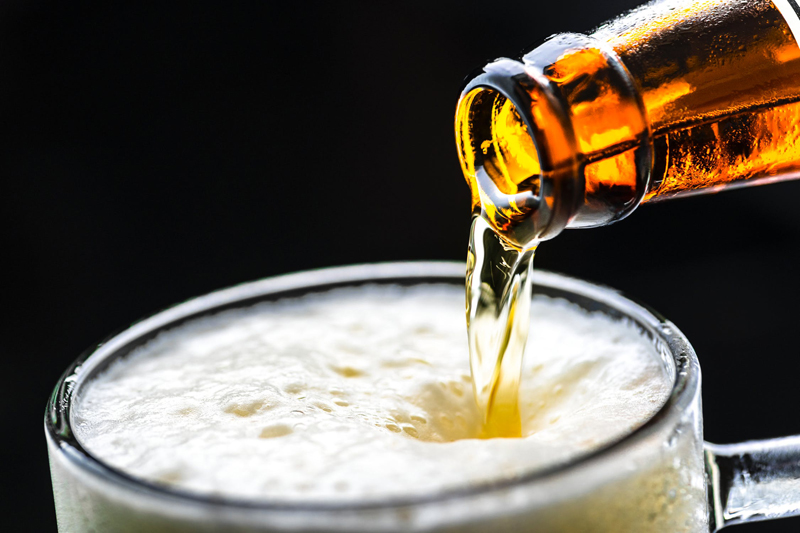 This winter, share your valued Winter Warmers with friends and lovers.  Replenish your selections early in the season, while supplies are abundant and variety is yours for the asking.  Use an experienced, discriminating eye when gathering your treasures.  Ask questions.  The delights of these magic elixirs will intensify in flavor when these Specialty Beers have aged and mellowed. 
Twenty Must Haves for your beer cellar:
2° Below Winter Ale – New Belgium Brewing Company, Fort Collins, Colorado, USA – Extra Special Bitter (ESB) – 6.6% ABV -  A body of golden apricot speaks with a spicy, peppery voice beneath a white, rocky crown.  Grapefruit emerges from the malty, caramel base, calling forth the essence of biscuits drenched in brown sugar, earthiness, and citrus.
Isolation Winter Ale – Odell Brewing Company, Fort Collins, Colorado, USA – Winter Warmer – 6% ABV – Deep copper splendor peers through a light haze within the crystal pokal. A chunky tan head stands as a prominent peak above the edge of the glass.  Sweet maltiness joins a nose of ripened fruit and leather, echoing in flavors that titillate the inner recesses of the mouth.   Spicy hops stimulate the tip of the tongue, and follow through on the long bitter finish.
Firestone 10 – Firestone Walker Brewing Company, Paso Robles, California, USA – American Barleywine – 12% ABV – The deep, dark russet body glows with ruby highlights, supporting a tan head and swaths of Belgian lace that speak of the path of good fortune.  Flecks of yeast float in the glass, while your sense of smell awakens with the infusion of vanilla, toffee and bourbon.  Chocolate, cognac, brandy, bourbon, plums, prunes, raisins, and honey roar across the palate like the urgency of sexual desire.  A swirl of the glass releases greater flavors, while uncloaking pleasures yet untapped.
Behemoth Blonde Barleywine – Three Floyds Brewing Company, Munster, Indiana, USA – American Barleywine – 12.5% ABV – Presentation begins with the bottle:  the cap, sealed in wax, appropriate for aging, assuring a firm seal that can withstand the test of time.  The body of this tasty treat pours burnished bronze with a creamy white head.   Fruited maltiness, nuts and alcohol fill the air, then compound themselves with complexity on the palate.  Alcohol remains well hidden, and nips with the stealth of a secret treasure.
Kuhnhenn Fourth Dementia – Kuhnhenn Brewing Company, Warren, Michigan, USA – Old Ale – 9.5% ABV - Reminiscent of polished mahogany, the body sparkles with rich, deep tones beneath a creamy, tawny head that leaves rings of lace on the glass in telltale measure.  Dark fruits – plums, cherries, figs and raisins – merge with molasses and aromas of dark bread and rouse the salivary glands.  Spill the garnet-brown liquid across the lips, and taste the big flavors of caramel and toffee, as they light up with rum-soaked fruits and aggressive booziness.
Fullers Vintage Ale – Fuller Smith and Turner PLC, Chiswick, London, England, UK – Old Ale – 8.5% ABV – Numerous vintages are available, each one,  a distinctive expression of a finely crafted beer.  2007 stands as bright copper with a creamy tan head that leaves intricate lace patterns on the glass.  Fruit drenched and malty in the nose, this shining elixir pushes its pronounced alcoholic trademark to center stage.  Roasted caramel and orange perform on the tongue, while plateaus of light carbonation give way to full-mouth maltiness.  Pine hoppiness asserts itself.
Imperial Brown Goose – Goose Island Brewing Company, Chicago, Illinois, USA – Old Ale – 9% ABV – Clouded ruby fills your chalice, while persistent streams of effervescence replenish the creamy tan head above.  Sweet malts, raisins, vanilla and bourbon jazz around in the olfactory corridors.  Within the mouth, sweet malts envelop the recesses of every fissure, while dark fruits float gently above, excited by complex whiskey notes and a dash of vanilla woodiness.  Smooth silkiness and warmth continue into the finish.
Ølfabrikken Porter -  Ølfabrikken, Vejby, Denmark – Baltic Porter – 7.5% ABV – Dive into the inkiness of this robust body, one that supports a dark tawny head of sticky, tight bubbles.  Aromas are smoky and sweet, giving in to bittersweet chocolate, licorice and coffee.  On the palate, a medley of complexity charges forward, creating a gilded armour of espresso, cocoa, peat, licorice, smoke and ash.  Secondary nuances of dark fruits arise, paralleled by vanilla and a touch of herbal pepper. 
Sinebrychoff Porter – Oy Sinebrychoff Ab, Kerava, Finland – Baltic Porter – 7.2% ABV – This deep, dark walnut body seems tinged with ebony ink around the edges, while a three-fingered tan head spreads its soft , mellow cream across the surface.  A sweet nose of chocolate and coffee intoxicates, pulling your lips into the sinfulness that awaits.  Espresso beans coated with chocolate greet the tongue, embellished with the flavors of raisins, prunes, and nougat.  A robust warmth sucks you in, followed by a crisp finish.
Wild Dog Barrel-Aged Horn Dog – Flying Dog Brewing Company, Denver, Colorado, USA – English Barleywine – 10% ABV – The dark, dusty brown body, capped with a thin head of tan accents, invites you to nose its robust, bourbon-rich aromas.  Caramel and vanilla surge through the air, begging you to partake in the warming debauchery that awaits.  Brown sugar and sweet malt, drenched in whiskey highlights, lead you into transgressions of the spirit, as charred oak, vanilla and smoke dust a path to satiety.
 Alesmith Old Numbskull – AleSmith Brewing Company, San Diego, California, USA – English Barleywine – 11% ABV – The 750 ml bottle reveals a body of garnet burgundy, covered in cream of sandy white.  Lacing is ample, leaving gentle patterns inside the goblet.  Aromas of malty biscuit, raisins, piney hops and spice dance upward to the nasal passages.  Caramel and raisins join in an interplay of sweetness, tempered by the piney bitterness of hops and a warm alcohol presence that surges forth persistently as it continues to warm, sending waves of heat along the inner surface of your throat.   
Arctic Devil Barley Wine – Midnight Sun Brewing Company, Anchorage, Alaska, USA – English Barleywine – 10% ABV – Burnished copper with ruby highlights announces this devil boy, with a tan head that dissipates to a ring, due to its high alcoholic strength.  Your nose fills with caramel, earth, cherries, tobacco, and leather.  As you tongue the liquid from your lips, sweet caramel maltiness is dappled with vinous fruit, and your mouth begs to be filled with an endless gush of this angelic elixir.  Complex and aged to perfection in the barrel, the fires of hell find a quenching beauty in this majestic potion.
Traquair House Ale – Traquair House Brewery Ltd, Peeblesshire, Scotland, UK – Scottish Wee Heavy – 7.2% ABV – A deeply-dusted ruby brown body is dressed for formal wear in the creamy tan head that leaves intense lacing after each swallow.  Aromas of sweet malt, candied figs, raisins and whispers of smoke abound.  On the palate, biscuit caramel, fruits, alcohol and coffee accent the silky feel.
Louie's Reserve Scotch Ale – Lake Louie Brewery Company, Arena, Wisconsin, USA – Scotch Ale/Wee Heavy – 9% ABV – Dense shadows of mahogany red lay rich beneath a tan head that quickly settles.  Warm waves of caramel, peaty earth, cider, figs, and brown sugar encircle the head and draw you into a cave of seductive madness.  Entwining tendrils of dark toffee, brown sugar, candied figs, cocoa, scotch, peat and earth captivate the tastebuds, painting the tongue with satiny smoothness.
Imperial Russian Stout – Southampton Publick House, Southampton, New York, USA – Russian Imperial Stout – 10.2% ABV – Just a shade this side of ebony, this erotic body writhes impatiently beneath an exquisite head of tan, bursting forth with aromas of burnt sugar, cappuccino, cocoa beans, and fruit.   Initial flavors of bittersweet chocolate and espresso give way to sweeter secondary notes of mocha latte, dark figs, raisins and cherries and roasted malts.  With aging, you can expect even greater smoothness and complexity.
Black Albert – De Struise Brouwers, De Panne, Belgium – Russian Imperial Stout – 13% ABV – In the blackness of the midnight sky, you can detect a crimson glow on the horizon, an echo of the commanding presence of this richly dense Russian.  A voluminous tan head sits like whipped frosting on the surface, allowing the soft slathers of roasty malt, port wine and dark, unsweetened chocolate to drift upward.  The tongue delves into la dolce vita as flavors of roasted coffee, port, cocoa, and vanilla shimmy enticingly across the palate.  A full mouthfeel and smooth silkiness add to the pleasure.
Hitachino Nest Celebration Ale – Kiuchi Brewery, Ibaraki-ken Naka-gun, Japan – Winter Warmer – 9% ABV – A foggy, reddish copper body upholds a magnanimous, off-white head of rocky creaminess. A nose of sweet malts and citrus fruit seems spiced with ginger, coriander, vanilla, nuts and orange peel.  Flavors of malt merge with spiciness of a bouquet garni, touched with brown sugar, nuts and vanilla. Mouthfeel is smooth with a hint of alcoholic warmth.
Our Special Ale 2007 (Anchor Christmas Ale) – Anchor Brewing Company, San Francisco, California, USA – Winter Warmer – 5.5% ABV – Shades of deep maroon lay cloaked beneath an off-white head that settles to a sheer film on the surface.  Cinnamon, gingerbread, orange, molasses and brown sugar gently nudge the olfactory senses, preparing the palate for sensational echoes of this complex roil of flavor.  Add vanilla, nutmeg, cloves, and creamy maltiness to the tongue, and yuletide bells ring with resounding celebration.   
Old Jubilation – Avery Brewing Company, Boulder, Colorado, USA – Winter Warmer – 8% ABV – Rich, hazy walnut juiciness settles in the glass, crowned by a dense, mocha head of cream.  Sugar and caramel push through to the nose, accented by nuances of fruit, nuts and sweet tobacco.  Toasty nuts and sweet maltiness slither across the tastebuds, enhanced by plums, raisins, dark cherries, and a hint of pine needles.  Alcohol warms the recesses of the mouth and spread down the throat with pleasurable pulsations.  A lingering bitterness harmonizes well to balance the sweet notes. 
Mac Queen's Nessie – Brewery Castle Eggenberg, Eggenberg, Austria – Scotch Ale/Wee Heavy – 7.3% ABV – The deep golden bronze body and thin veiled head showcase the rich malty sweetness and gentle smoke.  English toffee and secondary notes of whiskey satiate the palate.  Latent dryness accents the smokiness and warming alcohol.
As you add to your collection, experience Winter Warmers from breweries, both local and international.  Taste these beers in their virgin freshness, then allow some to age into silky vintages that will warm the palate and the spirit.  You will always have the flair of mystery behind each showing, like an artist with a well-crafted work of art.
Cheers
You Should Also Read:
Winter Warmers for the Discriminating Beer Drinker
German Schwarzbier - Bold and Black
Scotland - World-Class Distilleries & Breweries


Related Articles
Editor's Picks Articles
Top Ten Articles
Previous Features
Site Map





Content copyright © 2022 by Carolyn Smagalski. All rights reserved.
This content was written by Carolyn Smagalski. If you wish to use this content in any manner, you need written permission. Contact Carolyn Smagalski for details.