If you're looking for a unique new salad to serve at your next summer barbecue, the following Quick & Crunchy Barley Salad is worth a try. This salad goes great with grilled steak, chicken, or even burgers. Not only is it a change from the usual summer potato, pasta, or coleslaw salads, it's colorful, delicious, and healthy.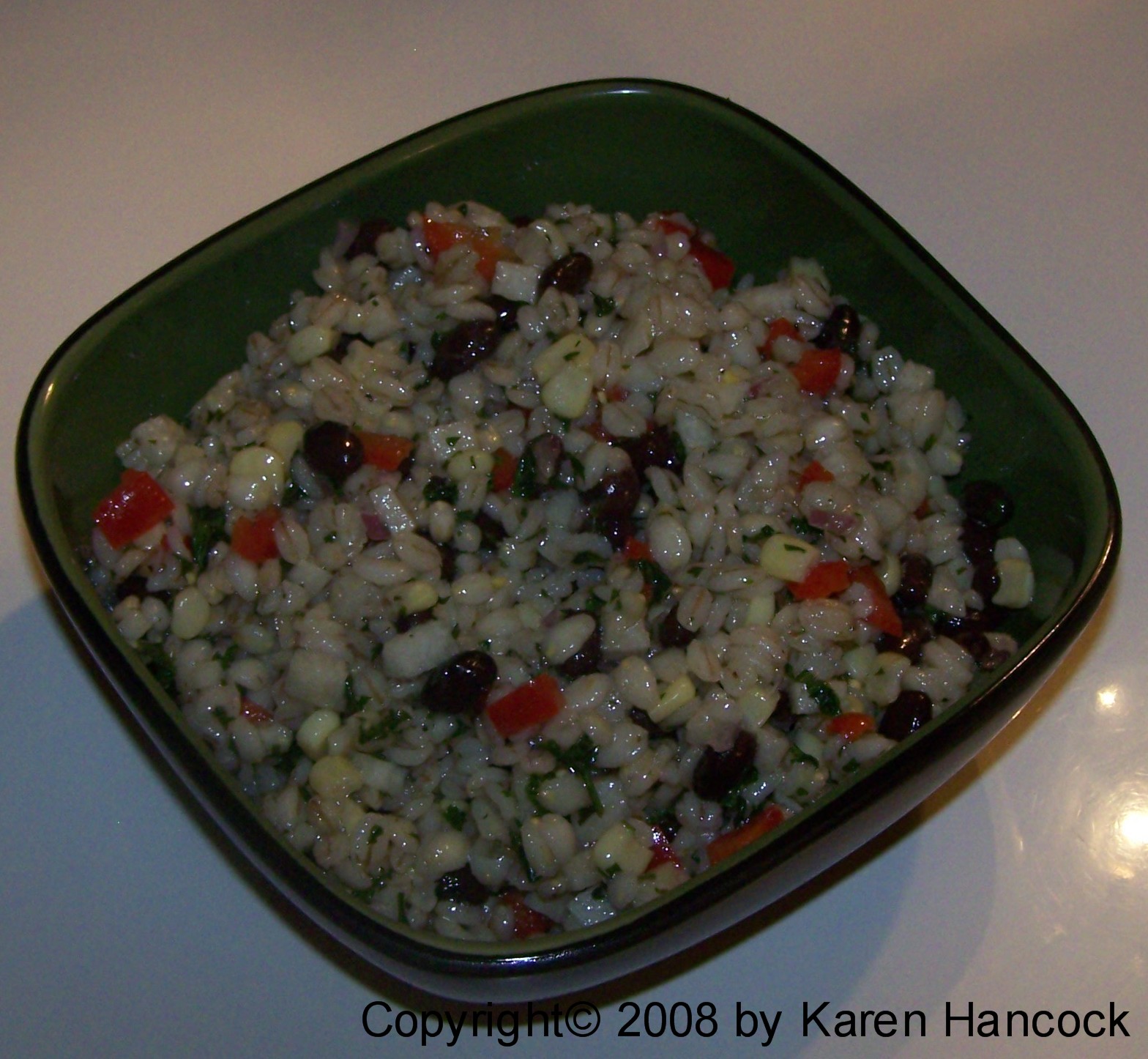 Most of us are familiar with barley as an ingredient in soup, but with its unique texture and nutty flavor, it's a great choice for salads too. The bonus to using barley is that it is packed with all kinds of healthy nutrients. According to data from the USDA, 1 cup of cooked pearl barley contains less than 1 gram of fat, only 193 calories, 4 grams protein, and 6 grams of dietary fiber. In addition it contains iron, magnesium, phosphorus, potassium, zinc, niacin, and folic acid. The quick cooking variety takes just 10 –12 minutes to cook, which is great for anyone in a hurry.
This terrific salad can be put together very quickly: chop the vegetables while the barley is cooking; when the barley is done, spread it on a baking sheet and put it in the freezer. While it's cooling, make the dressing, then toss the ingredients together. If you know you'll be rushed just before dinner, Quick & Crunchy Barley Salad can also be prepared up to two days ahead.
Quick & Crunchy Barley Salad
Serves 12

2 cups Quick Barley (11 ounce package)
1 teaspoon salt
1 can (15 oz) black beans; drained and rinsed
2 cups frozen corn, rinsed and drained
2 cups jicama, cut into 1/4" dice
1 Red bell pepper, cut into 1/4" dice
1/3 cup red onion, finely chopped
3 tablespoons fresh parsley, finely chopped
3 tablespoons fresh cilantro, finely chopped

~~ Dressing ~~
1/2 cup vegetable oil
3 tablespoons lime or lemon juice, freshly squeezed
6 tablespoons white wine vinegar
6 tablespoons sugar
1/2 teaspoon freshly ground black pepper



Bring 4 cups water to a boil and add salt.


Stir in the barley, cover the pot, and reduce the heat to low.


Simmer for 10-12 minutes or until the barley is tender.


Remove from the heat and let stand 5 minutes.


Remove the cover from the pot and let the barley cool thoroughly. To speed up cooling, spread the barley on a baking sheet and put in the freezer for about 15 minutes)


Mix the cooled barley with the remaining ingredients; toss with the dressing.


Chill until ready to serve.

Dressing: Mix all ingredients in the blender or with a wire whisk.

Amount Per Serving:
Calories 293 Calories from Fat 86
Percent Total Calories From: Fat 29% Protein 10% Carb. 61%

Nutrient Amount per Serving
Total Fat 10 g
Saturated Fat 1 g
Cholesterol 0 mg
Sodium 280 mg
Total Carbohydrate 45 g
Dietary Fiber 6 g
Sugars 6 g
Protein 7 g

Vitamin A 17% Vitamin C 53% Calcium 0% Iron 6%