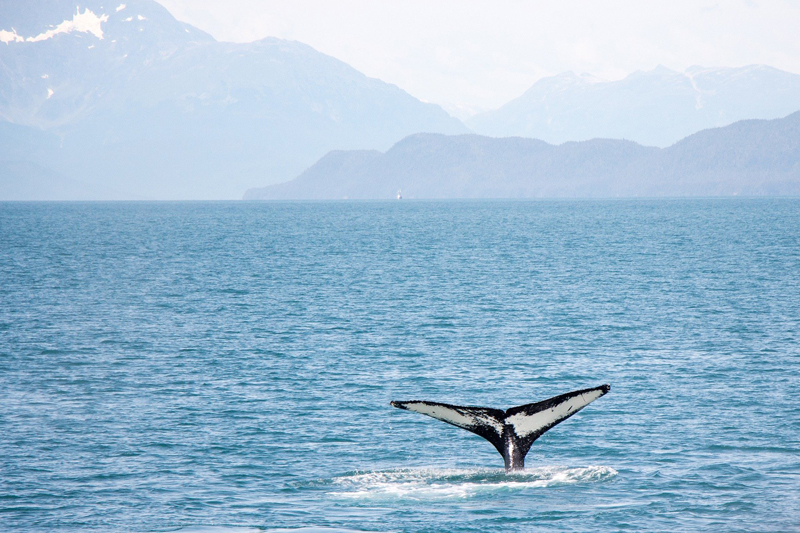 Of the five million caribou in the world, approximately one million live in Alaska. All caribou are the same species,
Rangifer tarandus
, but are divided into seven subspecies. Alaska has only the barren ground subspecies,
Rangifer tarandus granti
. Caribou are migratory animals, and as such their movements vary from year to year, depending on food supply, harassment by predators, and seasonal variations in weather patterns. They do, however, have specific calving grounds as well as large and somewhat undefined winter ranges. Large scale movement between the two usually occurs in fall (Sept-Oct) and spring (March-April). Caribou may cover several hundred miles each year as they wander from place to place.
The barren ground caribou, as its name suggests, are found in the mostly treeless tundra of the arctic and open lands above timberline. In the summer, they eat a variety of plants, including the leaves of willows, grasses, and a variety of flowering plants. In the winter, their preferred food is lichens and "reindeer moss" – low growing plants found in abundance on wind-blown tundra habitat. Like cows, caribou are a ruminant with a four-chambered stomach suited to digesting and extracting nutrients from such tough feedstuff. Their concave and wide-spreading hooves are well adapted to pawing through snow to find the feed below, in addition to being excellent support for traveling across boggy ground or soft snow and swimming across rivers. The caribou is the only member of the deer family in which both sexes grow antlers.
Alaska has at least thirty distinct herds, characterized by their individual calving grounds and winter ranges. The largest of these is the Western Arctic Caribou Herd, which ranges in the western portion of the Brooks Range and northern coastal plain all the way through the Seward Peninsula. It numbers over 400,000 animals and is an important food resource for residents of the area. The Porcupine Herd, numbering over 100,000 animals is perhaps the most well-known herd outside of Alaska. This is the herd that has its calving grounds within the Arctic National Wildlife Refuge (ANWR) and would most likely to be impacted by drilling.
If you are driving along the Glenn Highway between Anchorage and Glennallen, you may spot caribou from the Nelchina Herd. This herd numbers about 40,000 animals and is one of the most accessible herds in the state. The small Mentasta Herd shares a winter range with Nelchina Herd in the northern portion of Wrangell-St. Elias National Park. Caribou from these herds are often seen crossing or traveling along the road (Glenn Highway and Tok Cutoff) in October and again in April.
Caribou have always been an important resource for the peoples of Alaska. In traditional times, caribou were a source of clothing and tools, as well as meat. The hide was used to make boots (mukluks), mittens, pants, socks, and parkas. After removing the hair, the skin could be cut into long strips and used for snowshoe webbing, sled lashings and other miscellaneous purposes. Bones and antlers were fashioned into tools of various kinds, from fishhooks and lures, to ulu handles, to skin scrapers. Sinew was dried for sewing
Today, people are much less likely to use the entire animal; meat is salvaged for food, of course, but this may not include the tongue or stomach contents, both of which were utilized in times past. Hides are still used to some degree (primarily for sleeping pads or sled cushions in remoter areas), though not as they were before the importation of Columbia® and The North Face® outerwear. Bones and antlers are still highly utilized for a variety of arts and crafts projects, from the traditional handles and fishing lures to the purely artistic use as a material for carving into items to be sold to tourists.


Related Articles
Editor's Picks Articles
Top Ten Articles
Previous Features
Site Map





Content copyright © 2022 by Kimi Ross. All rights reserved.
This content was written by Kimi Ross. If you wish to use this content in any manner, you need written permission. Contact Deb Frost for details.