Autumn Flowers for Containers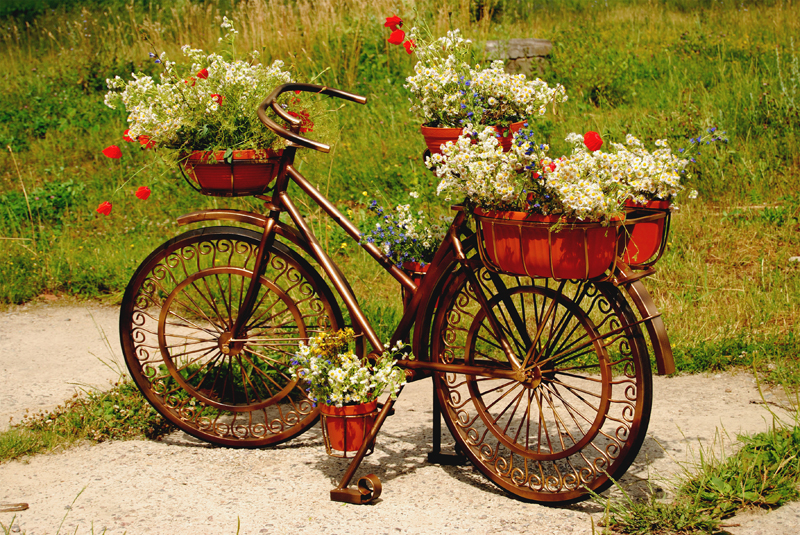 Towards the end of summer your container plants may be slowing their bloom and dying back, definitely beyond their prime. A wide variety of cooler weather plants will become available in your local nurseries for you to revive your container plantings. If you live in a warmer climate, or your garden is protected from frost, these plants will give your cheerful color all winter long.

Some of the best plants for an autumn container flower garden include:

Pink, Lavender and Crimson colors
Autumn Crocus (Crocus speciosus, Crocus kotschyanus or Crocus sativus). These bulbs are quick to bloom, some rewarding you with flowers only days after planting. Plant together in a group, 2 to 3 inches deep, filling your container for best effect. Divide every 3-4 years, or when the container becomes overcrowded. Most are pink, lilac, or lavender in color.

Cyclamen.
Most are white, pink, rose, or crimson colored. These look beautiful planted with Autumn Crocus and/or pansies. Florist cyclamen should be planted at soil level, small-flowered hardy species should be planted under ½ inch of soil. Many colors of florist variety are available at most nurseries in the fall.

Pansy.
Many colors will blend well with the Crocus and Cyclamen above. Annuals in most climates, trim them back from time-to-time to keep them looking compact and encourage bloom.

Harvest and Fall colors
Chrysanthemums are the stars of the autumn garden – so many colors, shapes and sizes are available it may be hard to limit yourself! One tip – don't buy florist or 'hot house' chrysanthemums, instead find ones grown in six-packs or specifically for the outdoors. The 'hot house' chrysanthemums will look beautiful at the nursery, and may give you some beautiful color for a few days or even a week or two, but then the shock of being outdoors will take its toll and the plant will die back, taking several weeks (or even months) to recover. Deadhead often for continued bloom.

Calendula blend well with chrysanthemum, and there should be many colors and sizes still available at your nursery. Be careful to choose plants that aren't root bound – you want nursery stock grown for fall planting, not plants left over from the spring or early summer.

Pansies are great additions to your containers of chrysanthemum and calendula, happily filling in the spaces and spilling over the sides of your containers. Choose similar or contrasting colors, to suit your preference.

Many herbs will add interest and appeal (not to mention fragrance) to your containers, and will hold up well to the cooler weather. Some of the best to add to your containers are thyme, rosemary, and lavender.

Ornamental kale is also a colder-weather favorite, and every year there seems to be more and more colors, sizes and shapes available. Look around for these beauties, and plant with pansies for fun!

Heuchera (coral bells) are great additions to your autumn containers. My favorite is 'Southern Comfort', with it's beautiful amber, rust and red foliage of autumn. Plant as a backdrop or along the sides in a larger container, and offset with pincushion chrysanthemum and / or pansies. These will reward you with tall stands of tiny bell-shaped flowers next year, too.

Renew your flower containers now to celebrate the harvest and upcoming holidays. You can intersperse groupings of pumpkins, gourds, and dried corn among your planters, to add to the theme. Have fun, and enjoy the season!


You Should Also Read:
Winter Kitchen Gardens
Halloween Decor for Containers
Cool Season Colour


Related Articles
Editor's Picks Articles
Top Ten Articles
Previous Features
Site Map





Content copyright © 2019 by Jessica Carson. All rights reserved.
This content was written by Jessica Carson. If you wish to use this content in any manner, you need written permission. Contact Lestie Mulholland for details.