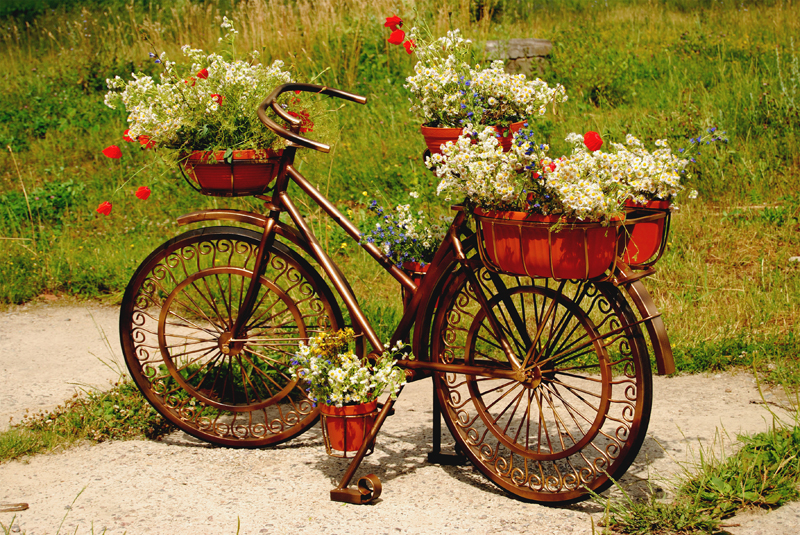 The Angel's Trumpet, also known as Brugmansia, is a native to the warm areas of Brazil, Bolivia, Columbia, Ecuador and Peru. Naturally a large shrub, it can be easily trained into a standard or small tree. The large leaves (6 to 12 inches) and 8 to 12 inch long hanging trumpet-shaped flowers make them a perfect focal point for your garden. Some cultivars are quite fast growing (up to six feet in a season), so they can quickly fill in an otherwise bare location.

The flowers of Angel's Trumpets are typically white to a pastel yellow, orange, or peach. Brugmansia sanguinea, a rare Peruvian native, bears 10 inch long orange-red blooms with yellow veins. Most Angel's Trumpets are sweetly scented, especially in the evening. All are frost tender, so be prepared to move them indoors or to a greenhouse during the cold months. They require little water (just enough to keep the soil damp) and minimal light over the winter, so they are easy to care for. Note that the flowers and seeds are poisonous if eaten, so locate them accordingly.

Angel's Trumpets are happy in sun or shade, as long as they are sheltered from wind. They require ample water during the growth and bloom season, water sparingly over the winter. Most bloom from summer through fall, even as late as December if kept warm. Most flowers are dramatic, single trumpets, though some new cultivars produce double flowers, and some have variegated leaves.

Brugmansia sanguinea and Brugmansia vulcanicola are native to the higher elevations of Western South America, and prefer moderate temperatures and cooler nights. They may not flower if the weather is too hot. Other cultivars and hybrids prefer warm evenings and warm to hot days during the flowering season.

Plant your Angel's trumpet in a large container (20" in diameter or more), using a good, fast draining, rich soil-based potting soil. Keep well watered during spring and summer, but not continuously wet or the roots will rot. Water with a compost tea or other liquid fertilizer solution once or twice during the growing season, or spread a thin layer of well-rotted compost on the top of the soil once or twice each season, gently mixing in to the first few inches of soil. Your Angel's Trumpet can be pruned heavily in the spring (some of the faster-growing varieties require it to keep them from becoming too woody). Trim back branchlets to one or two buds Then prune to shape as your plant grows throughout the summer.

Angel's Trumpets are especially beautiful when trained as a standard from 4 to 6 feet tall. The draping flowers are especially beautiful when the plant is shaped this way.

The shrubs can be easily cultivated from 5 to 10 inch young tip cuttings taken in summer, or from seed. Many varieties are also available by mail order. Also, check your local nursery; Brugmansia are becoming more and more commonly grown throughout the world.

WARNING: I have been notified that the Angel's Trumpet is considered a noxious weed in Australia and is illegal to grow there. The leaves and flowers, besides being deadly poisonous at various levels, are also an hallucinogen, causing extremely fearful delusion, hallucination, and paranoia. These delusions and hallucinations have been known to lead to death, as well. Therefore, it is best to grow the beautiful plant in an area where children and pets will not mistakenly eat it, and where there is no public access.

................................................................................

CASUAL VISITOR … and just browsing? Why not sign up to the Container Garden newsletter? It won't matter what space or how many pots you have or even how much time you have to spend in your container garden; what will matter is that you get our reminders and good advice and ideas all in one interesting article.

You Should Also Read:
Training a Standard
Propagation from Cuttings
Hydrangea: Tips for Growing in Containers


Related Articles
Editor's Picks Articles
Top Ten Articles
Previous Features
Site Map





Content copyright © 2023 by Jessica Carson. All rights reserved.
This content was written by Jessica Carson. If you wish to use this content in any manner, you need written permission. Contact Lestie Mulholland for details.