Guest Author - Jeanne Egbosiuba Ukwendu
Name:
Addax (Screwhorn Antelope)
Scientific Name:
Addax Nasomaculatus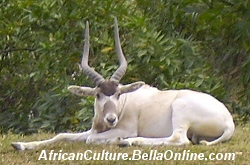 Height:
About 3 feet (1 m) tall at the shoulder.
Average Adult Weight:
132 to 264 pounds (60 to 120 kg)
Life Span:
Up to 19 years.
Description:
The color of the addax's coat varies depending on the season. In winter, it is greyish brown with white hind quarters and legs. In summer, the coat turns almost completely white or blonde. Their head is marked with brown or black patches forming an X over their nose. Addax have a scraggly beard and red nostrils. Long black hairs stick out between their horns and there is a short main on the neck. Addax have spiralled horns that can reach up to 3 feet (1 m) in length.
Habitat:
Sahara Desert.
Countries found in:
Addax were found from Algeria to Sudan, but have become very rare in their Northern African habitat.
Babies:
Eight to nine month gestation period. Addax generally give birth to one baby at a time.
Food:
Desert succulents, grasses, herbs and leaves on bushes.
Group Name:
Herd of addax - 2 to 20 addax in a herd.
Habits:
Addax travel long distances to obtain food. They are nocturnal and rest in depressions they make with their forefeet in the ground during the day.
Endangered:
Yes. Critically endangered. Addax have been extinct in Egypt since 1900. There are fewer than 500 addax left in the wild and fewer than 860 in captivity.
Predators:
Lion, leopard, hyena, humans.
Interesting Facts:
Addax rarely need to drink water.
They have wide hooves that spread so they can walk on the desert sand without sinking.
During the day, addax rest near boulders and bushes to protect themselves from the sun.
The Addax is closely related to the oryx.
Addax have overdeveloped senses and can locate each other over great distances.