Guest Author - Jeanne Egbosiuba Ukwendu
Name:
Ring-tailed Lemur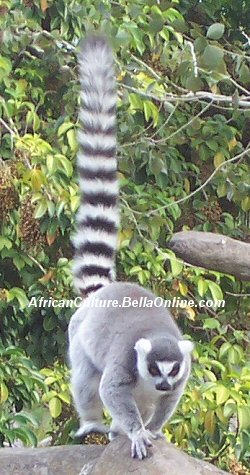 Scientific Name:
Lemur catta
African Names:
Hira (Malagasy), Maki (Malagasy)
Height:
The ring-tailed lemur's body length averages between 15 and 18 inches (39 to 46 cm)
Average Adult Weight:
5 to 8 pounds (2.3 to 3.5 kg)
Life Span:
16 to 19 years in the wild and 27 years in captivity.
Description:
The lemurs front legs are shorter than their back legs so their butts stick up in the air.
Habitat:
Ring-tailed lemurs prefer gallery forests and euphorbia bush habitats.
Countries found in:
Madagascar
Babies:
The breeding season is from mid-April through June. The gestation period in 4 to 4.5 months. Females give birth to one or two babies at a time.
Food:
Lemurs are herbivores and enjoy eating fruit, leaves, flowers, tree bark, and sap.
Group Name:
Troop of lemurs. Troops generally have between 6 and 30 lemurs, but average around 17. A dominant female presides over a troop which includes both sexes. Females stay in the troop in which they were born. Male lemurs move from troop to troop.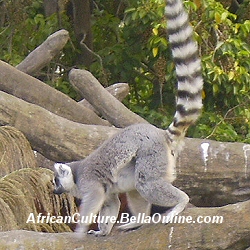 Habits:
Ring-tailed lemurs spend a lot of time on the ground - unusual for lemurs.
During mating season, male lemurs battle for dominance by trying to "outstink" each other. They cover their tails with smelly secretions and wave them in the air to decide who is more dominant.
Ring-tailed lemurs social hierarchies where the females are dominant.
They sunbath in the early morning hours sitting upright with their front legs resting on their back legs - they look like someone in a meditative pose.
Conservation Status:
Near Threatened due to destruction of habitat.
Predators:
Native predators - Fossa (a catlike predator), Madagascar harrier-hawk, Madagascar buzzard, and the Madagascar ground boa.
Introduced Predators - The small Indian civet, domestic cats and dogs.
Interesting Facts:
The ring-tailed lemur's tail is longer than its body.
If an argument breaks out between a male and female lemur, the female always wins.
Lemurs are primates and related to monkeys and apes.
Lemurs are not able to use their tails to grab onto branches like a monkey would.