Guest Author - Jeanne Egbosiuba Ukwendu
Name:
Red River Hog (Bush Pig)
Scientific Name:
Potamochoerus Porcus
African Names:
Bosvark (Afrikaans), Nguruwe (Swahili)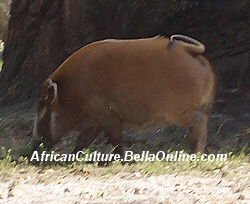 Height:
The red river hog is less than 1 yard (0.6-0.75 m) tall, is about 0.9 to 1.4 yards (1 to 1.5 m) long and has a thin tail that is about 12 to 18 inches (30 to 45 cm) long.
Average Adult Weight:
120 to 150 pounds (54.5 to 68 kg)
Life Span:
20 years.
Description:
The red river hog has very red fur with a thin white line that runs down its back. The head has black and white marking with a white ring around each eye.
Habitat:
Red river hogs live in most of Africa south of the Sahara Desert particularly in rain forests, mountains, and brushes.
Babies:
One to six piglets are born at a time. Gestation period is about 4 months.
Food:
Red river hogs are omnivorous and like to eat grass, herbs, berries, roots, turnips, insects, eggs, lizards, mollusca, little vertebrates and carrion. They have been known to damage farms and plantations.
Group Name:
A group of red river hogs in known as a troop, sounder, drift, or herd. There are four to twenty hogs in a troop. A troop will have one male hog and several female hogs (sows) and their piglets. Sometimes troops merge to form a troop as large as sixty hogs.
Habits:
Red river hogs are nocturnal and sleep in dense bushes during the day in a burrow they dig out of the earth. In the evening, they look for food using their snouts to uproot various roots and plants. This behavior can damage farm crops when the hogs are foraging for food.
Conservation Status:
Least Concern.
Predators:
Humans, leopard, lion, python, and spotted hyena.
Interesting Facts:
Male red river hogs are larger and have facial warts.
The red river hog is a good swimmer, but can't hold its breath very long.
The red river hog is nicknamed "bush pig" but is not the same animal is the official bush pig (Potamochoerus Larvatus).