If you like Rueben sandwiches, then you'll love this Creamy Rueben Soup with Crispy Rye Toasts. Dinner will be ready in less than 30 minutes, since it utilizes the
Basic Cream Soup Mix
. If you don't have the soup mix on your pantry shelf, it takes only a few minutes to make, and it is the base for dozens of different soups that can be made very quickly.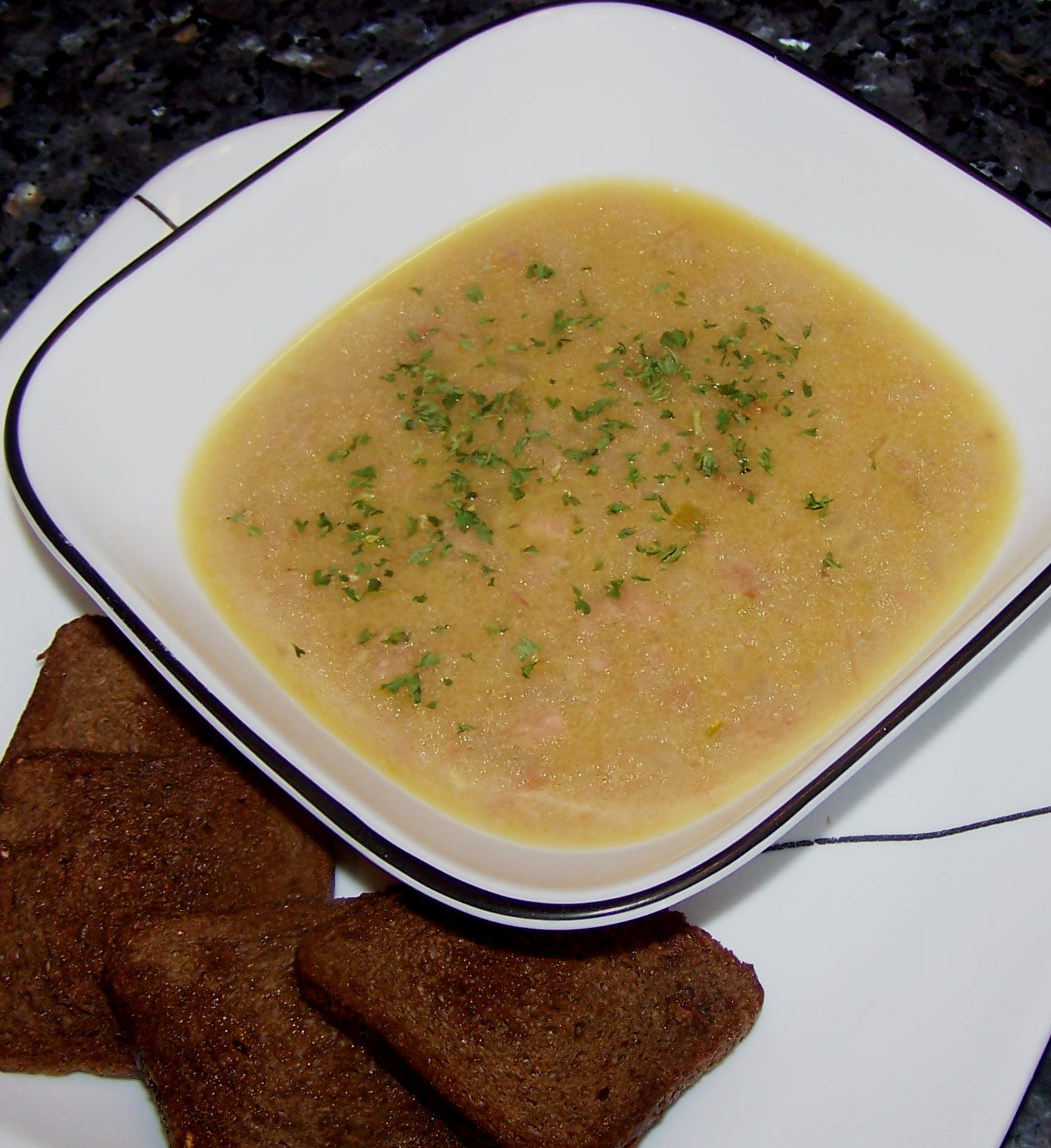 While you're at the grocery store, pick up a loaf of cocktail rye bread or cocktail pumpernickel bread. It takes only a minute or two to brush the little bread slices with butter and pop them in the oven; the crusty slices are perfect with this soup.
Creamy Reuben Soup
8 Servings
1 tablespoon butter
1/2 cup finely chopped onions
1/2 cup finely chopped celery
1 12 oz. can corned beef, cut into 1/2" dice
3/4 cup sauerkraut, rinsed and well drained (half of a 15 ounce can – freeze the rest for your next batch of soup)
6 cups water
1 1/2 tablespoons granular beef bouillon
1 1/2 cups basic Cream Soup Mix
2 cups shredded Swiss Cheese
Melt the butter in the bottom of a Dutch oven.


Add the onions and celery and let cook over medium heat, stirring occasionally, for 5 minutes.


Add the corned beef and stir to warm; stir in the sauerkraut.


Add the water and beef bouillon; let the mixture come to a boil and once boiling, turn the heat down and let simmer 5 minutes.


Whisk in the Basic Cream Soup Mix and cook, whisking constantly, until the mixture thickens.


Remove the Dutch oven from the heat and stir in the Swiss Cheese.


Serve with Crispy Rye Toasts (recipe below) or freshly baked rye rolls.
Amount Per Serving
Calories 355 Calories from Fat 212
Percent Total Calories From: Fat 60% Protein 25% Carb. 16%
Nutrient Amount per Serving
Total Fat 24 g
Saturated Fat 13 g
Cholesterol 90 mg
Sodium 958 mg
Total Carbohydrate 14 g
Dietary Fiber 0 g
Sugars 0 g
Protein 22 g
Vitamin A 6% Vitamin C 19% Calcium 0% Iron 7%
---
Crispy Rye Toasts
1 loaf Cocktail rye bread
1/2 cup butter
Preheat the oven to 350°.


Lay the rye bread slices out on a large cookie sheet.


Melt the butter, then brush each slice with butter.


Turn the slices over and brush with butter.


Bake 10-15 minutes at until lightly browned.
Amount Per Serving
Calories 38 Calories from Fat 35
Percent Total Calories From: Fat 91% Protein 2% Carb. 7%
Nutrient Amount per Serving
Total Fat 4 g
Saturated Fat 2 g
Cholesterol 10 mg
Sodium 47 mg
Total Carbohydrate 1 g
Dietary Fiber 0 g
Sugars 0 g
Protein 0 g
Vitamin A 3% Vitamin C 0% Calcium 0% Iron 0%