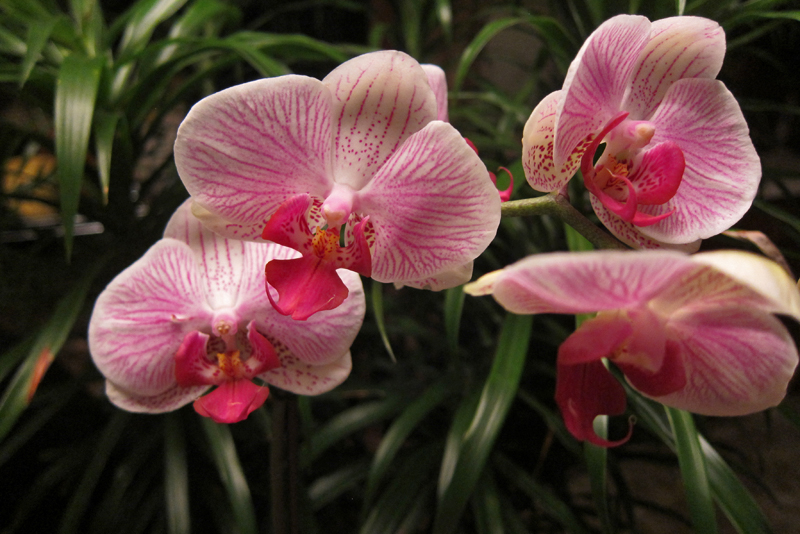 Leafless orchids are one of the more interesting vegetative adaptations within the orchid family. Their roots contain the chloroplasts which are normally in leaves and photosynthesize light to produce chlorophyll to feed the plant. Notice how green their roots are in his picture of
Harrisella porrecta
which gives you an idea of what the growth pattern of the roots looks like. Most leafless orchids are found in South America and the Caribbean Islands, but there are a few representatives in tropical Africa, Southeast Asia and Australia. Almost all are epiphytic (grow on trees) and often an orchid species will prefer specific types of trees to grow on. Most of these orchids are believed to be pollinated by moths, although very few actual sightings have been made.
An interesting variation is the mostly leafless
Vanilla barbellata
, Snake or Worm Vine which is native to Florida and many of the islands in the Caribbean Sea. There are several other varieties of Vanilla which appear at times to be leafless, although they do have small or inconspicuous leaves for part of the year. Their stems as well as the roots photosynthesize to provide the plant with food to grow.
The most famous of the leafless orchids is
Dendrophylax lindenii
or the Ghost Orchid. This orchid, a native of Florida, Cuba, Haiti and possibly other islands in the Caribbean, was brought to public light as a result of the book by Susan Orlean,
The Orchid Thief
, and the movie
Adaptation
. As a result of this publicity there has been much interest in poaching these rare orchids where they grow in the Florida swamps, unfortunately, they rarely survive.
These Ghost Orchids are available at
Oak Hill Gardens
under the name "POLYRRHIZA (POLYRADICION) lindeni". Culture is rather difficult for most people as they need little light, warm temperatures, very high humidity and low air circulation. Several sources recommend growing them mounted on wood or wire mesh in old fish tanks just above the water. Daily mistings with rainwater will encourage growth. Some growers recommend that aquatic plants be placed in the water. A happy plant is capable of growing roots up to an inch a month. These seed grown specimens have a much better chance of surviving than those removed from the wild. The plant will be big enough to bloom once the root spread is about 5 inches or 13 centimeters in diameter. The flowers are produced in the spring, April through June in the northern hemisphere, with most plants producing just one flower on a 4-10 inch or 10-25 centimeter inflorescence.
In 2007 there was a discovery of a blooming Ghost Orchid in the Corkscrew Swamp Sanctuary where it is growing about 45-50 feet, or 13-15 meters, high on an old bald cypress tree near a boardwalk. The plant bloomed three times with 12, 10 and 3 flowers respectively. In 2008 it again bloomed and was dubbed "Super Ghost" for its spectacular display. If you are in Florida during June and July, find out if it is blooming.
You Should Also Read:
Orchid Profile - Nun Orchid
Photographing orchids in the wild
Misting Systems


Related Articles
Editor's Picks Articles
Top Ten Articles
Previous Features
Site Map





Content copyright © 2023 by Susan Taylor. All rights reserved.
This content was written by Susan Taylor. If you wish to use this content in any manner, you need written permission. Contact Anu Dharmani for details.