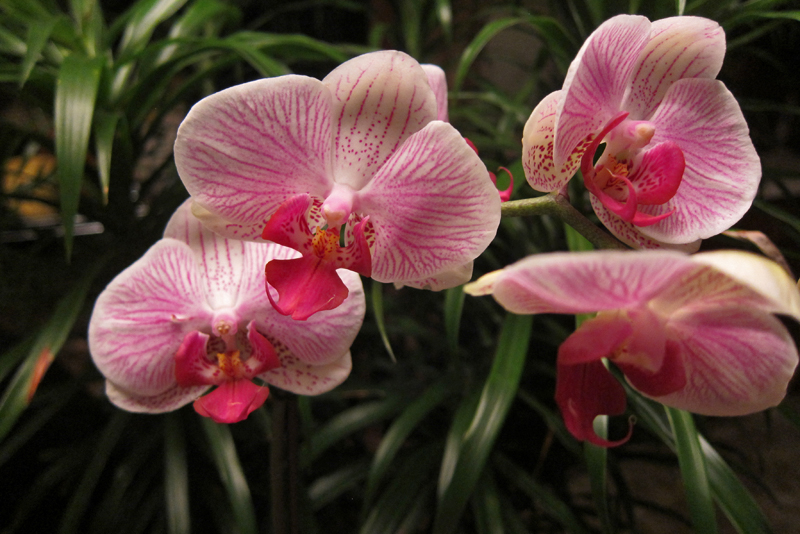 Turning plants
Monopodial plants such as Vandas and Phals should be turned once a month 180 degrees. Sympodial orchids such as Cattleyas and Oncidiums should be turned 90 degrees left and then 180 degrees right to keep growth upright. Turn orchids once a week to keep the growth even except when they have developed inflorescences. They should not be moved at that time or the flowers will not develop naturally. After flowering, start the turning regimen again.

Aspirin in Water
Take a quarter aspirin and grind it up into a fine powder, add to a gallon of water, mix well and spray on to your plants. This use of aspirin is supposed to improve the immune system of your plants and help them fight off diseases and pests.

Sheer curtains will reduce the amount of light
As the sun starts to get stronger in the spring watch out for signs of too much sun on your indoor plants. If you have your plants in a western window you can use sheer curtains to reduce the amount of direct light which your plants are getting. Too much light will show up as reddish leaves on Cattleya Alliance plants and possible sunburn on other orchids. Moving plants away from the light source also will reduce the amount of direct light they are getting.

Clean humidity trays and rocks with bleach
It's a good idea to clean your growing areas periodically and bleach is one of the best ways to do so. Pour a small amount of bleach in the tray and soak the bottom of humidity trays for about an hour to kill the buildup of green that often happens. Gravel and rocks can also be soaked to remove the green algae. Rinse thoroughly several times with clear water and allow to dry before replacing in your growing area.

Set up an outdoor growing area
Orchids appreciate a time outdoors during the warmer months. Do you have an area outdoors that might be suitable for at least a few plants? Start setting the area up to accommodate your plants by putting tables or shelving in place. Does it need to be shaded from full afternoon sun? Get some shade cloth and mount it on a frame to provide the perfect amount of light. Maybe you have room to put some hanging plants on the side of a patio or shed. Get your area all set up before it's time to put your plants outside.

You Should Also Read:
Spring Orchid Growing Tips
Gift Ideas (Valentines)
Beginner Orchid Supplies


Related Articles
Editor's Picks Articles
Top Ten Articles
Previous Features
Site Map





Content copyright © 2022 by Susan Taylor. All rights reserved.
This content was written by Susan Taylor. If you wish to use this content in any manner, you need written permission. Contact Anu Dharmani for details.