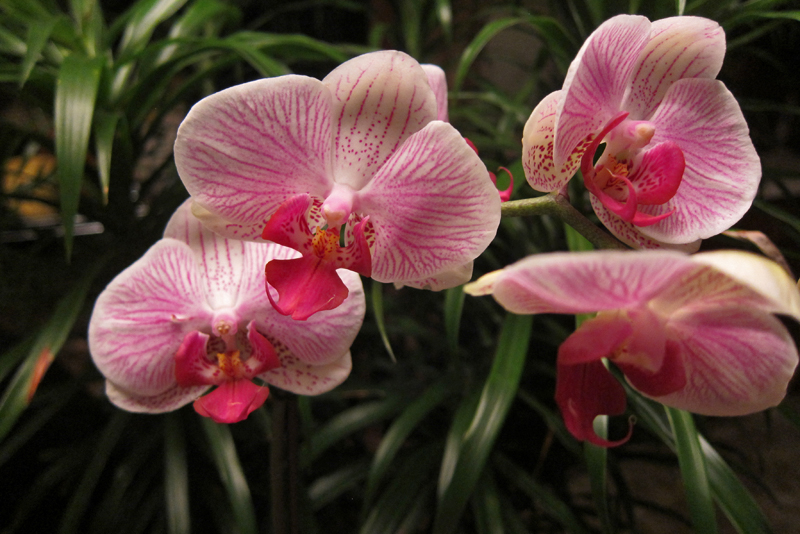 One of the biggest questions I get is "What supplies do I need to grow orchids?" The answer, of course, depends upon where you're growing, how many plants you have, etc. For the average new grower, the answer is fairly straightforward. You just need the plant, and if you're using it purely for decoration, a nice cachepot to dress it up.
If you're like most people, though, you will not stop with just one orchid. Once the original one has stopped flowering, you'll get another and soon you'll have a whole windowsill full and will want to grow those to flowering again. Here is where the supplies come in!
One of the best things you can buy to make your orchids happy is a
humidity tray
. The link is to Quarter Acre Orchids which has a nice selection of moderately priced models. There are many others to choose from at almost any orchid vendor online. A humidity tray provides an environment for your plants which will encourage them to grow well. Putting plants together on such a tray will keep the humidity around the leaves higher which makes the plants happier in a typical home environment.
After that, I'd recommend a good pair of pruners such as
Fiskars pruning snip
. I particularly like these snips since they're easy to handle and big enough for most jobs around smaller orchids. These can be found occasionally at better nurseries too. Along with your clippers be sure to purchase Physan 20 or Consan 20 to dip your clippers in between plants. This is very important so that you do not transmit bacteria or fungus among your plants.
You will also need an orchid fertilizer which can be found at almost any hardware store these days. I prefer an even numbered fertilizer such as 20-20-20 or 10-10-10, preferably with micronutrients. Most growers recommend that the fertilizer should be used at ½ to ¼ strength or as the American Orchid Society says "weekly, weakly."
Most indoor growers will not need to repot until about a year after they have acquired their plants. At that time you will have a decision to make. The easiest thing to do, with a few notable exceptions for terrestrials, is to purchase a media that all your orchids will be happy in and that you can determine easily when to water. This is probably going to be the biggest supply problem you will face. I prefer an open medium with equal parts fir bark, charcoal and perlite. You will need to find a source of media that will work for you, and then stick with it. Most orchid vendors carry an array of different mixes and will help you pick out one that should work for you.
You Should Also Read:
Should I repot that new orchid?
How to choose an orchid
Beginner Orchids


Related Articles
Editor's Picks Articles
Top Ten Articles
Previous Features
Site Map





Content copyright © 2022 by Susan Taylor. All rights reserved.
This content was written by Susan Taylor. If you wish to use this content in any manner, you need written permission. Contact Anu Dharmani for details.