Mother's Day Beer Breakfast in Bed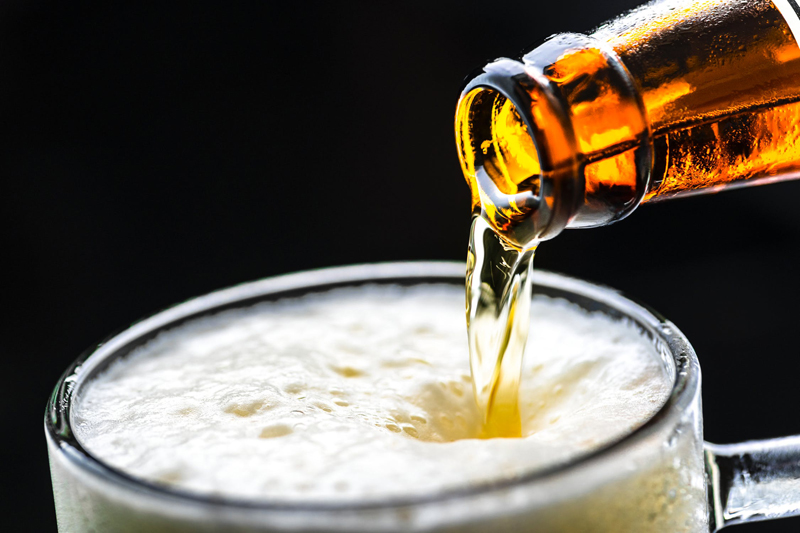 Slits of sunshine pattern my wall in vertical slashes. As the object of Mother's Day, my secret thrill of escaping breakfast in bed is beyond words. Even as young adults, my clan's wish to please is mixed with havoc in the kitchen. My chance to escape this is selfish, indeed, but how many times do moms get to be selfish? Their breakfast club had been trolling the bar scene last night, so my assurance of quiet until early afternoon is assured. Still, I ponder the richness of the breakfast tray when served with a morning flair.

Fresh fruit serves as a good opener to a quiet morning. Drawing on my memory bank, I smell the aroma of sweet mango burning through my brain, strangely connected to a description of the mango harvest in Ghatkopar, India, that I received at fourteen years of age. Long before the launch of Internet communication, letters between pen pals, splashed in pale blue envelopes, would transmit vivid likes-and-dislikes about our daily lives. At the time, mangoes had not yet reached the markets in small U.S. towns, but his descriptions of the succulent, juicy pulp would make my mouth water.

Mango Mama from Minneapolis Town Hall Brewery, Minneapolis, Minnesota, USA, continues the succulence. This American IPA of 6% ABV pours deep amber with orange sunlight, glittering beneath a thick head of creamy snow. Mango shines through the hops to grab immediate attention in the aroma. The pleasure lights up in the mouth as it rolls, soft and silky, on the tongue. Paired with Sunday brunch, this magnificent mother fits well in my slice of contentment.


Forbidden Fruit, designed and crafted by Tim Stumpf of Iron Hill Restaurant & Brewery in Phoenixville, Pennsylvania, USA, works well with toasted cinnamon bagels and cream cheese. Add a dish of frozen yogurt on the side, and the morning turns into a pleasure palace. This Belgian Strong Dark Ale of 8.6% ABV boasts 50% wheat in the grain bill, merged with orange peel. Dark brown with a nose of freshly punched dough, the body emits aromas of plums that surround your head from the diligent action of Belgian yeast. On the palate, the estery fruit continues, finishing hot and spicy in long, slow mellowness.

How's Your Mama? My phrase is not a question to be answered, but a Wheatwine crafted by 75th Street Brewery, Kansas City, Missouri, USA. This dark brown, nearly black, joy juice weighs-in at 9.3% ABV, and proxies as a slick alternative to cinnamon-raisin oatmeal. Full of the flavors of dark fruit – plums, raisins, and dates – and drenched in caramel breadiness, this Mama lingers in the mouth with a medium full body like a sweet lullaby.

Lady Columbia IPA from Flossmoor Station Restaurant and Brewery, Flossmoor, Illinois, USA creates a visual sensation as she arrives with silver label and her cap sealed in blue wax. With 7.5% ABV and a resin-drenched citrus-rind aroma, a quick swap in place of morning grapefruit seems in order.

As a scrumptious end to a great brunch, add De Proef Flemish Primitive Wild Ale, better known as Surly Bird. De Proufbrouwerij in Lochristi-Hijfte, Belgium serves–up this brilliant gold, effervescent, yeast-riddled wild ale with a resounding pop upon opening the bottle. Chock full of Brettanomyces, the complexity of this darling swings from malt to tang to funk, all in a lush, satiny mouth. Did Hieronymus Bosch have these flavors in mind in his Garden of Earthly Delights?

Cheers!
 
You Should Also Read:
Mother's Day Beer and Food
Commemorative Mothers Day Beer & Food Pairings
A Classic Beer Guide for Women


Related Articles
Editor's Picks Articles
Top Ten Articles
Previous Features
Site Map





Content copyright © 2022 by Carolyn Smagalski. All rights reserved.
This content was written by Carolyn Smagalski. If you wish to use this content in any manner, you need written permission. Contact Carolyn Smagalski for details.