Orchid Profile - Dendrophylax lindenii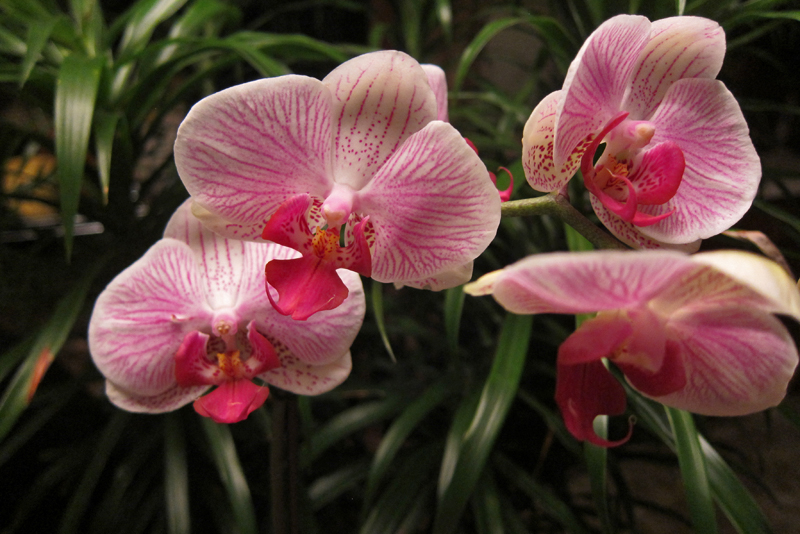 Dendrophylax lindenii
better known as the Ghost Orchid is one of the most famous of the orchids that grow in the United States. They are found in Florida, Cuba, Haiti, and possibly in other Carribbean Islands. In Florida, they are found only in the swamps of Big Cypress, Fakahatchee and Corkscrew in the southern part of the state. The botanical name of the plant has changed several times recently, so it can also be found as
Polyrrhiza lindee
and
Polyradicion lindenii
in many discussions. Susan Orleans' book,
The Orchid Thief
, features this orchid and the film, Adaptation, based on the book was quite popular.
The Ghost Orchid is found in the Florida Everglades and it is estimated that there are approximately 1,200 of them growing there. They are a leafless orchid which grows a large root mass that has the ability to photosynthesize, providing the energy to grow. The flowers, which resemble a large white frog are up to 2 inches, or 5 centimeters, across and 4 inches, or 10 centimeters long. They are held well out from the plant on a long inflorescence and have a fragrance at night to attract the Giant Sphinx Moths which pollinate them. (To see a video of this, visit
Ghost Orchid Info
.) This is a great site with lots of information.
In 2007 an orchid was discovered with 10 blooms near a boardwalk at Corkscrew Swamp and promptly named "Super Ghost" for the large number of blooms which was a record for observed plants. The plant is estimated to be approximately 35 years old and is growing at 45-50 feet, or 13.5 to 15.2 meters, on an old bald cypress tree. For the last two years it has bloomed three times starting in July through October. This year the first bloom was seen July 7. This plant has generated a great deal of interest since it can be seen with viewing scopes or binoculars and has bloomed reliably. Visitors from around the world have come to see the spectacular sight.
Please be aware that these orchids are on the endangered species list and it is illegal to remove them from the wild. Seedling plants grown from seed can be purchased from
Oak Hill Gardens
under the name
Polyrrhiza lindee
. They are known as very difficult plants to grow in captivity, but it has been done. There is an excellent article in the August issue of
Orchids
magazine by a grower who has done this successfully.
You Should Also Read:
Orchid Profile - Spider Orchids
Leafless orchids
Orchid Profile - Encyclia


Related Articles
Editor's Picks Articles
Top Ten Articles
Previous Features
Site Map





Content copyright © 2022 by Susan Taylor. All rights reserved.
This content was written by Susan Taylor. If you wish to use this content in any manner, you need written permission. Contact Anu Dharmani for details.