How to Interpret the Meilgaard Flavor Wheel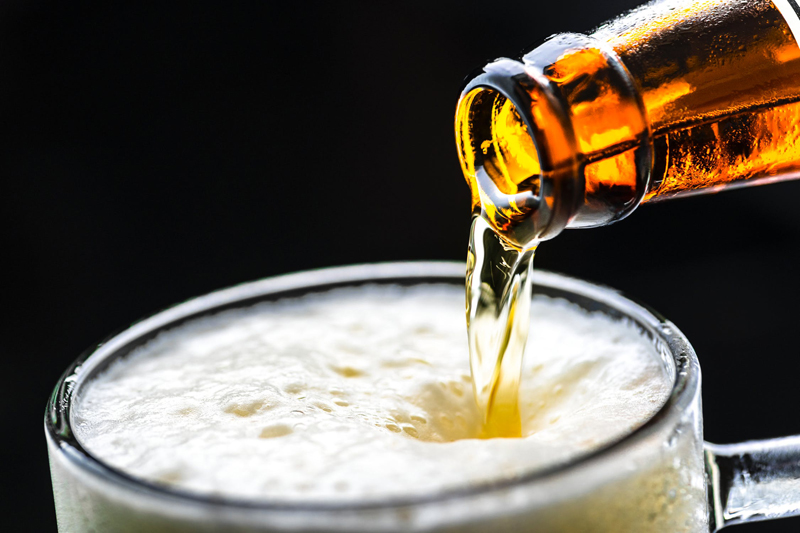 The Meilgaard Flavor Wheel, developed by Morten Meilgaard in the 1970s, has long been considered the beer flavor analysis standard by the European Brewing Convention, the American Society of Brewing Chemists, and the Master Brewers Association of the Americas. As an analytical tool, the flavor wheel covers a wide array of taste and aroma sensations that merge to produce what we know as flavor. The Meilgaard Wheel can assist the beer taster in targeting appropriate and inappropriate characteristics, but practical experience and knowledge is necessary to apply these descriptors to actual taste.

To illustrate my point, let us examine flavors found in beer that resemble fruit profiles. Fruity esters can be developed from the choice of yeast or due to fermentation temperatures. These flavors may also be the result of specific hop varieties, or may be enhanced by the direct addition of fruit, fruit concentrate, or orange rind. They may be the sign of an unfinished fermentation, as in the production of Ethyl Hexonate, that "green apple" flavor that forms before the final conversion into ethanol.

Describing the specific fruit will organize your thoughts and allow a more exact assessment. Review the following fruit profiles:

Dried fruit – raisins, figs, prunes, or thickened jam?

Tree Fruit – apples, pears, apricots?

Vine fruit – grapes?

Berries – black currants, boysenberries, raspberries, cranberries, blueberries, or blackberries?

Citrus – lemons, grapefruit, limes, or oranges?

Tropical Fruit / Melons – banana, cantaloupe, honeydew, pineapple?

Other – Fruit juice, artificial fruit concentrate, or frozen concentrate?

In the Citrus group, lemons signify the correct profile for Berliner Weisse but they may also signal the contamination due to poor sanitization or sick yeast when found in a beer of a different style; grapefruit is usually associated with hops from the Pacific Northwest; limes may be due to the addition of Madagascar chocolate, and oranges may be appropriate for Witbier. You can see that not only is it important to identify the specific fruit flavor, but you must also assess the flavor profile based on knowledge of beer styles and the brewing process. Becoming a Certified Beer Taster in the Beer Judge Certification Program takes study, practice and a keen ability to evaluate beer both in the scientific and organoleptic senses.

The Meilgaard Flavor Wheel is broken into taste and odor. Together, these constitute flavor, with odor playing an enormous role in what you perceive as flavor. By comparison, the 5 components that are identified on the tongue as taste are sweet, sour, salty, bitter, and umami, complicated by the "feel" on the tongue and within the mouth cavity – albeit, relatively simple compared to the complexity of the olfactory sense.

Keep in mind that the Flavor Wheel is a basic guideline, and you will need to spend some time thinking about what you can clearly identify, and what may confuse you. Something as common as banana may be perceived as melon or cooked vegetables by the untrained sensory evaluator. Different taste-buds may also interpret flavors differently. Some people have a specific gene that interprets coriander as "soapy," and have a tendency, therefore, to be put-off by anything containing coriander, even though it is the world's most widely consumed fresh herb throughout India, China, Southeast Asia, Africa, the Middle East, and Latin America. Seriously try to think of words that you may use to describe flavors in beer, using your imagination to enhance your skill.

Based on the Meilgaard Flavor Wheel, I have made some suggestions in the following chart to assist you in picking out flavors that have meaning for you.

Aromatic, Fragrant, Fruity, Floral, Hoppy:

Alcoholic: Spicy, Vinous, cherry brandy, bourbony, whisky-like, warming, chili peppers, pepper vodka, gin, vermouth
Solvent-like: Plastic, lacquer, Acetone, open bottle of sauterne, nail polish remover, gloss paint
Estery: Fruit, apple skins, lemons, grapes, light fruits, prunes, pear drops, mandarin orange
Fruity: A fruit or a mix of fruits, apricot, currants, dates, dried figs, passion fruit, peach cobbler, kiwi fruit, plums, raisins, cider, raspberries, cherries, boysenberries, passion fruit,
Acetaldehyde: Green Apple-like, granny smith apples, apple sponge
Floral: Fragrant, Perfumy, clover, elderflowers, wild mint, wildflowers, gardenia, honeysuckle
Spiciness: Allspice, anise, caraway seeds, cardamom, coriander, chives, juniper, ginseng,
Hoppy: Hop aroma, citrus peel, grapefruit, pine resin, pine needles, pine cones, Bog Myrtle, meadow grass

Resinous, Nutty, Grassy:

Resinous: Woody – new wood, vanillin, acacia wood, cedar, American oak, balsawood, bamboo, sawdust, seaweed, coconut fiber, apple wood, cherry wood, walnut, brambles, cypress, driftwood, cactus, hickory, musk, palm hearts, sandalwood, cigar box, grape vines, alder wood
Nutty: walnut beany, coconut beany, almond , chestnut paste, hazelnuts, beechnut, macaroon, acorn, macadamia nuts, peanuts, peanut brittle, pine nuts
Grassy: Grass, Straw, fern, spring greens, bison grass, dill, flax, lemon grass, meadow grass, twine

Cereal:

Grainy: Husky, Mealy, Corn Grits, biscuits, oatmeal-like, muesli, pumpkin seed shells, Wheaties, raisin bran cereal,
Malty: Malt aroma, sweet bagels, crusty bread, challah, Belgian waffles, fresh baked bread, rye bread, buns,
Worty: Wort aroma, honey painted bread, fruitcake, butterscotch candy,

Caramelized, Roasted:

Caramel: Molasses, Licorice, melanoidin, caramelized ham drippings,
Burnt: Bread Crust, Roasted Barley, Smokiness, black treacle, tobacco, ash, burnt toffee, cigar boxes, Cuban coffee, French roasted coffee, soot, peaty, cigarettes, campfire

Phenolic:

Phenolic: Tarry, Bakelite, Chlorophenol, Iodoform, anise, aniseed, cloves, plastic, adhesive tape, band-aids, hospital gauze

Fatty, Soapy, Diacetyl, Oily, Rancid:

Fatty Acid: Soapy, Cheesy, rancid butter, Crisco, lard, candle wax, chap-stick, cheap lipstick, beeswax, coal tar soap, ricotta cheese,
Diacetyl: Butterscotch, Buttermilk, butterscotch pudding, crème brulee, butter cookies, butter cream filling, movie theater popcorn butter, rum butter,
Rancid: Rancid Oil, air in a fast-food restaurant
Oily: Vegetable Oil, Mineral Oil, coconut balm, French fry grease, cod liver oil, oil slick

Sulfury:

Sulfury: Rubber, sulphur
Sulfitic: Match Strike
Sulfidic: Rotten Eggs, Garlic, Rotting Yeast, shrimp-like, light-struck
Cooked Vegetable: Celery, Cabbage, DMS, Tomato Onion
Yeasty: Fresh Yeast, Meaty Broth, plain yogurt, unbaked rising bread

Oxidized, Stale, Musty:

Stale: Old Beer, Oloroso sherry,
Catty: Litter box, cat urine, black currant leaves
Papery: Stale Bread, wet cardboard boxes, wet typing paper, manila folders
Leathery: New leather, saddle, boot-like, pigskin, gloves, wallet
Moldy: Earthy, Musty, dirt, old castle, horse blanket, basement, barnyard, country garage, antique store, paper money

Sour, Acidic:

Acidic: Pungent, Sharpness, Minerally
Acetic: Vinegary
Sour: Lactic, Sour Milk, almond milk,

Sweet:

Sweet: Honey, Jam-like, Vanilla, Syrup, American cream soda, cotton candy, rock candy, Demerara sugar, cloying, pralines,

Salty:

Salty: Seawater, pretzel salt, sweat on your upper lip, soy sauce

Bitter:

Bitter: Quinine, black coffee, harshness, bittersweet chocolate

Mouthfeel:

Alkaline: Alkaline detergent, borax
Metallic: Tinny, copper pennies, blood, rust
Mouthcoating: Creamy, fudgy
Astringent: Tart, Tannin-like, Mouth-puckering, tea bags
Powdery: Dusty, Chalky, Scratchy, Silicate-like
Carbonation: Flat, Gassy or too much air, bubbly, effervescent
Warming: Alcohol, pepper

Fullness:

Body: Watery, Bland, Satiating, Thick

Cheers! 
You Should Also Read:
Beer Tasting Tips - Training Your Taste Buds
Beer Tasting Tips - Appraising Taste Profiles
http://www.bellaonline.com/articles/art34639.asp


Related Articles
Editor's Picks Articles
Top Ten Articles
Previous Features
Site Map





Content copyright © 2022 by Carolyn Smagalski. All rights reserved.
This content was written by Carolyn Smagalski. If you wish to use this content in any manner, you need written permission. Contact Carolyn Smagalski for details.